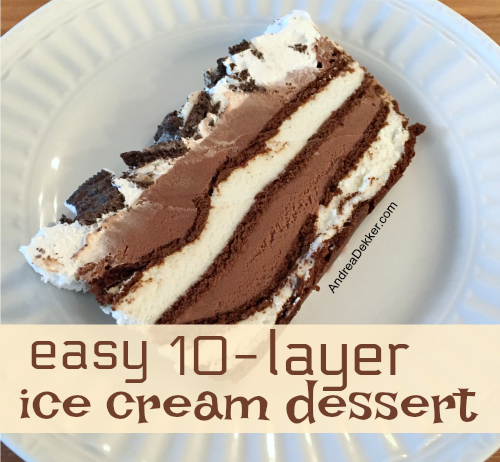 During the warmer months, our family will use any excuse to enjoy ice cream! It's truly not something I crave at all in colder months, but it always sounds so delicious when it's hot outside.
My kids absolutely LOVE ice cream — and more specifically, ice cream sandwiches (James requests an "i-cweem samich" pretty much every day!)
So the fact that this dessert uses ice cream sandwiches, ice cream, whipped cream, AND Oreos, makes it one of their all-time favorite ice cream desserts.
Of course, I love the fact that it is EXTREMELY easy to make (it takes about 10 minutes), uses ingredients I can easily keep in the freezer for extended periods of time, and that it can be made several days ahead of time — meaning no last-minute work.
Plus, it looks sort of fancy!
If you're looking for a new ice cream dessert recipe this summer, or if you just want a super simple make-ahead dessert recipe you can keep frozen for unexpected company (or for your own nightly treat) you'll definitely want to try my yummy 10-layer ice cream dessert!
Recipe for Easy 10-Layer Ice Cream Dessert
Serves 12
INGREDIENTS:
10 ice cream sandwiches
2 cups ice cream; softened
1 cup cool whip
8 Oreo Cookies; crushed
DIRECTIONS:
Line a 9″ bread loaf pan with aluminum foil.
Place 5 ice cream sandwiches in the bottom of loaf pan (you will really have to squeeze this first layer in).
Spread 1 cup ice cream on top of sandwich layer.
Add another layer of 5 ice cream sandwiches, followed by another 1 cup of ice cream.
Top with 1 cup of Cool Whip and crush Oreo cookies.
Cover with plastic wrap and freeze for several hours.
Remove foil from pan and cut ice cream "loaf" into 12 slices.
Eat and enjoy! (Keep leftovers tightly wrapped and frozen.)
See, isn't that SO easy?
And doesn't it look fancy?
.
The fun thing about this dessert is that you can mix and match flavors to create so many different combinations.
A Few Variations:
Chocolate ice cream sandwiches, peanut butter ice cream, and top with crushed Reese's' peanut butter cups.
Neapolitan ice cream sandwiches, strawberry ice cream, and top with chopped chocolate.
Oreo ice cream sandwiches, cookies and cream ice cream, and top with more Oreos.
Vanilla ice cream sandwiches, superman ice cream, tinted red Cool whip, and top with colorful sprinkles (perfect for 4th of July festivities!)
Vanilla ice cream sandwiches, your favorite flavor of ice cream, and your favorite crushed candy topping.
You can also make a really large batch in a 9″ x 13″ pan and cut it into small squares. It doesn't look quite as fancy, but it sure feeds a crowd!
I've made my fair share of "easy" ice cream desserts over the years, but I'm positive this recipe is, by far, the simplest and easiest of them all… in fact, I dare you to share an easier one with me! 🙂
What are your favorite ice cream desserts?
Visit my virtual recipe box for more simple, delicious, family friendly recipes!