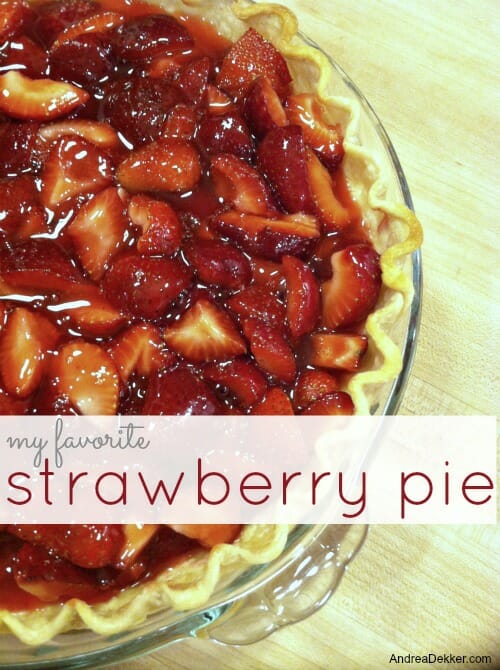 I love almost all desserts.
However, if given a choice between any dessert and strawberry pie, I will probably choose the strawberry pie every time — especially if it's made with MY recipe and fresh-from-the-garden strawberries!
Well, I suppose it's not actually "my recipe". It's the same recipe my mom uses — and I think the same recipe my grandma uses. It came from a good old-fashioned church cookbook back in the day… and in my humble opinion, it's the very best strawberry pie I've ever had.
Dave would agree 🙂
Any time I bring this pie to a potluck or group function, I always get asked for the recipe. Of course, I'm happy to share, especially since people are often shocked by how simple it really is.
Recipe for Strawberry Pie
Serves 8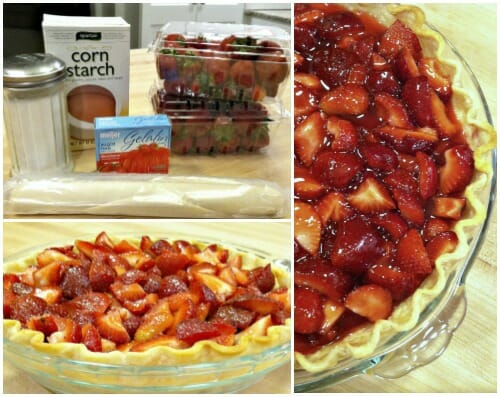 INGREDIENTS:
1 pie crust for a 9″ pie (since this is a no-bake pie, you'll need to bake the pie crust ahead of time)

1 quart strawberries (2 pints of store-bought berries)
1.5 c. water
3/4 c. sugar
2 T. cornstarch
1 3 oz. package (4 servings) strawberry gelatin
DIRECTIONS:
Bake pie crust according to package directions. Set aside to cool for about 20 minutes (or longer if you want to bake the crust earlier in the day).
As the pie crust cools, wash, hull, and slice strawberries. Dump berries into cooled pie crust
In a medium sauce pan, combine water, sugar, and cornstarch. Cook over medium heat (stirring frequently) until it comes to a boil.
Continue cooking for 2 minutes — stirring constantly.
Remove pan from heat and stir in dry gelatin mix. Let cool for just a few minutes
Pour mixture over berries in pie crust. Refrigerate for several hours (or overnight) until gelatin is completely set
Looks yummy huh?
Well believe it or not, I saved the best for last…
By swapping out the gelatin and the berries for other flavors, you can make raspberry pie, blueberry pie, blackberry pie, triple berry pie, etc. Just match the flavor of the gelatin to the type of berry you're using (or mix it up for a new flavor).
So quick. So simple. So delicious!
If you've ever been intimidated by making homemade pie, this is a fabulous recipe to experiment with — it's almost impossible to ruin 🙂
What is your favorite way to eat fresh spring strawberries?
Visit my virtual recipe box for more simple, delicious, family friendly recipes!