As I've mentioned before, I'm not much of a "just-for-fun-book-reader". I enjoy reading short articles, informational pieces, recipe books, and other DIY or informative books… but I rarely read anything just for fun.
Dave, on the other hand, is an avid reader, constantly reading one or more books at the same time — usually on his phone.
I hoped our children would take after Dave and his love for books and reading… so far, it seems they have!
.
However, even though I personally don't read just for fun, I spend a fair amount of time reading to my kids AND taking them to the library.
Right now, we go to our local library at least once a week, and the kids really look forward to it. We often walk (Nora rides her bike while I push the boys in the stroller) and the kids do puzzles, play with the toys, or look at books while I return our old books and check out new books.
The kids are not always quiet, they don't always play perfectly together, and they almost always protest when it's time to leave — but for the most part, our library experiences are fabulous, and I am so thankful for ALL the free resources it offers our family and our community.
I realize that going to the library (especially with small children) can seem overwhelming if you've never done it before; however, I would encourage all of you (no matter your age) to visit your local library every once in awhile. Even if you aren't a big reader like me, there are still so many free programs and resources you can take advantage of.
Here are 10 reason we love our library: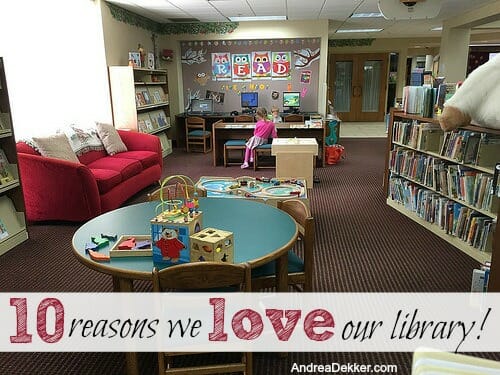 1. Story Hour and Wee Wigglers:
Nora goes to story hour for 1 hour each week and I take Simon and James to a Wee Wigglers class for about 45 minutes while Nora is at preschool. Both programs are completely free and a great casual opportunity to get out of the house and meet new people.
2. Summer reading programs and prizes:
Nora and Simon did the free summer reading program at our library this past summer and both of them got a bunch of great prizes — free restaurant coupons, free bowling, free rides at our local fair, free books, candy, small toys, etc.
3. New friends:
Believe it or not, several of our local friends are a direct result of our weekly library visits. We ended up seeing the same people regularly, started chatting, and now, a couple years later, we regularly spend time together outside of the library!
4. Fun holiday programs:
Our library always has an extra special day of crafts, snacks, stories, games, etc. a week or so before each major holiday. It's busy, but the kids have SO much fun — and we always try to arrive a little early to beat the rush!
5. Adult programming:
I haven't been able to take advantage of this as much as I'd like, but they offer a TON of adult programs for our community. Everything from lectures and book clubs, to yoga and group coloring sessions. Our library also offers programs for middle school and high school age kids (usually with free pizza, donuts, or treats of some kind).
6. Easy online ordering and self checkout:
Since I can't really afford to leisurely browse through thousands of book when my kids are with me, I use our library's online ordering to "request" the books I want each week. Not only does this save me boatloads of time and stress at the library, it also allows me to request books from a bunch of other libraries and have them sent to my local library.
I get a quick text message when my books are ready and they are in a nice stack, just waiting for me when I arrive!
Our library has a nifty self-checkout station where I can quickly check my books out without waiting in line.
7. Fun "preschool packs":
Our library has a wall of backpacks available for check out, and the contents of each backpack is based around one theme (geology, farm, trucks and trains, solar systems, colors and shapes, etc.).
Obviously, some of the themes or subjects are too advanced for my kids, but we love the preschool age backpacks. They are filled with puzzles, games, wooden toys, and at least 3-4 books on one specific subject. We try to get one back pack every month and the kids really look forward to it.
8. Free DVD rentals and magazines:
Not all the DVDs are free, but there are a bunch of DVD's and VHS's that we can check out for free each week.
Also, as you might remember, I canceled all my magazine subscriptions a while back… and while I really don't miss any of them, it's still fun to quickly browse some of my favorites on our weekly visits (while trying to wrangle all 3 kids!) I could check the magazines out and bring them home, but I never make the time to read them at home 🙂
9. "Themed Reading":
Thanks to the fact that I can order all our books online, I can organize them by subject so we read a bunch of books about the same thing at one time.
For example, I just got Nora 4 or 5 books about Creation since that's what she's talking about in school and the Children and Worship program at our church. Simon currently has at least 5 books about fire engines, and I also requested 5-6 books about Fall, pumpkins, apples, leaves, etc..
Of course, I still get other books each week (like Nora's American Girl books) but it's fun to have themed reading opportunities so we can learn a lot about one specific thing at the same time.
10. Less clutter at home:
We only have a handful of our favorite books at home — the rest are on a weekly rotation from the library!
.
Now obviously, the library can't take full credit for my kids' current love of books and reading — but I'm confident that our regular weekly library visits, along with ALL the free programs and events at our local library, have played a significant role in getting my kids excited about books.
Nora is not even 5 years old yet and she can easily sit and listen to someone read her stories for over an hour without getting antsy or wanting to do something else. She can't actually read herself yet, but she has many short children's books memorized and frequently reads them to Simon, James, her dolls, and anyone who will listen. I can't wait for her to learn how to read on her own!
Simon also enjoys reading — specifically books about trucks, police cars, fire engines, airplanes, and ambulances! Almost every single morning, the very first thing he does when he comes downstairs is make a pile of "his" library books, sit down right by the bookshelf, and start flipping through the pages… and he always needs to read at least a couple books before his nap and before he goes to sleep at night.
James is still quite young, but he sure does love holding books and sitting on my lap to "read" them. His current favorite books are anything with flaps he can lift up — specifically our Little People board books 🙂
I suppose, if nothing else, our library has allowed my kids to read many many more books then I would ever be willing to keep in our house 🙂
What are your favorite features of your local library?