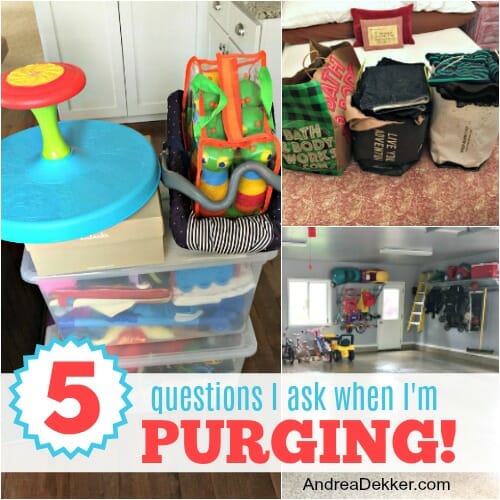 Dave and I recently cleaned out our garage (I'll be sharing more on this later in the week) AND purged our closet of anything and everything we don't need, use, want or love.
I also did a once-over of all our toys and games in preparation for the summer months when we are outside significantly more than during the school year. We moved some of the toys outside (they will eventually be trashed next fall) and I moved a few more toys down to our "basement holding area" so they are out-of-sight for now, and can be brought out again on a rainy day!
.
I suppose it's not a secret that I enjoy organizing and purging various spaces in my home in an ongoing effort to simplify and remove clutter from my life.
In general, I would say that purging is probably a bit easier for me because I'm not as emotionally attached to things as I know so many people are; but also because I've been purging on a regular basis for years and years and years. I have successfully turned purging into a habit, which makes it feel so much less overwhelming because it's something I do very regularly.
Not only do I enjoy the end results of a neat, cleaner, more organized home, I also truly do enjoy the process of decluttering and the feeling I get when I drop my cast-offs at our local donation center!
I'm often asked if I have a "method" for purging or a pattern that I follow each time.
My initial reaction was "No, I just do it all the time!", however, after thinking about it over the past few months, I realized that while I do constantly evaluate the "stuff" in my life, I also have a mental list of questions I ask myself whenever I'm considering whether or not I should purge something..
First off, I ask a couple "big picture questions"…
1. If I was moving, would I want to box it up and take it with me?
This is the first question I like to start off with because it is pretty general and broad — but it gives a really good perspective on the items in question.
I've only moved once (I don't count college life) and it was a huge pain — even without kids and without tons of extra stuff. I honestly can't even imagine moving now with little kids and all the extra stuff we have.
Just the thought of moving makes me want to purge half of what we have! 🙂
If I don't think I'd be willing to pack up a particular item if we moved, then I know it's probably safe for me to purge it now.
.
2. If our house burned down, would I be sad if this item were lost/ruined?
Thankfully, I have no experience with house fires. However, I know plenty of people who have completely lost their homes to fires or floods and it's always interesting to hear them talk about the items they really miss from their old homes.
Rarely do they miss their extra slow cooker, their 57 cookbooks, or their closet full of extra towels and sheets… and if we're honest when we answer this question, there are probably MANY things in our home we wouldn't even notice were gone.
While I hope you and I never have to live through a house fire, this question is an eye-opening way to help evaluate what we really need, want, use, and love — and what we could purge.
.
If you can't answer yes to either of the questions above, chances are you're safe to purge that particular item. However, if you're still not convinced, here are 3 more questions I like to ask myself.
3. Could I potentially make-do with another item I use more frequently?
There are so many items in our home that could be used in multiple different ways to eliminate the need for additional items.
For example, we have a toy box in our playroom upstairs that we moved in front of the stairs to serve as a baby gate every time we had new walkers or new crawlers — meaning we never needed a baby gate.
I have also drastically pared down my kitchen small appliances because I realized I could make do with similar items. I purged my counter top blender and primarily use my handheld immersion blender for small to medium tasks or our food processor for larger tasks. We use our trusty old George Foreman grill in place of a quesadilla maker and a panini maker, and I use my 2 cast iron pans for almost all my stove-top cooking needs.
One more example: due to the fact that we rarely ever need to get dressed up more than "business casual" I have an extremely limited number of dress clothes and instead, have a handful of small accessories I can add to my casual items to make them look dressier and fancier — all while drastically reducing the number of items I need to store in my closet.
If you're "on the fence" about purging one particular item, consider if there is anything else in your home that could do basically the same thing. If so, purge purge purge!
.
4. Could I repurpose the item to make it more usable?
I LOVE items that serve multiple purposes (see #3 above!), so if I'm not sure if I want to purge an item, I try to consider if there are other ways I could use the item — making it more useful for me.
For example, I got a bunch of furniture (that no one else wanted) when my grandma passed away 12 years ago. I did end up selling most of it, but I kept a few pieces that I painted and repurposed — I'm still using these pieces in my home today! While I'm glad I purged most of the bulkier items, it is fun to know I'm using a few of her pieces on a daily basis in my own home and with my family (especially when I can share them with my kids!)
I also had a bunch of old high school and college t-shirts made into a t-shirt quilt that we now use ALLLL the time. I love that my dresser drawers are so much emptier and that my kids can see and ask about all my old t-shirts when they use my quilt to make forts or snuggle under while watching TV.
Of course, I certainly do NOT repurpose or reuse everything… but if I CAN think of a way to repurpose an item to make it more useful, I'm more willing to hang onto the item (and then purge something else). That said, if you can't think of any other way to use the item, I think a good purge is in order!
.
5. Would I use it more often if it were stored in a more convenient place?
Sometimes I've found that if I simply move an item to a different (more convenient) location in my house, we use it significantly more.
For example, I recently revamped my pantry storage to accommodate all the bulk foods we've been buying… and I was pleasantly surprised to notice how much more efficient my time in the kitchen has been, AND that my children are now asking for dried fruit and nuts for snacks (because they are front and center) versus the goldfish and pretzels that I tucked behind for a bit.
I also recently rearranged some of the kids' toys, and immediately noticed they are now very interested in some of the "new" toys I put in a more convenient location.
This is also a great time of year to rearrange your closet with the change of seasons. Our family stores all our clothing in our closet all year long, but I do often swap shorts and pants around in the kids' closet so shorts are more easily accessible than pants.
If you are worried you'll miss an item after you purge it, first try moving the item in question to a more prominent place in your home. If you still find that you don't use it, I can almost guarantee you will NOT miss it!
How We Purge:
Purging is an on-going process that really is never finished (sorry!) so I've found it works best to have a permanent place to store our donated items in between trips to the thrift store.

I keep a donation bag at the bottom of our closest, one in the laundry room, and one in an upstairs closet so I always have a place to stash our cast-offs until it's time to drop them off.

I would highly recommend assigning a dedicated "purge pile" to a specific location in your home as well, because if you don't have a place to put your cast-offs, you are much less likely to purge!
A Few Related Posts:
The Questions That Helped me Purge 75% of My Clothes
9 Questions To Help Declutter Your Home and Life
5 Questions to Ask Before You Buy Anything
7 Ideas to Sort Through Sentimental Stuff
There you have it — my kind of crazy thought process when I'm deciding if I should or should not purge something in my home. The whole thought-process really only takes me a minute or two to work through in my head as I quickly run down my list of questions.
Do you have any questions you ask yourself when you're questioning a purge?