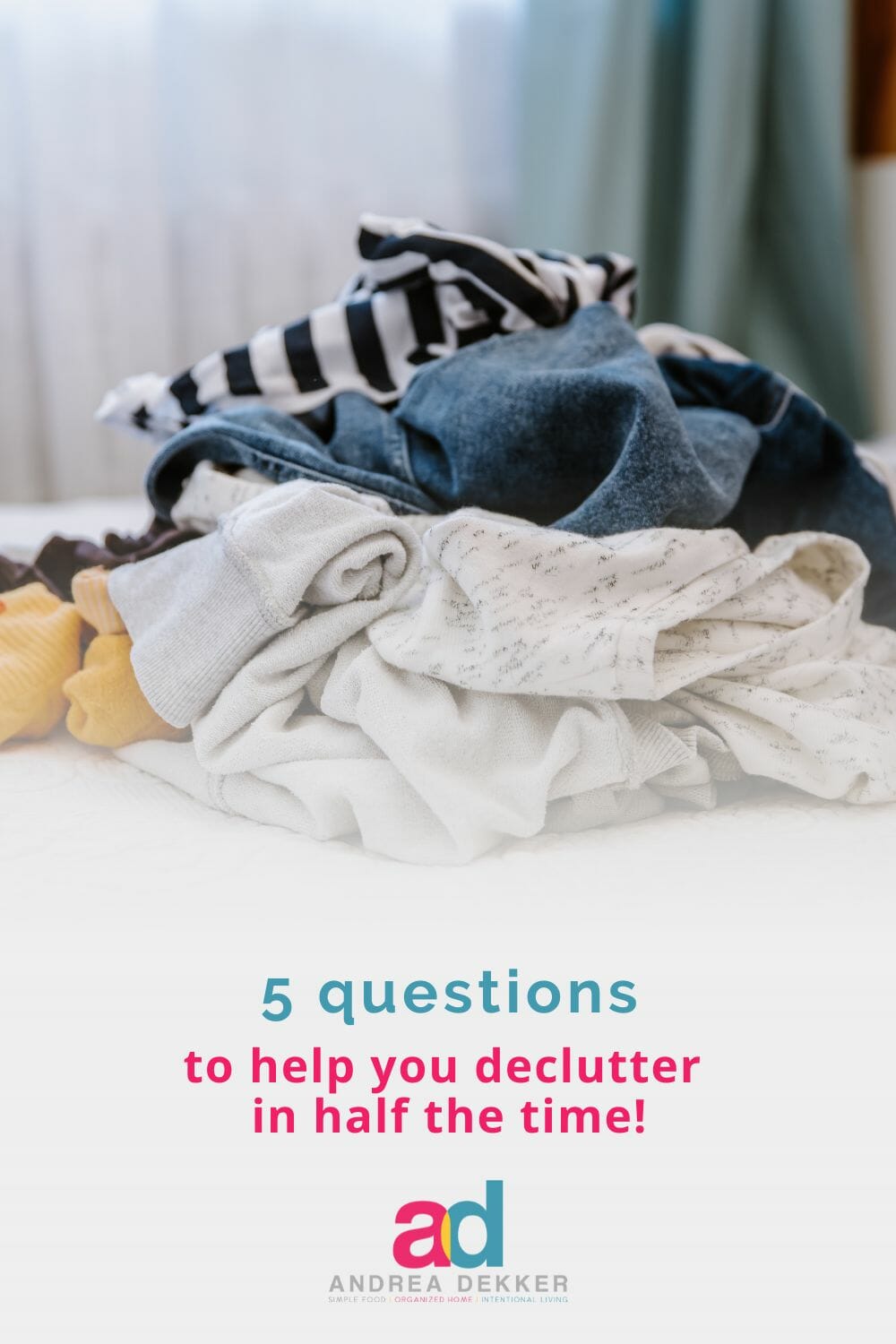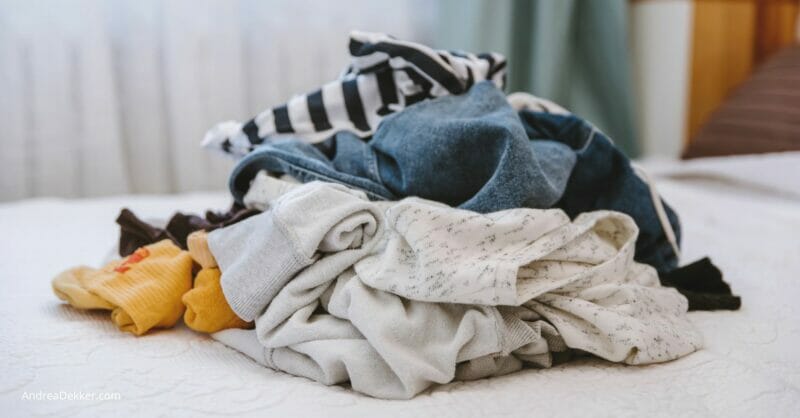 Every summer break, the kids and I do a once-over of all their clothing, toys, books, games, and craft supplies; donating anything they no longer use, need, want, or love.
We also strategically move some toys and crafts outside for the summer (these will eventually end up in the trash come fall!)
This timing works well for our family as we're outside so much in the summer that the kids rarely miss their indoor toys and games until the weather cools down in late fall… and then I tell them to "add it to their Christmas list", which forces them to consider how badly they really want a game or toy.
A NOTE ON DECLUTTERING WITH KIDS:

I prep them ahead of time, informing them that we will spend up to 30 minutes every morning, for the first 5 days of summer break, going through one area each morning (clothing, toys, books, games, arts/crafts).

They know I always have a fun snack waiting for them when they finish, so they rarely take the full 30 minutes… and then we're DONE!

It's honestly amazing how quickly they decide — even Nora (our artsy "hoarder") was willing to part with so many art projects this summer!

I often do this same process over Christmas break — so we go through all their things at least twice per year.
If you're not always so quick to decide what to keep and what to part with, let me share 5 simple questions that might help….
1. If I move, would I want to box this up and take it with me?
I like to start with this question because every adult knows how much of a hassle it is to move… so it gives a really good perspective on the items in question.
I've only moved once and it wasn't fun — even without kids and without tons of extra stuff. I don't even care to think about moving now with 4 children and all the extra stuff they bring with them.
Just the idea of moving motivates me to declutter more… and more!
BOTTOM LINE: If you don't think you'd be willing to pack up a particular item and move it to another location, then it's probably safe to declutter it now.
2. How sad would I be if I lost this item?
I know multiple families who have lost everything due to fires or floods and it's always interesting to hear them talk about the handful of items they actually miss from their old homes.
It's never their extra slow cooker, their magazine collection, or their closet full of extra towels and sheets.
I've also lost things on vacation (or even just at a local park) and after I get over my initial frustration with myself for not being careful, I rarely miss the physical item all that much.
BOTTOM LINE: While I hope you never have to live through a house fire or flood, I encourage you to keep this question at the forefront of your mind as you evaluate what you really need, want, use, and love… then declutter and donate the rest!
3. Could I use another item I already have?
There are so many gadgets and utensils in our home that could be used in multiple ways to eliminate the need for additional items.
For example, we previously put our toy box in front of the stairs to serve as a baby gate whenever we had new walkers or crawlers — meaning we never needed a baby gate, even with 4 children and lots of stairs.
I donated my stand blender because I realized I could do everything with my handheld immersion blender or food processor.
I replaced all our old frying pans, our quesadilla maker, and 2 George Foreman griddles with a couple of cast iron skillets… I've never looked back!
And I've reduced my wardrobe by about 75% over the last 10 years of being a stay-at-home-mom… because I don't see that many people and don't need a wide variety of clothing.
BOTTOM LINE: If you're "on the fence" about decluttering one particular item, consider if there is anything else in your home that could do the same thing. If so, let it go!
4. Could I repurpose the item to make it more usable?
I love anything that serves multiple purposes (see #3 above), so if I'm questioning myself on something, I try to consider any other ways I could use the item — making it more useful.
For example, I got a bunch of furniture that no one else wanted when my grandma passed away 12 years ago. I sold most of it, but I painted and repurposed a few pieces that we still use on a daily basis. In fact, we currently use several family heirlooms as decorations and useful pieces in our home.
I also had a bunch of old high school and college t-shirts made into a t-shirt quilt that we now use all the time (the kids love hearing the stories behind my shirts).
BOTTOM LINE: If you can't think of any other way to use the item in question, it's probably safe to declutter.
5. Would I use it more often if it were stored in a more convenient place?
Over the years, there have been countless times when simply moving something to a more prominent location means that it gets used significantly more often (especially if I put it where my children can reach it!)
For example, when I revamped my pantry storage to accommodate more bulk foods I was pleasantly surprised to notice how much more efficient my time in the kitchen was.
And whenever we rearrange toys or games, the ones in front are usually the ones they play with most — simply because they are easy to grab.
If I want to use up a certain type of craft supply, I simply move it to the front of the cabinet or the top of the pile, and the kids magically become interested in it again!
BOTTOM LINE: If you are worried you'll regret a decision, first move the item in question to a more prominent place in your home. If you still don't use it, it's time to donate.
One More Decluttering Quick Tip:
Purging is an ongoing process that's never fully complete (sorry!) so I've found it works best to have a permanent place to store our donated items in between trips to the thrift store.
I keep donation bags at the bottom of our closet, one in the laundry room, and one in an upstairs closet so I always have an out-of-the-way place to stash our cast-offs until it's time to drop them off.
When we make a trip to the local thrift store, I simply grab our bags and head out the door.
There you have it — the decluttering thought process that significantly reduces the time I spend questioning if I should let go of an item or not (it only takes me a few seconds to mentally run through these questions.)
Related Reading:
Do you ask yourself certain questions when you declutter… or am I the only weirdo?