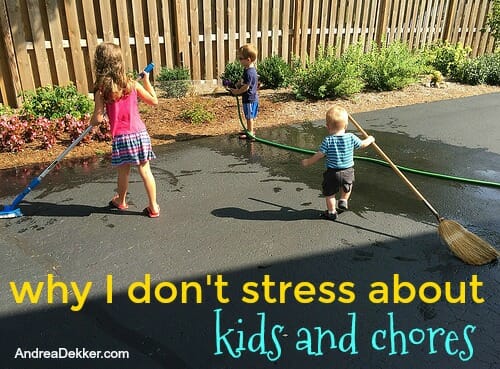 As my kids get older, I get more and more questions about kids and chores…
What chores do my kids do?
Do we use chore charts?
Do we give allowances?
What ages do we start chores?
Do we have punishments for not doing them or rewards for accomplishing them?
I'll be honest, I feel like my kids are too young to be worrying about chores yet — and even as they get older, I just don't see myself stressing out about making sure my kids always help with specific chores every week.
Yes, Dave and I definitely want our kids to help out around the house like we were expected to help out when we were growing up… but sometimes I think our current society goes a little bit too far trying to make chores fun, creating fun printables, and getting our 2-year-olds to master a ridiculous number of tasks around the house.
I don't know exactly how Dave's family divvied up household chores, but I do know they all pitched in to help (even his Dad, who still regularly helps his mom around the house).
That said, I DO remember how we handled chores in my family — and I promise it was nothing fancy or complex. There wasn't a specific age when we started doing a certain chore, we didn't get any sort of regular allowance (my parents tried this at one point but never stuck with it), we didn't use chore charts, and we didn't have elaborate systems or procedures to make sure all the kids were doing age-appropriate and equally divided chores each day or each week.
My sisters and I made our beds, we kept our clothes picked up, we packed our own lunches, we usually cleaned out the dishwasher when my mom asked, and we took turns vacuuming, dusting, cleaning bathrooms, folding laundry, and washing mirrors based on whoever was the most readily available when my mom wanted or needed help.
And I know there were plenty of times my mom simply did all the cleaning because it was faster and easier… and because she knew she would do a better job.
Also, I would just like it to be known that I never once did the laundry until I was living on my own in college — and I think I turned out just fine!
Of course, I'm not saying YOU shouldn't use chore charts, give your kids an allowance, or encourage your children to help out around the house. And certainly, if you have a system that works well for you and your family, KEEP DOING IT (and maybe share it in the comments for other who are interested!)
However, if you have ever felt stressed out or overwhelmed by the thought of implementing chores around your house, making a cute chore chart, coming up with prizes, or nagging your children (for the 300th time) to make their beds, I would encourage you to take a step back, inhale a very deep breath, and think about what you are really trying to accomplish.
My main goals for our children are to be kind, honest, generous, Jesus-loving adults who make a valuable and positive contribution to their future families and communities. I know this can be achieved whether they learn to do their own laundry at the age of 7 or 27… and whether they did a whole host of chores during their childhood years or not.
Obviously, that's taking it to a bit of an over-generalized extreme — but it does serve to make my point that kids doing chores is not the "end all" for how great of a parent you are (or I am).
So often these days, it feels like a competition for whose kids are helping out around the house at the youngest age (I literally know 4-year-olds who can clean an entire bathroom fairly thoroughly!) or who has the fanciest chore chart.
I do understand the appeal behind teaching children to do chores — both from the standpoint of teaching them valuable life skills and alleviating some of our own household responsibilities.
BUT… I have a feeling our children will learn just as much (if not more) by watching how WE act towards our household responsibilities as they will by being forced or bribed into doing specific chores as young as possible.
Let me give you a couple examples from our own family:
Although it might not be perceived as a "chore" our kids have watched Dave and I take off our shoes, hang up our coats, and put our gloves/hats/bags away in the mudroom immediately after walking in the door — and I would honestly be shocked if any of them came to your house and didn't immediately remove their shoes and coats. Even James can get his own shoes off and waits fairly patiently (while saying "mama! coat! mama! coat!") for me to take off his coat.
Our kids see Dave and I pick up the toys whenever we're finished playing — and after many months/years of encouraging them to help us, it is now second nature for them to help pickup. I'm certain that if you asked our children if they enjoyed picking up, they would say "no", but they have learned the habit so they do it without much thought (most of the time!)
Our kids see us load the dishwasher and clean up the kitchen faithfully after every single meal. We don't leave piles of dishes sitting around, we don't leave sticky residue on the tables or counters, and we don't leave food sitting out. Everything is completely cleaned up within a few minutes of finishing our meal (except for a few dishes that might need to be washed — but we stack those neatly next to the sink). And even though I rarely ask Nora to do anything other than help me unload the dishwasher, she has watched me load it enough times that she knows where the big plates go, where the small plates go, where the cups go, and where the silverware goes. She also understands that cleaning up after mealtime is something that simply needs to be done and really doesn't take all that much time. I'm sure she will do more in the kitchen eventually, but for now, I'm content to let her learn.
Bed making is somewhat of a sore spot with Nora because she has a tiny amount of perfectionist tendencies and she never feels like she makes her bed well enough 🙂 Sometimes I make her bed for her (which she loves) but after years of watching me make her bed (and my bed), she usually makes it fairly willingly — imperfections and all!
Like I mentioned above, I am NOT trying to persuade you to do all the housework yourself and never ask your children to pitch in or help out.
I'm simply saying that kids chores shouldn't be a huge source of stress or the gauge by which you judge your parenting success or failure.
If your 2 year old won't help you pick up the toys, enjoy knowing you have a perfectly normal 2 year old.
If your 5 year old still doesn't know how to make their bed, there is still a very high chance they will succeed at life.
If your 8 year old always forgets to clean under the toilet seat, they will likely grow up to be an OK human being.
If your 12 year old refuses to learn how to cook anything other than mac and cheese, there's a decent chance they will learn once they get sick of eating mac and cheese.
If your 18 year old still has no idea how to do the laundry, I have a feeling they will learn eventually (especially if they become the stinky college freshman).
.
Yes, chores are very useful for teaching responsibility, reliability, and all sorts of other life skills — but as far as I'm concerned, there is nothing that says our children should be doing XX number of chores by the time they are YY years old.
Plus, you know as well as I do that sometimes, it's just so much faster and easier to quickly clean up and pick up without the kids' "help"!
I realize I might be opening up a can of worms, but I'd honestly love to know…
What are your thoughts on kids and chores?