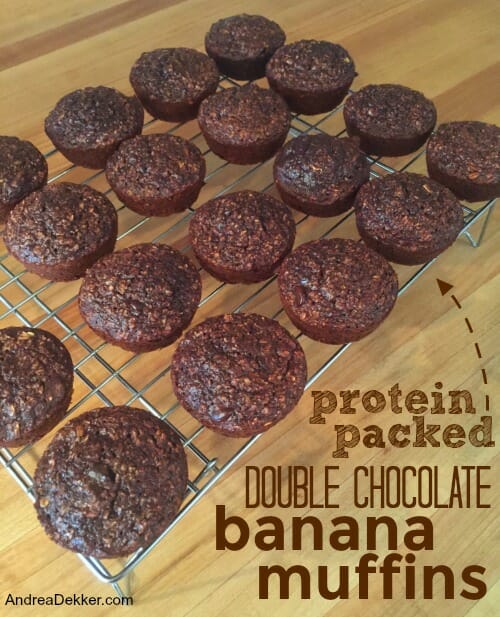 Our family really likes muffins — specifically chocolate muffins with chocolate chips!
I have a feeling Dave could easily eat one of those HUGE double-chocolate muffins from Costco every single day of his life and never get tired of them. He regularly eats them for breakfast, even though I tell him it's basically like eating cake. He insists that since it's a muffin, it's breakfast food 🙂
Our kids also eat muffins fairly well — so while we almost always have pancakes and eggs or waffles and sausage for breakfast, it's nice to have muffins on hand for days when we need an extra-quick breakfast (or a hearty morning snack).
My favorite muffin is my chocolate chip banana muffins… Dave and the kids prefer straight chocolate muffins. And I'm fully aware that neither banana or chocolate muffins are extremely nutritious. Both have a lot of sugar, flour, and oil… and not much of anything else.
Of course, I'm not opposed to eating sugar, flour, and oil, but I've found that when my kids eat a muffin, they don't necessarily stay full very long. They burn off the carbs and sugar and are asking me for a snack again 30 minutes later.
.
A couple months ago, I was telling a friend about my quest to find a chocolatey banana muffin recipe that was actually nutritious and could keep my kids full for longer than 30 minutes. I said the recipe had to be easy to make, use normal ingredients, and (of course) taste really good!
She said she had just the recipe for me — it was a recipe she had modified from a health food cookbook, and over the past couple of months I've made these high-protein muffins several times, tweaking the recipe each time.
My family LOVES these double-chocolate banana muffins… I love that they are easy to make and full of protein to keep my kiddos full longer!
As you might notice in the ingredients below, they are all fairly "normal" ingredients I would assume most of you have in the house. The only oddball ingredient is oat flour.
I actually use oat flour quite a bit in my baking — and I've never ever purchased it from the store. Oat flour is very easy to make — simply dump traditional oats into some sort of blender… and 10 seconds later, you have "oat flour"!
I love the dense texture it creates when I bake with it — plus it's more nutritious than all-purpose flour.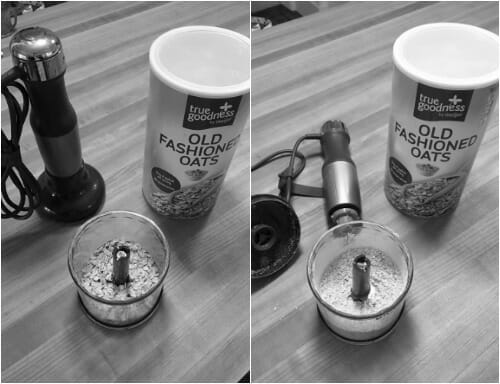 If you don't want to mess with the oat flour, just use my recipe for chocolate chip banana muffins. They won't be "high protein" but they will still be delicious!!
That said, if you're looking for a really delicious, super easy, one-bowl muffin recipe that is also very high protein, very filling, and a fantastic way to use up overripe bananas… this recipe should work for you!
Recipe for Double Chocolate Banana Muffins
makes 12-16 muffins
INGREDIENTS:
2 very ripe bananas**
4 eggs
1/2 c. plain yogurt or applesauce (I always use yogurt)
2 t. vanilla extract
1/2 c. granulated sugar
2 cups oats, ground into flour (about 1 and 3/4 c. oat flour)
1/2 t. salt
2 t. baking powder
1/2 t. baking soda
1/3 c. cocoa powder
1/2 c. chocolate chips (I use semi-sweet)
**NOTE: I put all my "too brown to eat" bananas in the freezer, peeled and ready to go so I can just defrost a couple at a time for recipes like this. If you use defrosted bananas, they will be quite watery — that is just fine for this recipe and you can include any liquid along with the bananas.
DIRECTIONS:
Preheat oven to 350ºF. Grease muffin tins (or line with paper)
In a medium bowl, mash bananas. Add eggs, yogurt, vanilla, and sugar. Mix well with a fork.
Add in oat flour, salt, baking powder, baking soda, and cocoa. Mix until combined.
Stir in chocolate chips.
Scoop batter into prepared muffin tins
Bake in preheated oven for 18-20 minutes
These high-protein muffins have been my go-to morning "first breakfast" or snack for the past couple of months… they keep me full all the way through lunch, they freeze well, and they taste fantastic.
I'm not sure they beat out Costco's chocolate muffins for Dave, but he has packed many of them in his school lunches, so I know he approves 🙂
What are your favorite protein-packed snacks?
Visit my virtual recipe box for more simple, delicious, family friendly recipes!