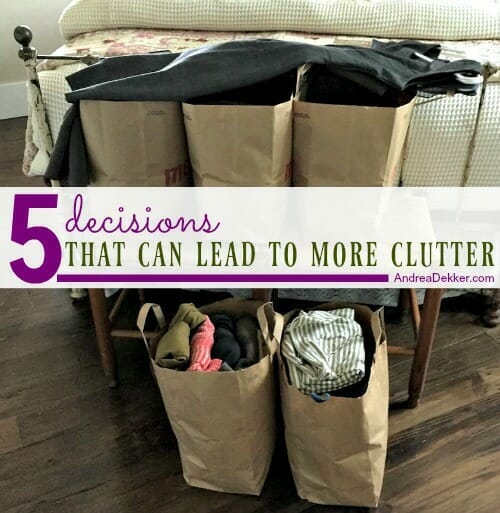 As much as I wish there was a sure-fire, fool-proof way to avoid all clutter for good… there's not!
Maintaining a mostly clutter-free environment takes continual effort, regular purging, AND lots of good decision making as to what we allow into our homes, how we deal with the stuff already in our homes, and if we let our emotions dictate what we keep.
There are lots and lots of tips I have shared over the years for how to better organize a space, when and how to purge, my favorite storage containers, etc. etc. But today, I'd like to share more about how a few simple decisions can have a dramatic effect on how much clutter we accumulate in our homes and our lives.
.
Of course, it's not always as simple as making a few wise choices… but I DO think that if we get in the habit of making better choices on a regular basis, our efforts to declutter and simplify will be much easier.
Below are 5 decisions that could cause excess clutter in our homes… as well as a few better decisions to make instead.
1. Saving Gifts, Even If You Don't Need or Want Them
Do you have unopened gifts from your wedding, your graduation, 5 Christmases ago, children's birthdays, etc.?
Do you save every scrap of paper, every rock treasure, every piece of "art" your children or grandchildren give you?
If so, there's a decent chance you already have a fair amount of sentimental clutter in and around your home. Of course, I am not against saving SOME artwork and gifts, but for the most part, once I decide I won't use the gift and once we've displayed the artwork for a period of time, I'm ready to get them out of my house.
If you're struggling with gifts, here are a few things you might consider instead…
WHAT to do INSTEAD:
Take a picture of your child/grandchild with the gift or artwork and let go of the actual item.
Allow yourself to purge items you no longer need, use, want, or love — even if they were gifts.
Ask a friend to help you weed through your sentimental items so you don't get caught up with your own emotions.
Consider the fact that by donating your unneeded and unwanted gifts, you'll provide the opportunity for others to use and enjoy them at a greatly discounted price.
.
2. Convincing Yourself that You'll Have More Time Later
I'll put it away later.
I'll get to it later.
I'll do it tomorrow.
Have you ever thought or said any of those phrases? And if so, did you actually go back to "put it away" or "get to it" or "do it" later?
The truth is, we almost never have "more time later".
Plus, putting something off until later not only creates PHYSICAL clutter via the piles of papers, clothing, dirty dishes, or toys you are eventually going to get to; it also creates MENTAL clutter by sitting in the back of your brain daring you to forget, constantly nagging you until you finally do it (or don't do it).
WHAT to do INSTEAD:
I know I've said this over and over and over again — but there are very few things in my daily life that I put off until later.
Yes, I suppose if a child quickly needs to go to the bathroom or falls and needs my immediate attention, I will leave whatever I'm in the middle of for later, but I will resume that activity and finish it immediately when the "emergency situation" has passed.
In general, putting something off until later is one of the best ways to assure our homes will have too much clutter, our schedules will be packed too full, and our lives will feel much more stressful.
.
3. Stuffing Your Closets and Cabinets with Extras… Just In Case
Clothing in all different sizes… JUST IN CASE you lose or gain weight.
Extra set of small appliances, steak knives, and dishes… JUST IN CASE you buy a cottage.
Bins of baby clothing… JUST IN CASE you have another baby (of the same gender at the same time of the year).
We ALL have a little of this "what-if-i-need-it-someday" clutter; however, the problem arises when we make too many excuses for items we should be purging.
WHAT to do INSTEAD:
Save a favorite outfit or two in the different sizes and purge everything else. Then put those few items in a bag or box NOT in your closet. You know as well as I do that IF you ever do lose or gain weight, you can find a bargain on clothing that's more in style at that point in time.
Purge the appliances — IF you ever get your cottage, you can shop thrift stores for more.
Keep the gender neutral items (onesies, PJ's, etc.) AS LONG AS they are in good condition — no holes, no stains, etc. — and donate the rest. Someone else will be able to use your items and you will enjoy the extra space in your home. Then, IF you have another baby, the same gender and same time of year, you can borrow from a friend or find deals at thrift stores.
There is no magic number of how much is OK to save and how much is too much… it's a matter of separating your emotions from your things and taking a realistic approach.
Realistically, how likely is it that you'll ever need these things in the future? And IF you ever do need/want them, how difficult would it be for you to find a deal on a similar item? Sometimes, by asking a few questions, we can gain a little perspective on all our "just in case" items and more easily part with them.
.
4. Keeping Something Just Because You Have the Space
Toys — because you can never have enough toys, and if you have room to store them, why not just keep them!
Craft supplies — you have them all stored so neatly that it really doesn't matter if you only use 1/3 of your supplies on a regular basis.
Kitchen gadgets — you never know when you might need that special knife, and it hardly takes up any room in your knife block.
Extra sheets and towels — who gets rid of perfectly good sheets when they hardly take up any room? 🙂
Home decor items — they're just in the basement (or attic) and aren't hurting anything or taking up space from other items.
Even if you don't have a large home, there are often still pockets of empty space that seem to beg us to store something inside!
I know friends who have kept (and continue to keep) ALL of their youngest child's outgrown clothing simply because they have the space to store it. They do not intend to have more children, they don't have any other relatives who could use the cast-of items, and they have no purpose for the clothing.
I'm guessing there is some sort of sentimental attachment to the clothing, but these people are using up an enormous amount of space in their basement storage room hanging onto stuff JUST because they apparently have the space.
It sounds crazy, but I have a feeling we are all "guilty" of this sort of thing somewhere in our home!
WHAT to do INSTEAD:
Be ruthless when you purge — really stop to think: Do I want this? Do I need this? Will I actually use this? Do I love this? and if not, get rid of it… even if you DO have space to store it.
Embrace "white space" in your home and be OK with an empty shelf, an empty drawer, an empty bin, or even an entire empty closet!
Don't let yourself fill a space unless the stuff you're filling it with will serve a purpose.
I realize there is some truth to keeping a few extras if you have the space — however, there comes a point when enough is enough, and I can testify to how fabulous it feels to have a little extra breathing room in our drawers, cabinets, closets, and storage tubs. Sometimes less really IS more!
.
5. Bringing Something Into Your Home Even if You DON'T Have The Space
Piles of junk mail you could have tossed before it even entered your home.
Fun freebies and hand-me-downs from friends that you really don't need or have room for, but… they're free.
Everything from your parents' or grandparents' home after they passed away.
The amazing deal on something you think you might use someday… but don't have a specific need for (or a place to store it).
Throughout the course of my life, I have developed the habit of thinking through EXACTLY where I will store something BEFORE I bring it into my house. If I can't come up with a logical storage space and I'm not willing to get rid of something else to make a storage space, I don't bring the item into my home.
Of course, there are PLENTY of items that come into my house without my approval (papers from school, gifts for the kids, etc. etc.) but I do my best to immediately find a home for these items, or remove something else to make space.
In my experience, if you don't have a home for something, it will sit out indefinitely… and if it sits out indefinitely, it will always be visible clutter in your home until a home is found for the item. If you have many items without "homes", you have lots of clutter.
On the flip side, if you find homes for these items, you no longer have clutter.
WHAT to do INSTEAD:
Stop and think before buying anything or bringing anything into your home (especially freebie things and extra-special bargains).
Toss junk mail before it enters your home so you don't risk the chance of setting it down and letting it become one more pile.
Get in the habit of considering where and how you will store your items… and if you can't think of any solutions, be willing to pass on the item
Consider renting a small storage unit for extreme cases (like acquiring parents' or grandparents' things after they pass away). Normally I don't suggest renting storage space, but I know that in some situations, the cost of the monthly rent is very motivating to help people purge or do something with the items inside.
.
As I mentioned above, it's not as simple as just asking yourself a few questions — but these questions are a great place to start.
If we can start looking at our things with less emotional attachment, realize that not every single space in our homes needs to be filled to the max, and stop bringing things we don't need or want into our homes, we will be well on our way to a much less cluttered home and life!
How do you keep excess clutter out of your home?