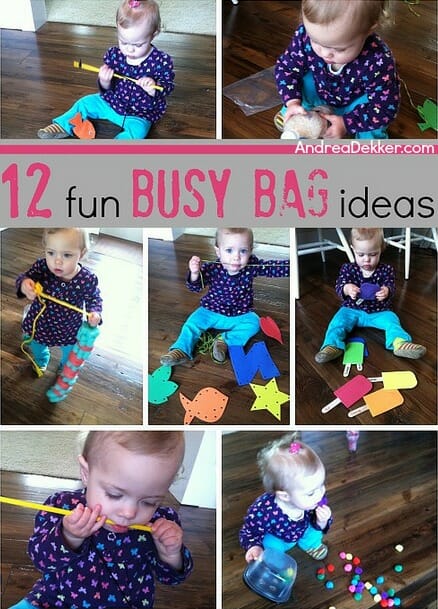 A few weeks ago, I blogged about Busy Bags — and how I was going to take part in my first ever Busy Bag Swap with a few friends.
Well, the Busy Bag Swap happened — and it was a huge success. Not only was it a fun excuse to spend time with friends I don't normally see on a weekly basis, it was also a great way to get lots of fun new educational activities for Nora.
Granted, many of them are way too advanced for her right now… but I have a feeling she'll be ready for them in no time. And if there's an activity that will keep her busy for longer than 5 minutes, I'm all for it!
This swap was originally going to be with 8 moms, but only 6 could make it. So each mom made up 2 different busy bags — and then made 6 of each (one for her own child and one for each of the other 5 families).
So each mom came to the busy bag swap with 12 bags (6 of one and 6 of another) but then left with 12 different busy bags… hopefully this makes sense!
Here are the busy bags Nora got from my busy bag swap:
1. Pool Noodle Stringing
I made this busy bag, and all you have to do is cut up a few pool noodles into 1″ chucks (I used a bread knife) and thread them on a thick rope with a knot tied at one end.
Obviously Nora can't string the noodles ON the string, but she has definitely figured out how to get them OFF the string and has lots of fun throwing and kicking them around the living room — or just dragging the entire string of noodles around the house.
Click here for more information about the Pool Noodle Stringing busy bag.
2. Clothes Pin Number Wheel
This is the other busy bag I brought to the swap. All I did was print off this free number wheel and then number a huge bag of clothes pins from 1-20.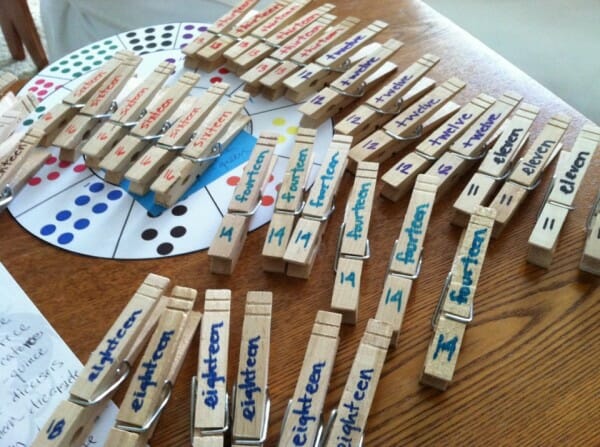 Numbers 1-10 are on the front of the wheel; numbers 11-20 are on the back. I put either a pink or blue paper between the front and back side — and then I laminated the whole thing so hopefully it will last a bit longer.
I used permanent markers in coordinating colors to write both the number digits and words on each clothes pin.
Click here for more information about the Clothes Pin Number Wheel busy bag.
3. Foam Shape Sewing / Lacing
This one is really cute… and besides punching a million holes in colorful foam, it looks really easy to make. You can punch holes where ever you want (around the edges, in patterns, etc) and then just include long pieces of yarn for the sewing part.
It might also be cool if you could find a very blunt needle so the kids actually feel like they are sewing. Apparently Nora is more interested in sucking on the yarn 🙂
Click here for more information on the Foam Shape Sewing busy bag — and some free printable animal templates.
4. Pop the Popsicle
This busy bag is super cool and relatively simple to make — but a little more complicated to explain. Basically, you make the popsicle tops out of colored foam (or really thick paper). You stick two pieces of foam together, leaving a space for the popsicle stick.
The stick actually has 4 different games on it — depending on the age of your children, so this one should last us a while.
Click here for more information about the Pop the Popsicle busy bag (this link also explains the 4 different games).
5. Build Your Own Cupcake
This busy bag involves A LOT of cutting — but it sure is cute!
Basically, you can use this free template to cut out cupcakes, cupcake liners, cupcake frosting, sprinkles, chocolate chips, and more, all out of colorful felt. Then your kids can mix and match different cupcakes, frostings, and toppings to make fun "treats".
Click here for more information about the Build Your Own Cupcake busy bag — including a free downloadable busy bag making kit.
6. PomPom Stuff It In
I'm so glad one of my friends decided to do this busy bag — because it's one I had my eye on from the very beginning. I actually thought about doing it myself, but I already had the supplies to make my other two bags.
Anyway, all you need for this busy bag is a bunch of small, colorful pompoms and any sort of clear plastic container with a lid (think lunch meat containers, disposable Ziplock or Rubbermaid containers, etc.)
Simply cut holes in the lid of the container and have your toddler push the pompoms into the container through the holes. Then, dump them out and repeat! And yes, Nora is licking one of the pompoms!
Click here for more information about the PomPom Stuff It In busy bag.
7. Felt Fishing
It doesn't get much easier than this — but OH so much fun!
Simply cut colorful felt pieces into fish shapes and glue a washer in between the 2 layers. Then make a fishing pole with a wooden dowel and yarn with a magnet at the end.
Your child can then go "fishing" by using the magnet to attract the metal washer inside the felt fish… or they can just chew on the pole.
Click here for more information about the Felt Fishing busy bag.
8. Color Sorting
This is another extremely simple busy bag to put together — and I just love that it's all about organization 🙂
All you have to do is find small objects of different colors and then include 3-5 paper plates in those colors. Your child can lay out all the plates, and then "organize" the small objects by color onto each of the plates.
9. Five Fabulous Frogs
This is a fun counting activity — and you could most definitely use something other than frogs, and/or count to higher numbers than 5 if your children are older.
Simply use cards that say "1 frog", "2 frogs", etc. and then include at least 15 little colorful frogs (or other small object) to place on the cards.
Click here for more information about the Five Fabulous Frogs busy bag.
10. Eye Spy Bottle
Put your extra plastic water bottles to use in a fun activity for your kids — and since it's completely contained, this might be a good car activity.
Simply fill a clear plastic bottle with 10-15 small items, and then about 2/3 full with rice. You can glue the top shut if you're worried about rice spilling.
Your kids can have fun shaking the bottle and then searching for the different objects. You can also include a picture of the different items they will find so they can keep track.
Click here for more information about the Eye Spy Bottle busy bag.
11. ABC Eggs
This busy bag is a great way to use up extra Easter eggs and help your toddlers learn their ABC's.
All you have to do is write all the upper-case letters on the tops of the eggs, and then write the lower-case letters on different color bottoms. Your child can match the upper-case and lower-case letters together to form a complete egg.
So far, this is Nora's favorite busy bag — but that's probably because we put all the eggs in a small basket and she LOVES carrying it around (and then dumping out the eggs!)
12. Sticky Pipe Cleaners
This is a really cool busy "bag" — even though it doesn't necessarily fit in a bag. And if you have older kids (or husbands), they will have fun with this activity too 🙂
All you have to do is cut up a bunch of pipe cleaners into 1″ chunks and put them in a clear container (my friend used an orange juice container). Then find a strong magnet and use it to make the pipe cleaners "stick" to the walls and move wherever your child moves the magnet.
Click here for more information about the Sticky Pipe Cleaners busy bag.
.
So those are the 12 busy bags we have at our house!
I realize it will be a while before Nora can really start using most of these bags, but right now, she's having fun dragging noodles, dumping eggs, and eating pompoms… and I had a fun afternoon away with friends!
Win, win!
Here's a link with more busy bag resources, and here's how I store our growing collection of busy bags…
I used curtain rings with clips on them. I "thread" the rings over 2 hooks and then attach 2 clips to each bag. It's been working great so far and it's really easy to just unclip whatever busy bag we want to work with on a particular day.
Do you have a favorite busy bag?