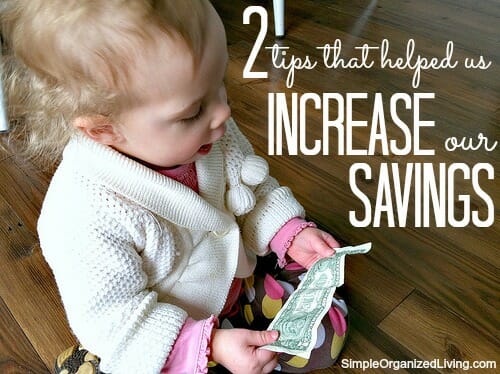 This topic has been on my mind for quite some time now… and while I'm excited to share these stories and tips form my own frugal journey, I'm also just a tad hesitant since publicly sharing any sort of financial information can often be seen as "tacky", "too up-front", or even "boastful".
However, if possible, please try NOT to read into the specifics of this post too much. I'm sharing what worked for Dave and for me in hopes that it will inspire some creative savings ideas in your own life. Our specific percentages and figures might not work exactly for your budget… but they might motivate you to come up with a plan that will work for you.
Also, I must remind you that I am not a financial advisor — just a frugal mom and wife striving to manage our financial resources the best way I know how. I'd urge you to consult with your own financial advisor before taking any drastic measures. 🙂
Dave and I both have parents who know what they are doing financially. This does NOT translate into "wealthy families" — but rather, families who live within their means, live frugally, work hard, do without when necessary, splurge occasionally, and teach their children to do the same.
Thankfully, Dave and I both listened!
And while we don't have a lifetime full of money-mastering tips, Dave and I have learned a lot about finances from our parents, from my 6 years of business experience, from our own financial investors, accountant, and bank managers, and from other more experienced individuals. We've worked hard to take as much of their advice as possible, do what they did, live how they lived — BUT to do it in a way that also fits with OUR financial goals, OUR vision for the future, and the way WE want to live OUR lives.
So since my mission in life is to simplify everything, I'd like to share two of the MOST helpful (and extremely doable) pieces of financial advice Dave and I have received throughout the years.
I'm fairly confident that YOU — yes you — can implement either (or both) of these two tips no matter how much money you make, no matter what your monthly income and expenses are, and no matter how financially incompetent you think you might be.
They are not rocket science by any means — in fact, Nora was shocked when I explained my simple tips — but they should help you to save and/or invest more.
1. Directly deposit SOME of your pay check into savings.
One of the first things Dave and I did after we were married was to set up two joint bank accounts — one was a checking account, the other was a savings account.
Since Dave and my paychecks were relatively equal, we had Dave's full paycheck directly deposited into our checking account and my full paycheck directly deposited into our savings account. Then we committed to ONLY living off the money in our checking account and not touching the money in our savings account for a year.
After that year, we had a fully-funded emergency fund that could essentially last us 12 months if needed.
From then on, we continued to pay all our monthly bills and expenses from our checking account and only used the money in our savings account to pay down our mortgage, pay off our student loans, and help fund larger "projects" — like our kitchen renovation.
So the point I want to make is not that you should or shouldn't live off 50% of your income — it's that by directly depositing at least some of your paycheck into a savings account (and not touching it for several months) you WILL save more than if you didn't.
Even if you only deposit $10 from every paycheck — you'll end up with more than $250 at the end of the year!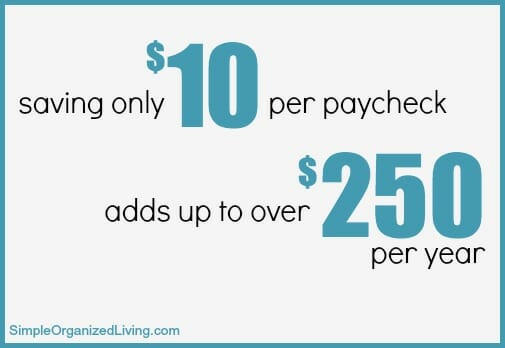 Now, I realize these are tough economic times, but I have to believe that almost anyone could shift their budget around and make-do with $10 less per paycheck. Skip 2 cups of fancy coffee, one fast-food meal, or 3 gallons of gas and you're there! And wouldn't it be fabulous to have an extra $250 (or more) in a savings account come Christmas.
By directly depositing some of your monthly income into a savings account, you don't get a physical check — which means you don't have to think about it. You don't have to go to the bank and manually deposit the money, you don't have the opportunity to change your mind or decide you'll start saving "next month", and you don't have the opportunity to spend that money without consciously making an effort to transfer it back into your checking account (which I wouldn't suggest doing!)
It's crazy how quickly the money will build up — especially if you do more than $10.
Take a moment to really look at your budget. What can you afford to put into savings? Take that estimated number and then add another $5 or $10 to it — just to see if you can live a little more frugally.
Then sit back and don't check your savings account for a few months — it will be so fun to log on (or look at your paper statement) and realize how much you have sitting in your savings account with almost no effort on your part.
2. Automate your investments on a monthly basis.
.
So I'm most definitely not an investment expert — but this tip has helped us to not only think about investing a little bit more, but also accumulate a nice little investment "cushion" that we can continue to grow and save for a rainy day.
It is important to realize that unlike building a savings account, investment money is money you COULD lose if the market crashes. If you are new to investments, I'd suggest that you start small, be informed, only invest money you can live without, work with a trained financial advisor you trust, and be prepared to let your money sit for many years.
That said, if you're looking for a really simple and relatively safe way to test the world of investing, I would encourage you to automate your investments on a monthly basis.
Similar to my savings example above, you can literally start super small by having $10 per month automatically withdrawn from your checking account and put into some mutual fund (let your financial advisor decide). It might not seem like much now, but in a couple years (or more if you don't need the money) you might be surprised how quickly that money will grow — especially if the market is good!
Dave and I have one relatively "safe" mutual fund investment that we've been contributing to for almost 2 years. Each month $200 is automatically withdrawn from our checking account and deposited into our investment account — when I checked the balance (mainly to write this post) I was pleased to see that it's valued at almost $9,000. If you do the math, our money has doubled in less than 2 years… and we did nothing.
While this sounds quite simple (it IS simple!), I can almost guarantee we would not have been as diligent with investing if it wasn't automated… and it certainly wouldn't have been as easy to save all that money if it was just sitting in our checking account staring us in the face.
Hypothetically, if you put $10 per month into an investment account (and it doubled) you'd have $480 after 2 years!
Not too shabby!
Obviously, it doesn't always work like this — but by automating our investments, Dave and I have been able to build our investments more quickly (and we've learned a lot too!) It doesn't matter if the market is good or bad, if we have more bills than normal or extra income, we always know that $200 is going to our investments — no matter what. Yes, we can stop that transfer at any time, but by keeping things automated, we never forget to write the check, or decide that we don't want to part with our money that month.
And as you can see by the figures above, the diligence pays off!
Yeah, we're already teaching Nora to save, save, save 🙂
So like I said at the beginning of this post, my hope is that by sharing some personal stories from my own frugal journey, you'll be motivated and inspired to create a savings and investment plan that will work with your budget and your life.
I can't stress enough that even the smallest amount of money CAN make a difference. And if you work with a bank or investment professional who makes you feel stupid for saving or investing such a small amount, find a new bank or a new investment company! Seriously!
Don't put your savings or your investments off until next week or next year. Take action now and who knows what your money could do over the next two years!