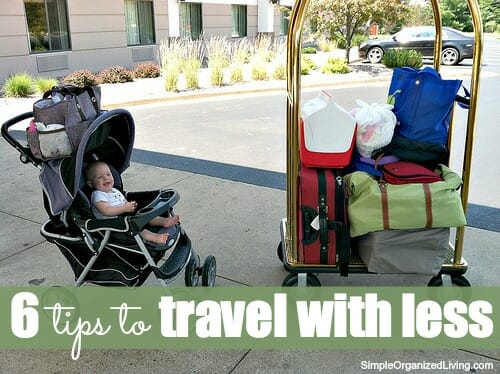 Dave's spring break starts this Friday, and we are planning to spend a nice relaxing week AT HOME. Hallelujah!
But for those of you who are headed out of town, I have a few tips that should help you pack a little lighter… and could potentially save you a bundle if you're flying.
Below is a list of 6 questions I ask myself whenever I'm packing for a trip. They always help me to pack less; hopefully they are helpful for you too!
1. Is it practical for your type of vacation?
Most of the vacations I've been on are for the sole purpose of relaxation. We sleep in, go for walks, lounge around the pool, play mini golf, visit shopping malls, and eat at casual restaurants. So there's no purpose in bringing any dressy or fancy clothing. We bring a couple pairs of shorts, a few t-shirts, flip-flops, swimming suit, and a sweatshirt.
If this is the type of vacation you're planning, consider that when you're packing. Also, since you most likely won't see a ton of people you know (if any) I'd consider wearing the same thing a couple times as long as it's not too dirty 🙂
Obviously, if you're going on a fancier vacation, this tip might not help… but I've found that if I just stop and think about how many items of clothing I actually NEED, I can usually put over half my suitcase back in my closet!
2. Does it fit?
There is no sense packing something that doesn't fit or that isn't comfortable to wear, so I suggest quickly trying on the items you plan to pack. Plus, if you're packing for a warm destination in the middle of winter, there's a chance you might forget about the rip in your favorite pair of shorts or the button that popped off your favorite sweater last summer — so trying everything on is always a good idea.
3. Can you layer this piece?

I'm a big fan of layering… but even more so when I travel. By layering, you can mix and match a few different pieces to create a totally different look. This is also helpful if you don't know what the weather is supposed to be like.
I'll often pack a handful of tank tops and layer them with different shirts/cardigans/etc. Then I pack one pair of pants, one pair of capris, a casual skirt, and a pair of shorts that can be mixed and matched with any combination of tank tops, shirts, cardigans, etc.
4. Does it coordinate with your other items?
Along with my layering question above, I also try to pack mostly coordinating colors. I usually stick with white, black, grey, and light khaki colors so everything coordinates — meaning I need less stuff.
Not only do I save a bunch of time wondering if a certain outfit looks good together; I also save tons of space in my suitcase because I only need to pack black shoes/sandals/belt/etc.
5. Can you live without it for a week?
Again, my motto is that no one really cares what I look like on vacation (at least they shouldn't), so I personally don't feel the need to be fully accessorized and beautified while I travel. I'll often wear one pair of earrings the entire trip and skip necklaces, braclettes, and watches entirely.
I usually only pack 2 pairs of shoes (walking shoes and flip-flops) and I personally don't have any issues wearing something more than once in the course of a week. Besides a toothbrush and a bathing suit, I could most likely do without everything else on my vacations!
I also ask this question when it comes to technology items as well. Because of the nature of my business, I need to bring my laptop and we both bring our phones — but that's about it. We figure we can live without everything else for the week.
6. Can you buy/rent/find it when you arrive?
There are many things that might be much easier to buy or find when you arrive than to waste the time/space packing them — especially if you are flying and paying ridiculous rates for checked bags and carry-ons.
We usually don't pack any showering products (shampoo, conditioner, body wash, hand soap, etc) because we just use whatever the hotel provides. We also don't pack our beach towels and simply use the hotel pool towels instead (no, they're not as nice, but we save a ton of space).
If you're flying, it's probably better to buy a cheapy cooler when you get down there then to try and lug that on the plane — and it might be smarter to rent sporting equipment, like golf clubs, if you're only planning to go golfing once or twice during your trip.
If the items you want to pack get a "no" from the first 4 questions or a "yes" from the last 2 questions, then they are probably items you DON'T need to pack.
Think of all the space I just saved you 🙂
What are your tips to travel with less?