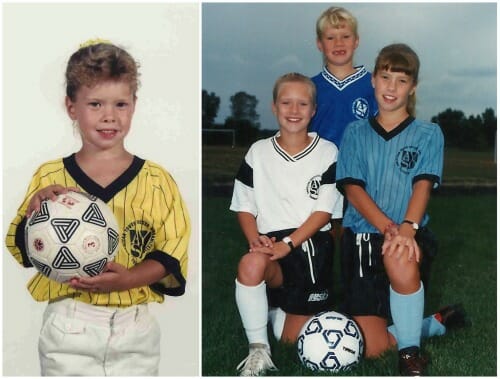 AYSO soccer in Kindergarten | with my sisters in 5th grade

Growing up, I was always involved in as many extra-curricular activities as possible (big surprise, huh!)
I feel fortunate that my parents were not only willing to cart me (and my 2 sisters) around to every single sporting event, band concert, piano practice, sewing lesson, etc., but they actually encouraged us to do as many extra-curricular activities as we wanted to do.
And while I totally understand there is only so much one child or one family can be involved in, I also think there are 3 important reasons all kids should be involved in some extra-curricular activities (at least based on my own experiences).
piano recital in 4th grade | choir in 2nd grade
1. Being involved helped me plan ahead, prioritize, and learn responsibility.
I can vividly remember being in 2nd grade and "planning ahead" because I had choir practice right after school — which meant my mom had to drive me downtown for the afternoon. I had to make sure I packed an extra snack in my lunch that day so I wouldn't be hungry at practice. I realize this might not sound like a big deal, but as a second grader, I knew Tuesdays were always the day when I'd need that extra snack, and this taught me to not only think about what day it was, but also plan ahead.
Another example from high school… I played 3 sports all through high school, so there was rarely a day when I didn't have a practice or a game after school. I also was in the honor's choir which met every day before school. Because of this, there were days when I was gone from 6:40am – 9:30 or 10:00pm. They were long days, but I loved everything I did, and I learned a lot of responsibility too. Not only did I have to make sure I was up on time to get out the door, I also had to make sure my lunch, clothing, sports gear, music, etc. were all packed and ready to go the night before. I had to prioritize constantly to make sure I did all my homework and studied for tests during my study hall or in between events.
I realize that some high school students might not be able to handle so much responsibility, but even being involved in one extra-curricular activity is bound to teach some sort of positive lesson about planning ahead, prioritizing, and responsibility.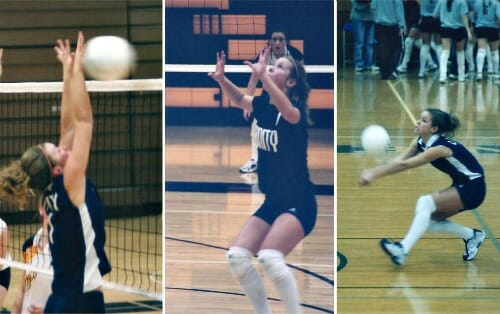 high school & college volleyball
2 Being involved helped me develop physical, mental, social, and emotional skills.
Obviously, these activities helped me learn new physical and mental skills like:
how to kick a soccer ball, shoot a basketball, throw a softball, or serve a volleyball
how to play an instrument, play the piano, and sing in a choir
how to use a sewing machine
how to make the best use out of my time each day
how to problem solve and make the best decision for that specific time and event
etc. etc.
However, they also helped me to improve my social and emotional skills as well.
Believe it or not, I was extremly shy growing up. I didn't like to talk to adults if I could get around it and I wasn't great at mingling with large groups of peers I didn't know. So being involved in community sports teams, church groups, school music and sports groups, and an area-wide choir forced me to interact with others (peers and adults) in a more casual environment that didn't seem as overwhelming at the time.
These activities also taught me that I wasn't going to win every time, I wasn't always going to get my way, I would make mistakes, and I couldn't be the best at everything (this one took me a while!) These social and emotional lessons were invaluable — and not something I could have learned by watching or reading.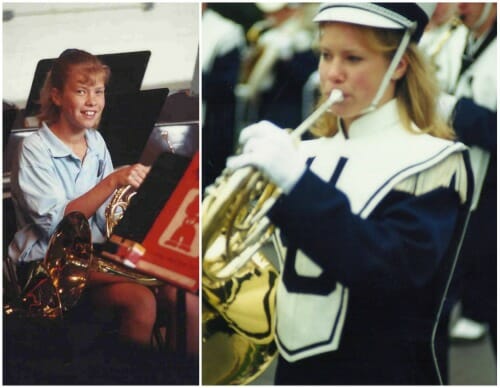 band camp in 6th grade | marching band in 9th grade
3. Being involved gave me so many new experiences.
As I mentioned before, I participated in more competitive sports and musical groups than I can begin to list. My parents strongly encouraged us to be involved in sports and music all through high school and college (they also came to every single one of our games, concerts, etc.) Yes, it was busy at times, but honestly, some of my best childhood memories are from these events.
SPORTS:
Winning the softball conference championship my senior year in high school
Coming back from losing 1-15 (old volleyball scoring) to win the entire tournament
Being the captain of many sports teams throughout high school and college
Spring break trips down south with our teams
Traveling with sports teams throughout the summer
LONG road trips to and from games when I was in college
Winning the Little League World Series in softball
MUSIC:
More piano recitals, choir concerts, and band concerts than I can count
Being a member of a top children's choir in our area
Traveling to state solo ensemble for band and choir
Singing in the White House and touring Washington DC with my high school honor's choir
Participating in two high school musicals
Spending parts of two summers at Blue Lake Fine Arts Camp (a.k.a. "band camp"!)
I could go on and on… but I think you get the picture.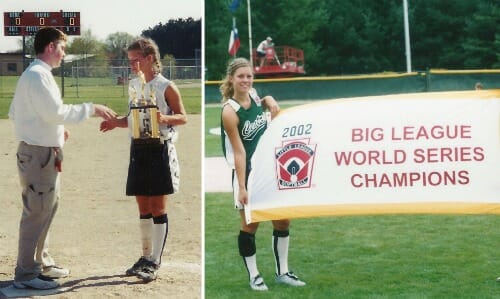 world series champions!
Being involved in so many extra-curricular activities helped me learn valuable life skills and provided the opportunity for so many fun, unique experiences I would have otherwise missed out on (including the reason I met Dave).
And for the record, I always had summer jobs throughout high school, and I worked two part-time jobs my entire college career — so it IS possible to be involved in the "fun" activities and have a job 🙂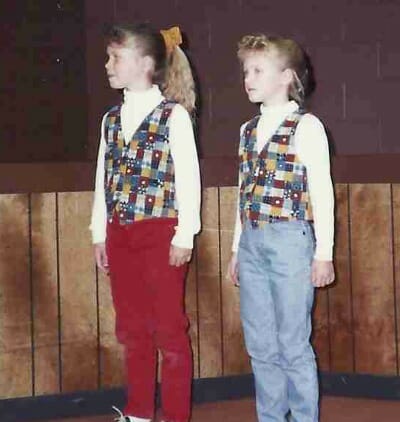 sewing class style show in 4th grade 🙂
Obviously, Nora isn't ready to join the choir or the volleyball team just yet, however, we're still trying to get her involved in a few baby-appropriate activities like playdates with other toddlers and a new Music n' Motion group at a local church. It's fun to see her learning new skills and interacting with other toddlers (it's a nice break for me too!)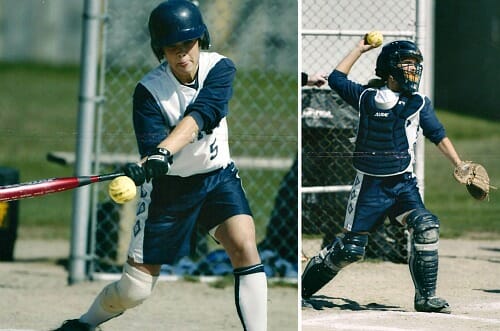 high school softball
For those of you who have older children, do you have any family "rules" or guidelines for how many extra-curricular activities your kids can be involved in? Do you ever force (or strongly encourage) them to be involved in certain groups or activities because you know it will be good for them?