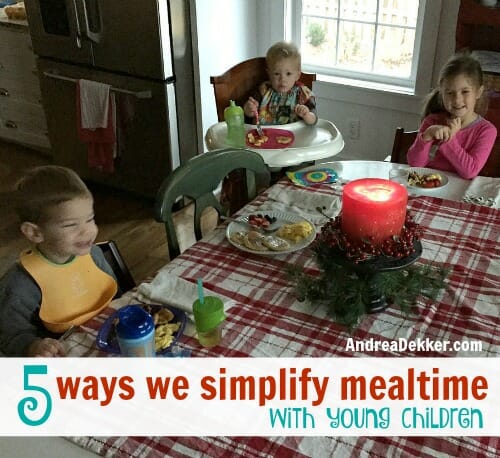 Mealtimes are some of the craziest, busiest, loudest, messiest times for our family — and they happen 3-5 times a day (if you include snacks).
There are times when we finish a meal and I feel like I've run a marathon and can't imagine that I need to do it all over again in a couple more hours. However, I know from eating at friends' and relatives' homes that we are not the only crazy, busy, loud, messy bunch around.
In fact, I think there are a few things we do that actually simplify our mealtimes… and since I know so many of you eat with small people every day, I figured I'd share a few ways WE simplify mealtimes with young children!
1. We keep them strapped into child-size chairs
I realize this might sound crazy, but we literally have straps on all 3 of our kids' chairs, and if we don't use the straps, they are all over the place — getting out of their chairs, standing up, turning around, etc.
Of course, James has straps in his high chair, but Simon and Nora also have straps on their chairs
Simon uses the Stokke TripTrap chair (very pricy but we got it on Craigslist) which has full over-the-shoulder straps that keep him sitting down, but not totally constrained like in a car seat.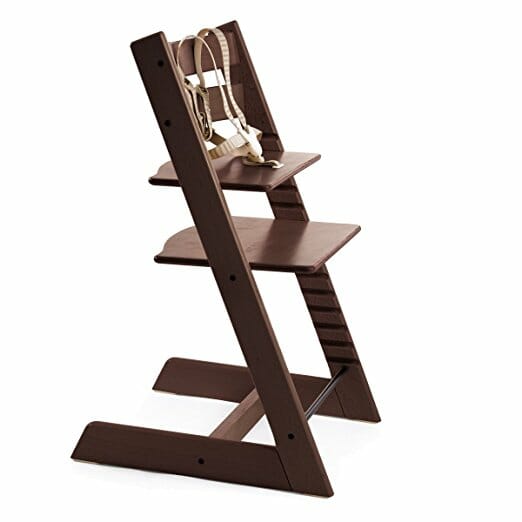 Nora uses the Keekaroo chair (Also quite expensive, but we found it on Craigslist) which has a waist strap that at least keeps her seated for most of the meal!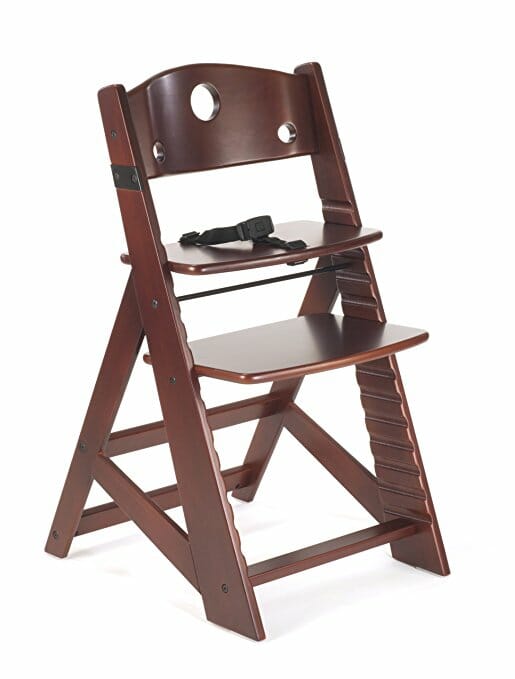 In general, I am a HUGE advocate for chairs that fit the child — I cannot tell you how much better our children sit and eat when they have someplace to put their feet, when they are at a good sitting height, and when they are strapped in. (Here's an interesting post that shares more about how important it is to have a child seated properly at the table).
I realize we never would have purchased either the Keekaroo or the Stokke chairs if I hadn't found a great deal on Craigslist, but I'm SO glad we have them now.
We have tried moving Nora to a regular chair 2 or 3 times (in preparation for James moving into her chair) but we put her back in her chair after a few days of craziness. She wiggled around constantly, kicked her legs the entire meal, and literally fell off her chair 2 times!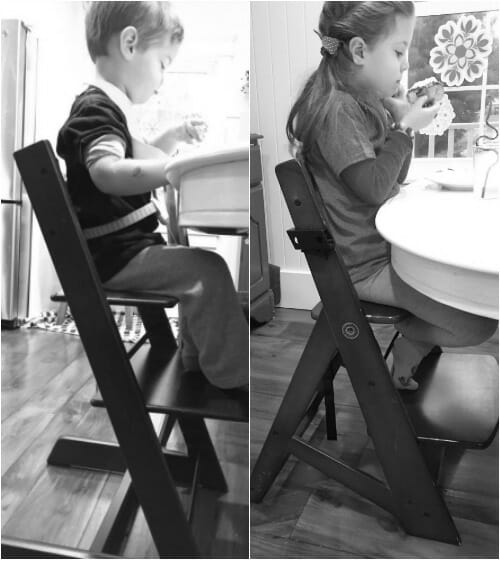 .
2. We put a tablecloth under the high chair.
I assume we are not the only parents who have VERY messy babies and toddlers… right?
So far, it seems that James is actually our messiest eater — probably because we give him less attention and help than we did when Nora and Simon were his age, but also because he insists on feeding himself 100% of the time.
Back when Simon was still using the highchair, Dave and I got smart and put a tablecloth under his chair so all the crumbs and junk simply fell onto the cloth. We would shake it out at the end of every day and wash it periodically.
It was a lifesaver in terms of how much crud it kept off our kitchen floor — and we've been using the same tablecloth ever since.
I save so much time sweeping the floor, picking up food, and wiping up spills!
.
3. We use spill-proof cups.
I know children need to learn to drink out of normal cups eventually — but I hate cleaning spilled liquids (especially when my food is already lukewarm) so our kids use spill-proof cups as often as they are willing.
Nora has been drinking out of regular cups for a while already, but she still uses a straw water bottle whenever she's drinking in the living room or in the car.
Simon is perfectly content to use the silicone lid + straws (and his speech therapist told us to have him use a straw as often as possible) and James is still rocking the sippy cups.
This means less chance of spills and less messes for us to clean up.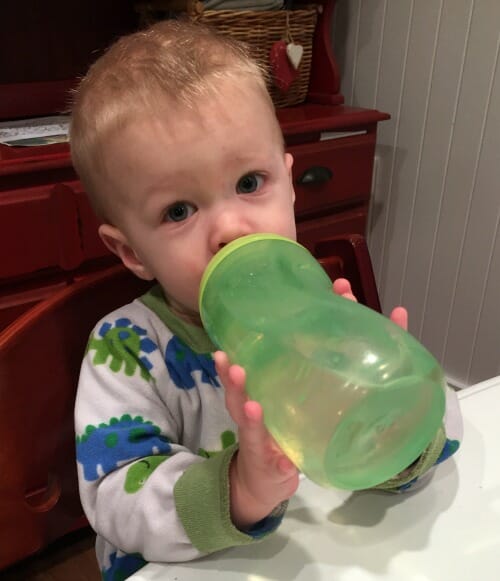 .
4. I put food on their plates before I bring the plates to the table.
For some reason, I always feel like the entire meal is more stressful and chaotic if the table is full of food… so when Dave and I got married, we started leaving the food on the counter (or the stove) and only taking our plates to the table.
Throughout the years, and as we've added children to our home, this method continues to work well for us — and it seems to really simplify our meals (I do it for breakfast, lunch, and dinner — ALL the time!)
We might have applesauce or bread or fruit on the table, but everything else stays on the counter. If we want more, we just get up and put more on our plates.
Once the food is ready, I call Dave and the kids into the kitchen. He gets them all strapped in and puts bibs on appropriate children. Meanwhile, I put small portions of food on their plates and have it already cut up and ready to go to the table (this also helps it cool a bit before they eat it).
Once we pray, they can dig in immediately and Dave and I can then eat in relative peace while our food is still somewhat warm without being constantly nagged by the kids to cut up their food, give them some ketchup, blow on their food, etc.
I realize this might not work for families with more children (or older children)… and I know we won't need to do this as much when our children get older — but for young children, it works SO well!
.
5. I always serve at least one thing I know they love.
My kids are fairly good eaters (at least in my opinion) but even still, they definitely all have their favorite foods.
They will always try at least one bite of everything (we usually request that Nora try at least 2 bites) but we don't force them to eat something if they truly don't like it.
That said, I'm rarely willing to make completely different meals for the kids (with the exception of fish — I usually make them chicken). It's too much work to make multiple different meals every night, but I WILL always serve at least one thing I know they love.
Maybe it's cheese cubes, mandarin oranges, strawberries, fresh bread and butter, applesauce, pickles, french fries, or finger Jello. I don't really care if it "goes" with the rest of our meal, it's more important for me that they are really excited about at least one of the foods on their plate.
Usually if I can just get them eating that one thing, they gradually start eating the other things — and then I'm willing to give them more of their favorite food as an incentive to keep eating other foods.
It's not a perfect system, but it seems to work well for our kids.
.
In general, our meal times are still pretty loud and crazy, but these 5 tips help us to simplify our time at the table — something I really appreciate at this point in my life!
Do you have any tips to simplify mealtime with young children?