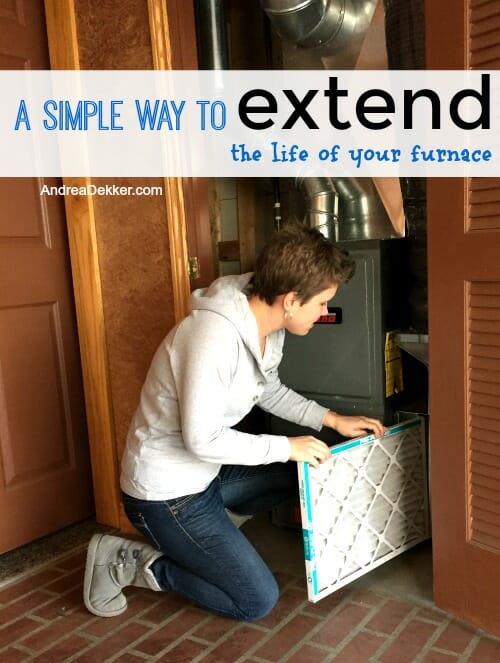 After almost 11 years of being a homeowner (and doing extensive renovations for about half those years), I have learned a thing or two about home maintenance.
Namely, that a little bit of maintenance can go a LONG way in preventing big huge expenses…
When we first purchased our farmhouse, basically everything had to go… all the windows, all the doors, all the flooring, all the light fixtures, all the appliances, all the cabinets, all the plumbing, all the trim, etc. We knew it would be expensive and time-consuming — but we also had a plan to tackle it over the course of several years.
One thing we didn't really consider in our "replace everything" plan was getting a new furnace and a new AC unit (I'm still not sure why we never thought of these as we budgeted… but we didn't).
Anyway, after having the ductwork cleaned the week before we moved in, we had someone come out to do an inspection on our furnace and AC unit.
The news wasn't great. The guy basically said both the furnace and AC unit were very old and would need to be replaced sooner rather than later… but he also told us that we could definitely extend the life of these units by faithfully changing the filter so they didn't have to work as hard.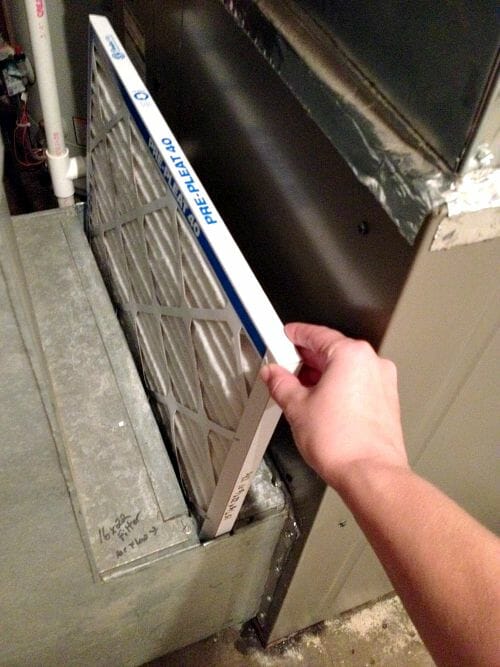 For the most part, we have faithfully changed our filter every 2-3 months — and when we did finally decide to replace our furnace and AC this past summer, the technician said it had been a long time since he had seen units as old as ours that were still working.
Who knows, maybe we could have gotten an extra couple of years out of our units — but we didn't want to risk it. We figured we were already using them for 5 years past our initial inspection, and we wanted to replace them on our terms, not when the furnace decided to poop out in the middle of a snow storm (probably on a holiday weekend!)
Of course, changing the furnace filters is SO EASY to do… except that it's also SO EASY to forget to do!
Thankfully, for the last few years, we've been using the super convenient filter delivery service from Second Nature (formerly Filter Easy) — which means I never need to worry about forgetting to change our filters again.
The new filter arrives at the scheduled time (I have mine set for every 2 months in the winter and every 3 months the rest of the year) and I simply run downstairs to change out the filter. Then I'm done until the next FilterEasy box arrives on my doorstep.
As I've mentioned before, I am a huge fan of any service that simplifies my life (as long as it's not crazy expensive). And as it turns out, our furnace filters are actually LESS expensive when I order them through FilterEasy since they can custom-make any size filter and we have an odd-size filter that is very difficult to find in local stores!
When we got our new AC unit installed this past summer, the technician reiterated how important it was to change the filters regularly. He said it's one of the simplest and cheapest ways to extend the life of our furnace and AC units.
Of course, there are a couple of other benefits of regularly changing your filters too…
1. Better air quality.
I've noticed that as long as we change our furnace filter regularly, I hardly ever need to dust — and if there isn't much dust on our tables and furniture, I know the quality of the air must be better too!
Second Nature offers 3 different types of filters, depending on what air quality you want or need in your home. Since we don't have any airborne allergies, we get the Lite Allergen filters. However, the Super Allergen filters even rid the air of lead dust, oil smoke, and microscopic allergens other filters leave behind!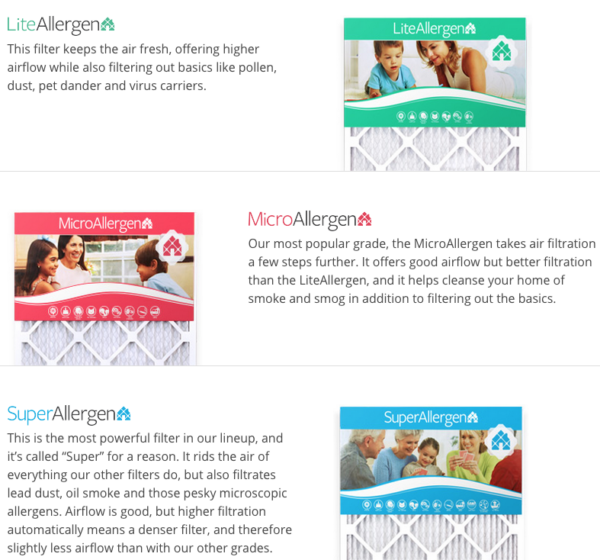 2. Lower utility bills.
If your furnace and AC don't have to work as hard to pull air through dirty, clogged up filters, they will be more efficient at heating and cooling your home, and your utility bills will most likely reflect this.
I've read statistics that claim a clean filter can reduce utility bills by 15% — although I'm not sure exactly how they are able to calculate the exact savings due to a clean filter. But either way, I'm sure a clean filter will not increase your utility bills in any way!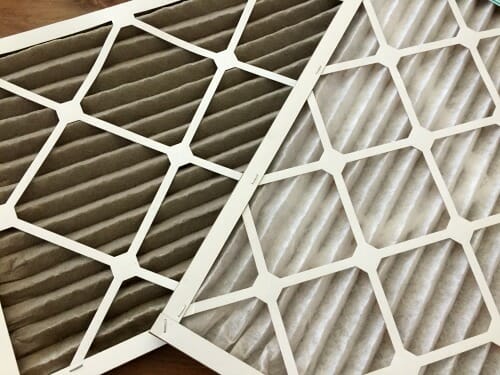 .
If you'd like to extend the life of your furnace and AC units, improve your air quality, lower your utility bills, and have one less thing to worry about forgetting, I'd encourage YOU to jump on board with Second Nature. There's no long-term commitment, there's no lengthy sign-up process, and you can change or cancel your account at any time.
Plus, for a limited time, you can get your first order of FilterEasy filters FREE after shipping!
Also, one lucky reader will win a $250 Amazon gift card!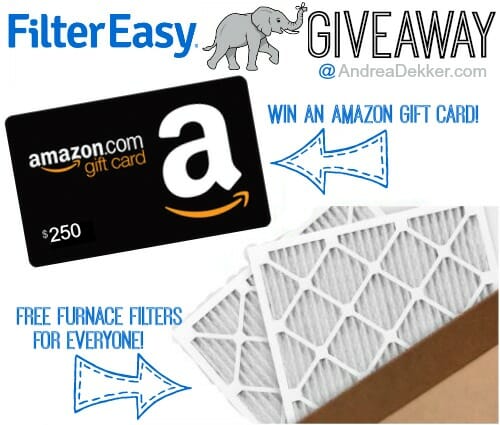 Here's how to get your free filters and enter the giveaway:
Click through to the Second Nature website here.
Submit your email address in the blank provided (this will automatically enter you in the giveaway for the Amazon gift card).
After entering your email address, you'll be directed to FilterEasy's homepage with your free filter promo code automatically applied.
Sign up for the service and get your first set of filters for free (I believe you will be asked to pay the shipping)
Note: If you don't see your filter size listed on their website, simply email Hello@FilterEasy.com with your filter size… and if you mention this blog post, you'll get your first order FREE!
.
I'd love to know… when was the last time YOU changed your furnace filter??
This giveaway ends at 11:59 pm EST, 2/20/2017 and is open to US residents, 18 years or older. The gift card winner will be randomly selected and notified via email. I received compensation from Second Nature in exchange for hosting this giveaway — all opinions are 100% my own. Please see my full disclosure policy and contact me with any questions you have. Good luck!