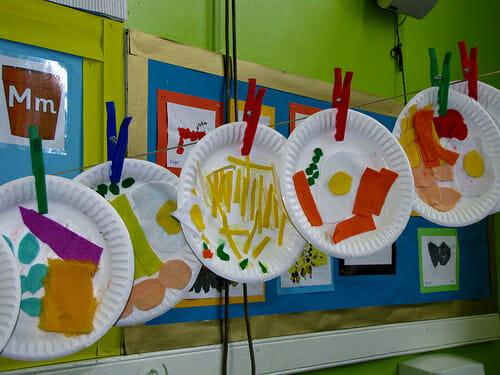 A couple weeks ago, I mentioned that my fridge was getting a little "cluttered" with pictures, cards, coupons, etc. — but I can only imagine how much more "cluttered" it will be once Nora starts drawing and coloring 86 pictures every single day!
And based on the number of emails and questions I get about "what to do with kid's artwork", it sounds like many of your refrigerators are covered with kids artwork!
So, since there's a good chance some of the art projects from school will end up at your house, I figured it's a good time of the year to share a few of the ideas I've successfully implemented with many of my organizing clients.
If you're looking for ways to display your kid's artwork, here are 7 "off the fridge" ideas to get you thinking.
1. Post them on a board
This is the simplest option — which is why I listed it first 🙂
You can buy any type of cork board or magnetic board from the store for a very reasonable price, and then mount it in their bedroom, laundry room, play room, hallway, or any other place you want to display their works of art. Of course, you can also make your own board using an inexpensive picture frame and cork, chicken wire, ribbons, etc.
The reason I really like this option is because you can put the board in an out-of-the way place (a.k.a NOT in the middle of your kitchen) and contain their art all in one location. Plus, if the board starts to overflow, you know it's time to purge.
2. Hang them from a clothesline
This is also a really simple idea that you can probably implement for free… in about 10 minutes or less!
Simply find a long piece of ribbon, twine, clothesline, thin rope, yarn, etc. and hang it from 2 or 3 nails or hooks — letting it swoop down a bit between hooks. Then take clothes pins and pin their artwork to the string.
Done!
I really like this idea for their bedrooms, playroom, or a long hallway.
3. Put them in frames
I love the idea of framing the artwork and then rotating it out every month… and it actually looks fabulous — especially with matching large poster frames like these.
I know it's not always practical to limit your child to one or two pieces of artwork… and it takes work to change out the artwork every month, but it sure is fun for them to see their work in pretty frames!
4. Reuse them as gift wrap & cards
I LOVE this idea, and I think it's my favorite of all 7 ideas listed here. This is a perfect way to use up some of the large drawings and art projects your kids bring home (maybe after you've displayed them for a month).
Let your kids use their artwork as wrapping paper for their grandparents' gift — or use smaller artwork to make invitations, thank-you cards, or even blank note cards.
Talk about a great way to reuse, repurpose, and recycle!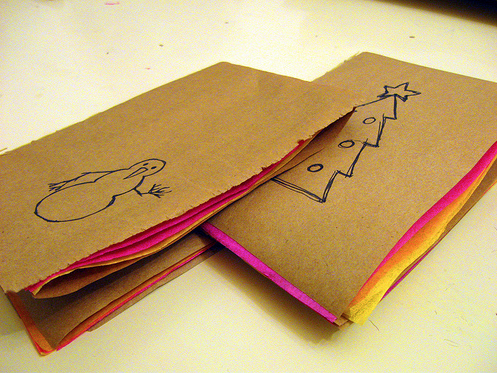 5. Make a Book
You can take pictures of (or scan in) your children's favorite artwork (or all their artwork if you have the time) and then make a digital photo album using Snapfish, Shutterfly, etc. Let them keep the books in their room, or offer to display them on your coffee table.
Another great idea is to take a few pictures of your child holding their artwork — then you can remember approximately when they created the artwork.
6. Go Digital
Once you have digital copies of your child's artwork (either by taking pictures or scanning it into your computer) you can send those images to a digital photo album, use them to create a fun screen saver, or even save them as your desktop background.
Every time you and/or your children use the computer, they'll see their artwork! Plus, it doesn't require a ton of work or creativity on your part 🙂
7. Get Creative
I'm not the most creative person, but there are definitely lots of ways you can use kids artwork while also displaying it. Some ideas I like are to…
Laminate some of the larger pieces and use them as place mats at the dinner table.
Print it off and decoupage it to a piece of cardboard. Then cut it into puzzle pieces.
Shred some of the really colorful pieces to make a soft place for them to store their ornaments or other "precious treasures" (like rocks and jewelry from gum ball machines!)
Order a deck of playing cards with their artwork as the image on the back
Decoupage smaller pieces of art (or cut smaller sections) onto clear plates and then give them as holiday gifts (with baked goods, of course!)
Not only will these ideas help to limit the amount of artwork that piles up, they can also teach your children that they don't need to save everything (yes, this is a really good lesson to learn early on!)
Remember to let your kids help you make the decision about what artwork stays and what goes. The more they are involved in the process, the easier it will be for them to let some of their creations go — and that means you'll have less paper clutter lying around your house!
What are your "off the fridge" ideas to display kid's art?