Mornings CAN BE crazy. I'm sure you agree!
However, if you do a bit of planning ahead, even the busiest families and the earliest mornings CAN BE simplified.
Dave and I both hate feeling rushed, we hate being late, we hate forgetting anything, and we hate being unprepared… so we've always been huge advocates for planning our mornings the night before.
We pick out our clothes, pack lunches, get bags packed, go over our schedules, make sure the cars have gas in them, etc. etc. all before we go to bed so even if we do hit "snooze" a couple of times, we can still make it out the door without feeling rushed or forgetting something important.
Since I mainly work from home, this isn't a huge issue for me anymore — but Dave still faithfully packs his lunch and sets out his clothes every night, along with his wallet, watch, chapstick, keys, school bag, coaching bag, and anything else he'll need for the day.
And up until a few months ago, the one thing he COULD NOT do the night before was program the coffee maker… because we were using an old freebie coffee maker I got in college 🙂
Thankfully, my friends over at Hamilton Beach thought Dave needed a brand new (programmable) coffeemaker… so now, our mornings are even less rushed!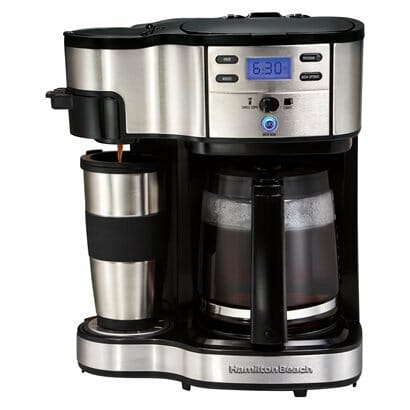 I don't drink coffee, but Dave has already gotten good use out of our new coffeemaker and he loves waking up to hot coffee. However, even though I don't drink coffee, I've also been able to use this coffee maker because it has a separate, single-serve spout that brews enough hot water for one cup of tea or hot chocolate.
So instead of putting coffee grounds in the single-serve filter basket, I just leave it empty and then let the steamy water pour over a tea bag or my homemade hot chocolate mix in the bottom of my mug. It's the perfect amount for me… and it's way easier than boiling water in a tea kettle or in the microwave.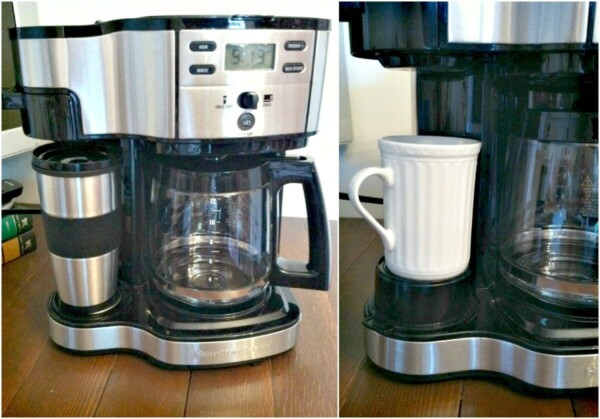 I love that the single brew feature works with a travel mug or a regular mug.
Here are a few other features we really like about this coffeemaker:
It's fast — maybe this is just because we had an older coffeemaker before!
It's big — it holds 12 cups which is way bigger than our other coffeemaker and perfect for entertaining if we ever finish our kitchen renovation!
It's shiny — black and stainless steel (and it matches our new kitchen appliances!)
It's automatic — not only can you program it to automatically turn on, it also has an automatic shut-off, which is really nice for when Dave forgets and I don't notice.
It's simple — even I could figure out how to use it within 2 minutes!
Thanks to Hamilton Beach for our fun new kitchen appliance… and for letting Dave get an extra 10 minutes of sleep every morning!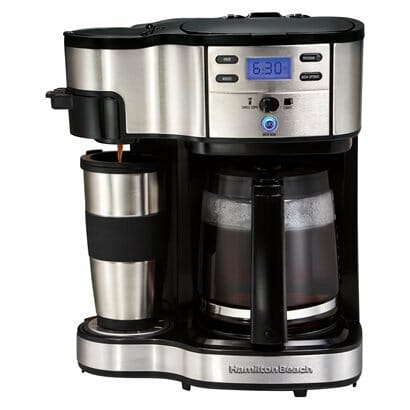 How do you simplify your morning routine?