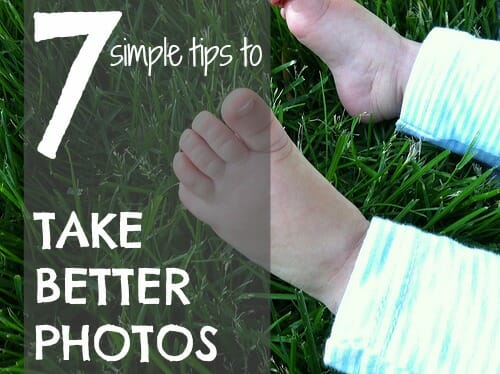 This post is one I NEVER expected to write… because personally, I feel like photography is not one of my strengths.
No, I'm not the worst photographer in the world, but it's definitely not my area of expertise, and I'm still not sure I'm qualified to give advice on the topic.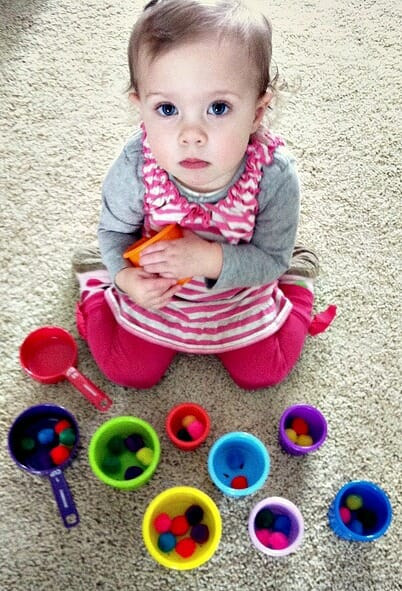 However, over the past 2-3 years, I have learned A LOT about taking and editing photos. And since I've gotten quite a few requests asking me to write a post about photography, I'm venturing out into uncharted waters today and will show you some of the photos I've taken of my kids that look good digitally (I think it would also be cute to have these photos printed on metal.)
As I mentioned above, I'm specifically focusing on pictures of children — food, landscape, craft projects, and home decór are totally different subjects, and I'm even less qualified to talk about those types of photography!
First a few photography myths, dispelled.
You don't need fancy or expensive equipment.
I have never owned a SLR or DSLR camera.
In fact, I had to look up what those letters stood for before I wrote this post! In case you're wondering, SLR = Single Lens Reflex. DSLR = Digital Single Lens Reflex.
One of the main differences between a point and shoot camera and a SLR/DSLR camera is that SLR/DSLR cameras have detachable lenses. In other words, you're not limited only to the lens that comes with the camera. SLR/DSLR cameras also give you more control over manual settings such as exposure, aperture, etc. (don't worry if you have no idea what those words mean either!)
I did have a decent point and shoot camera when we first got married, but for the past 2 years, I've used my iPhone 4 to take EVERY SINGLE picture. Seriously!
So while I'm sure it would be really fun to have a fancy camera (and then take lessons on how to use it!), you definitely don't need fancy or expensive camera gear to take decent photos — I say "decent" because I know my photos are nothing fabulous!
You don't need to know what you're doing!
OK, so it would help if you knew what you were doing… but as with all things in life, "practice makes perfect" — or at least "practice makes you better!"
I look back on MANY of my pictures and wonder "what on earth was I thinking?" Seriously, they are that bad. Cropped heads, blurry, one person standing smack in the middle of a photo, not zoomed in, always 100% centered, boring (see picture below)!
Although Nora is super cute, this picture is just awful… SO boring!
I never got any formal training. I just watched what other photographers were doing, read online tutorials, and tried implementing those ideas in my own photos.
I'm still not world-class… but I'm better than I was!
this picture isn't "perfect" but I like that it's a little off-center and I love the splash!
You don't need a pretty house or background.
I always thought I needed the perfect background or location to take a good photo — but really, all I need is enough light.
Yes, a nice backdrop would help, but when you live in toddler toy land, your house is not going to look perfect and you will most likely have a whole bunch of junk in the background of your pictures.
So as you may have noticed, most of my pictures are close-ups — partially because Nora is just so cute that I want to get nice and close, but also because I don't want the busyness of toys, books, food, decorations, etc. in the background.
Also, I've found that my phone takes MUCH better close-up pictures than it does far-away… so I'm just working with what I have here 🙂
OK, so now that we've got that all cleared up, here are 7 tips that have helped me when it comes to my quest for improving my photography skills.
1. Keep your camera with you at all times.

I'll be honest, there is no way I'd walk around with a camera all day long — so this is one of the main reasons I use my phone to take photos. I always have my phone with me, and it takes 2 seconds to whip it out and turn the camera on.
If you don't have a nice camera phone, I'd suggest letting your camera sit out on the counter, on the TV stand, or on your desk so it's always available whenever you want to quickly snap a picture (make sure you keep the batteries charged too!)
2. Take lots more pictures than you need or want.
Since I have no idea what I'm doing, it usually takes me at least 20-30 pictures to capture a few good shots. I take many pictures every day — some of Nora, some of recipes for future blog posts, some of decorating ideas, some of the snow on our porch, etc.
I end up deleting most of them once I see how horrible they are, however, there are always at least a few gems that become some of my favorite photos… photos I wouldn't have found unless I was constantly snapping photos throughout the day.
3. If possible, take photos outside.
Natural light makes pictures look SOOOOO much better. In fact, this is probably my #1 tip. You want lots of light — but not direct sunlight, as then you get shadows and squinting.
However, if you live in a cold climate (like Michigan) you might not be able to go outside every day. If so, read my next tip…
4. Find a couple spots in your house with really good light.
Our house is relatively dark (especially during the winter) because we have a large porch that shields a lot of sunlight. I'm not complaining, because I LOVE our porch… but it creates a new challenge for taking nice indoor photos.
However, I've managed to find a few spots in our home that still allow for plenty of light to take relatively good indoor photos (at least by my standards.) We have one "bright" spot by the double doors in our office and another one by some windows in our kitchen.
5. Don't worry about posing.
Some of my most favorite pictures of Nora are ones when she's not even looking — or sitting still!
6. Take "faceless" photos.
I think baby feet are one of my favorite things to photograph!
And let's not forget about little wisps of curly hair!
7. Learn some basic editing skills.
Again, I had no idea what I was doing… but about 3 years ago, I Googled "free, easy photo editing programs" and tried a handful of programs out. Through trial and error (lots of error) I found my favorite programs and learned SOOOO much about photo editing.
And like I've mentioned before, I'm definitely not a pro — but if you've never taken the time to edit your photos, you have NO idea what you're missing out on!
Just look what a difference it made in this picture: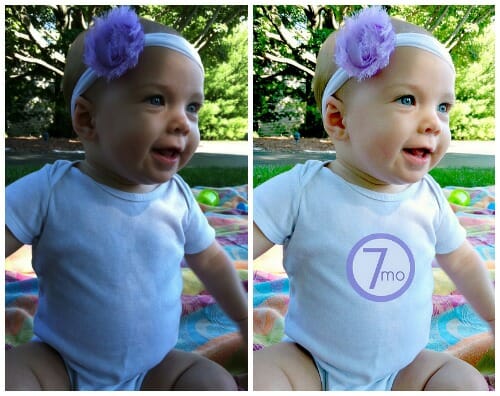 yes, I did add the numbers with my photo editing program!
Since I'm often forced to take pictures inside — and possibly in the evening or in a darker room, I just edit them to look a little more "washed out" or I make them black and white. It's amazing how much better some poorly lit photos will look when the colors are muted… or in black and white!
In the photo below, you can see all the shadows on the left picture — but when I muted the colors and zoomed in a bit, it gives the photo a whole new look (and I think it looks a lot better!)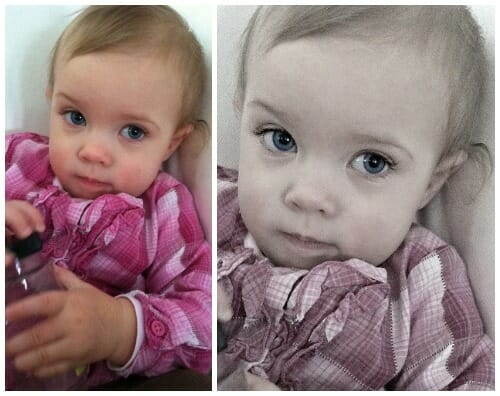 And look how much nicer this black and white photo is compared to the colored image — I feel like Nora's eyes really "pop" in the black and white photo — not to mention the "new mom bags" under my eyes aren't as noticeable 🙂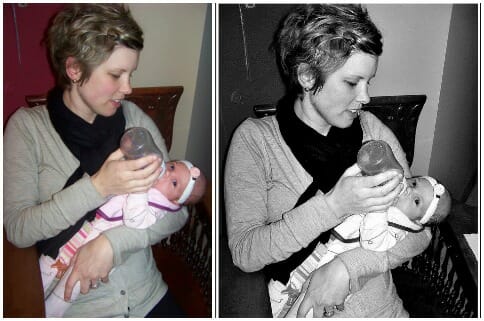 Here are a couple of my favorite free photo editing programs. I also want to mention that I'm now using Ribbet (almost exactly like the old Picnic) to edit many of my photos.
And here's a link to more free photo editing resources on MoneySavingMom.com
So like I said earlier, I'm definitely not an expert in photography — but I think all the tips I've mentioned in this post are totally doable for the average busy parent with simple cameras (or just a phone!)
Looking for more tips? Read this guest post from my friend Jodi — all about how to take amazing photos of your kids.
And if you're wondering what I do with all the pictures I take — read this post!
What are your favorite amateur photography tips?