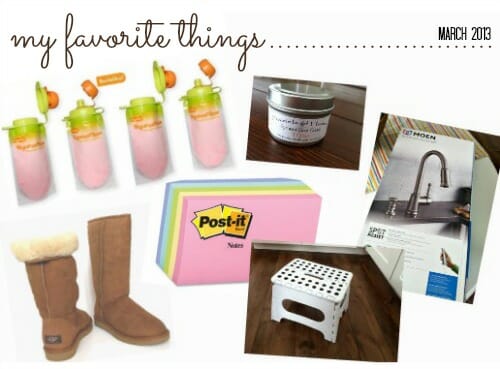 I've thought about starting a "Favorite Things" post for a while now… and it looks like today is the day! I'm always getting questions about products I use, items I like, etc. so I'm hoping to do a monthly post to share some of MY favorite things with YOU.
DISCLOSURE: None of these products are sponsored in any way, however some of the links below are affiliate links — which means I may get a VERY small percentage of the sale if you make a purchase through my links. However, I hope you know that I'm only promoting the products below because I use them EVERY SINGLE DAY in my own home and life! Read my full disclosure policy for more information.
So in no particular order, here are a few of my favorite things!
Our Moen Spot Resist Kitchen Faucet
We purchased the Moen Lindley faucet in brushed nickle — and I think it's the perfect faucet for our kitchen. (I couldn't find the exact product link but here is an almost identical faucet.) We love the practicality of the one-handle operation and the pullout sprayer. And I also love that even though it's not necessarily old-fashioned looking, it doesn't look nearly as modern as some of the other goose neck faucets on the market.
I will admit that I was originally a little apprehensive to pay more for the "spot resist" coating — but honestly, I would pay 4 times the price now that I realize how completely AWESOME the spot resist feature really is.
This faucet shows NO water spots, NO finger prints, NO gunk, NOTHING! It always looks clean at all times — and believe me, it's not always clean!
We purchased our faucet from Home Depot, but I've seen similar ones all over the internet and at other home improvement stores. I think the "spot resist" is a relatively new feature — and I'm sure it will catch on quickly because I personally don't know anyone who loves looking at water spots and finger prints on their chrome and nickel fixtures!
Nora's Reusable Food Pouches
These pouches are a relatively new purchase — within the last month — but they've already paid for themselves over and over again. You see, Nora doesn't like most foods, but we can get her to eat yogurt (only if she can feed it to herself though!)
We used to buy the extremely expensive yogurt squeeze pouches because we were to the point where we just didn't care anymore. We had FINALLY found something she would eat, so we bought it.
However, a friend told me about the BooginHead Squeeze'Ems reusable food pouches and I immediately purchased a 4-pack from Amazon.com!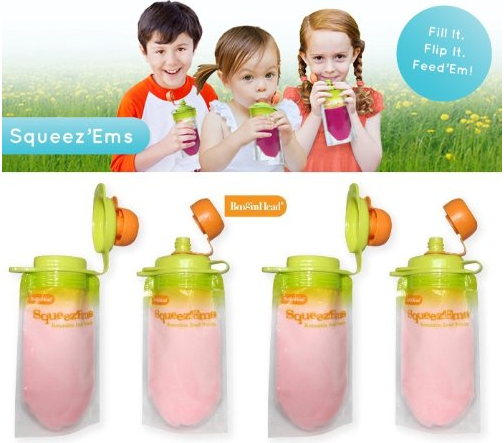 They are microwave, freezer, and dishwasher safe, BPA free, and really easy to refill. So far, so good… and we're saving loads of money by refilling them with the large tubs of yogurt instead. We've also be "sneaking" in some baby food and other pureed food mixed in with the yogurt and (for the most part) she's eating it!
I read on the reviews that they are also great for older kids to take in their lunches. They can be frozen and used as an ice-pack… but then the food should be defrosted and ready to eat by lunch.
EZ-Fold Step Stool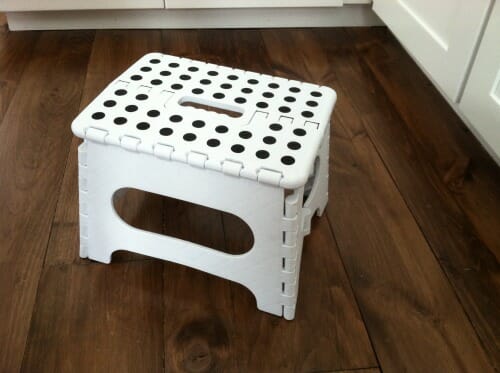 Since our kitchen cabinets go ALL the way to the ceiling, I knew I would need a small step stool to be able to reach the top (I didn't want to drag a chair over every time). However, I also knew that I wanted the smallest, most space-saving step stool I could find so it would fit easily inside one of our base cabinets.
About a month before Christmas, I found this EZ-Fold Step Stool with built-in carrying handle at Younkers and asked my mom to pick it up for me for Christmas. It was a special Bonus Buy (and of course my mom had a coupon), so I think she got it for less than $10 — but now that I've been using it for a few months, I wouldn't hesitate to pay more for this stool. It's super light-weight, but also very sturdy. It has rubber grips on the bottom so it won't slip or scratch our wood floors (learned that one the hard way in our old house!)
Also, (my favorite feature) it folds flat and fits conveniently inside our cabinets!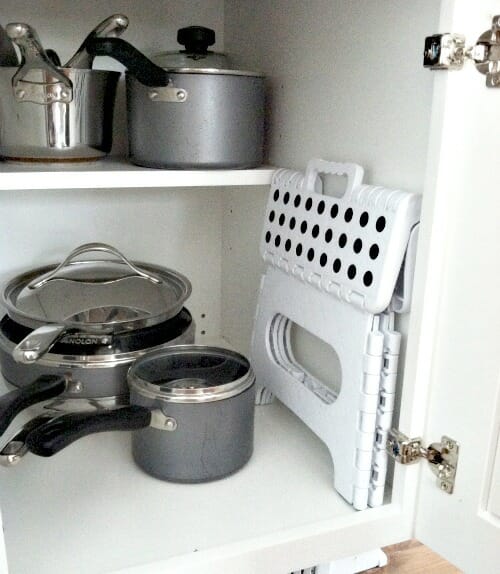 This stool comes is a variety of colors (of course, I have white!), and there's even an option for a taller stool as well.
My Winter Boots
I absolutely LOVE my winter boots… not only are they extremely warm and comfortable, they've also performed fabulously through 9 long West MI winters with no issues whatsoever. There are no stains, no rips, no tears, and the soles are still as good as the day I recieved them.
Plus, while I'm no "fashionista," I also love the fact that I can mix and match the way I wear them for different effects 🙂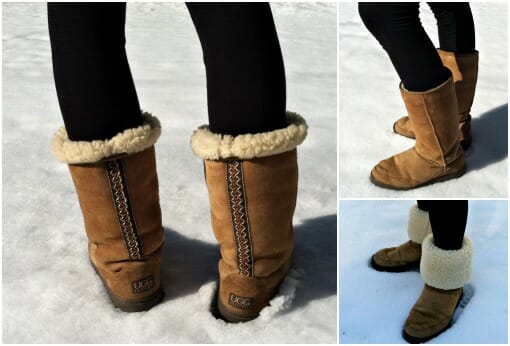 They are UGG boots — but they are OLD, so the UGG website doesn't carry this style anymore. However, I did find a similar pair on Amazon.
I should mention that these were a gift — there was no way I would ever have spent $200 (or more) on a pair of boots back when I was in college! However, now that I realize how awesome these boots are, and how well they've held up over the years, I would not hesitate to purchase another pair if need be.
Prairieland Herbs Eye and Face Cream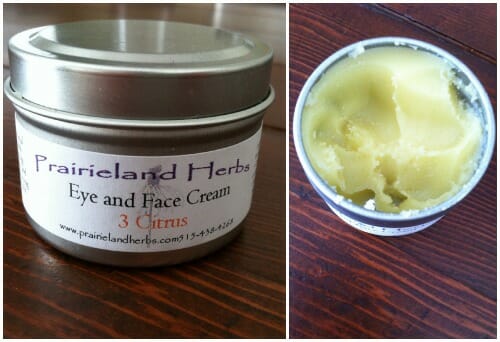 I've talked about my most favorite face and eye cream before, and I will continue to "sing its praises" for years to come if my skin continues to look this nice.
I was first introduced to Prairieland Herbs by a friend of mine… and have been hooked ever since! All their products are hand made at the time of order so they are super fresh and contain only quality ingredients. I use many of their fabulous products, but their face and eye cream is my absolute favorite!
It's so concentrated that it takes me several months to go through a tiny 1/2 oz. container — although I now purchase it in larger sizes. I've been using this face/eye cream for just over 2 years now and I honestly feel like my skin has never looked better.
NOTE: read more about my favorite beauty products here.
Extra-Large Post-It Notes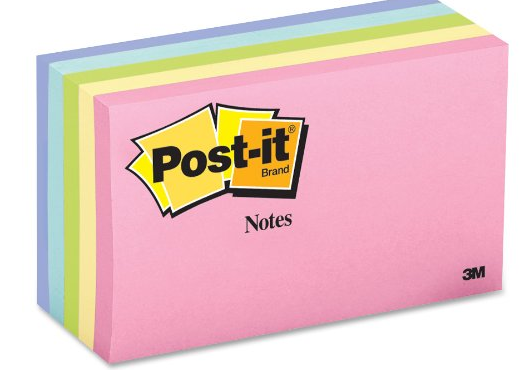 I love making lists, and I love sticking those lists on the refrigerator (ours isn't magnetic), in my planner, in Dave's planner, on the bathroom mirror, etc. However, I always seem to run out of room on the smaller, traditional square Post-It notes.
So I was thrilled when I found this larger 3″x5″ sticky notes. They are just the right size for a little bit longer lists — not that I have long lists 🙂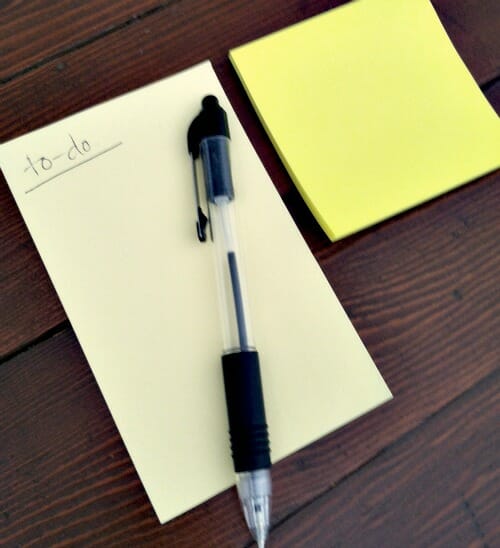 OK, I think that's enough for this week!
Anything new for you on my list? Or do you have any "favorite things" you think I'd like to try? Leave them in the comment section!