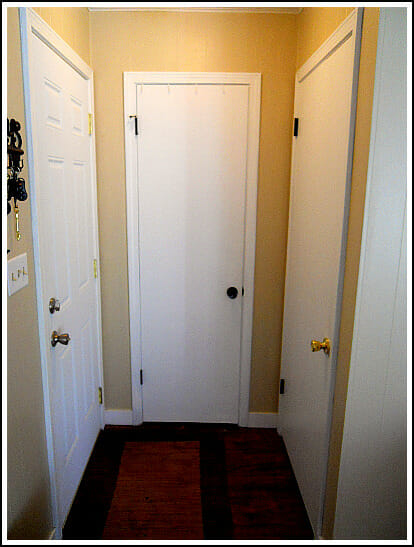 At our old house, we had a really awkward back entryway with 3 doors that all opened into each other. It was always crowded… no matter what I did to try and keep things organized.
So the other day, when my friend Leslie sent me a before and after picture of her crowded entryway, I immediatly asked her if I could share the pictures on my blog.
She willingly agreed, and even offered to write a bit about the fabulous transformation!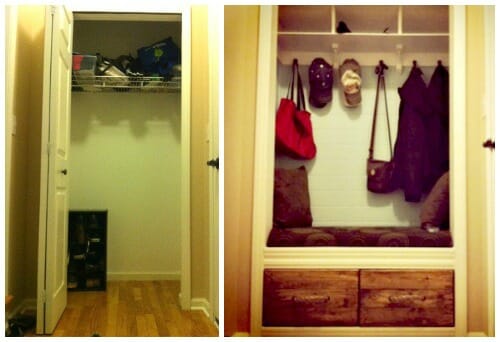 The following is a guest post from Leslie:
When my husband and I first moved into our house the day after Christmas in 2008, we knew we had our work cut out for us. We began by cleaning and painting our entire house since it had been empty for almost 9 months and there were several "appearance" items we wanted to take care of right away.
Fast forward about a year, my husband began his Master's Degree program for a MBA in Finance and all household projects were put on hold… until this spring.
After thinking about how we wanted to transform our home for two years, we decided to tackle the coat closet near our garage. But since my husband was in the final semester of his graduate degree, I decided to tackle this project all by myself!
This is what our coat closet looked like BEFORE.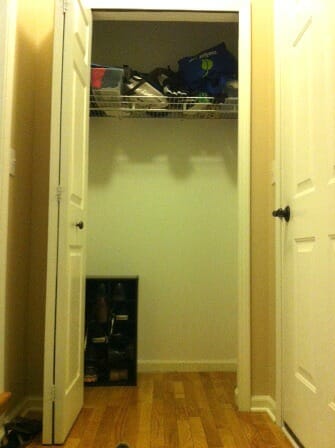 A poor design in our opinion, the 4'x4' landing at the top of our basement stairs had 4 doors (FOUR!!) that swung into one another, limiting our space and making things feel very crowded. Forget trying to put your shoes on comfortably or make your way into the house if you forgot to close ANY of the doors.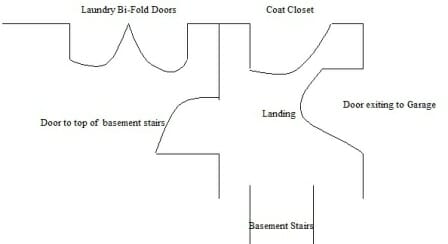 The coat closet had great bones but poor storage options so it didn't need a complete gut- I started by removing the bi-fold door, any hardware related to the door, pulled all shelving from the walls and pulled off the door casing and nearby baseboard.
I knew the closet would be challenging, as it was not square — so some things took a little longer than expected. I started by building a frame on the floor and framed in a bench seat using 2×4's and securing directly into the stud.
I knew I wanted something different than just plain drywall for the closet, so I purchased some wainscoting and placed it horizontally rather than vertically to make the closet feel larger than it appeared. To cover the seams in the corners, I used quarter round and sealed with caulk.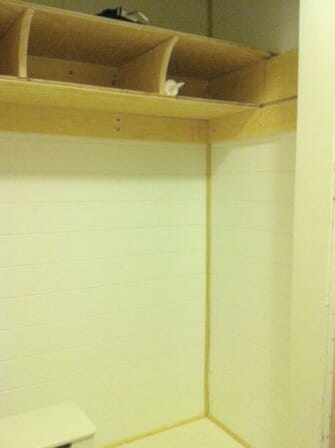 After installing the wainscoting, I put in my shelves, braced with an 1×4 and a 1×6, for support on three sides into studs. Plywood was used for the shelving and decorative dividing supports were cut from a 1×4. The shelving fronts were finished with decorative trim.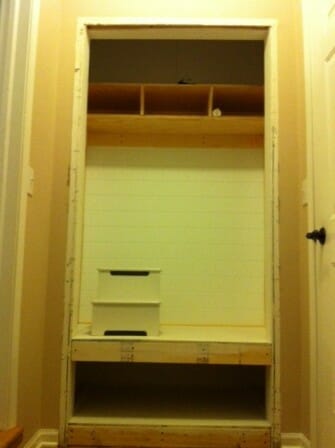 While I searched for an acceptable decorative shelving brace at my local hardware store, I primed the wainscoting, bench, shelves, etc. Finally I gave up on my search and built my own braces from 1×2's and scrap pieces of plywood (when in doubt, build your own).
I ordered some great cast iron hooks from an online hardware store, and after adding a few coats of paint to the wainscoting, the bench, and shelves, it was time to put in the seat cushion.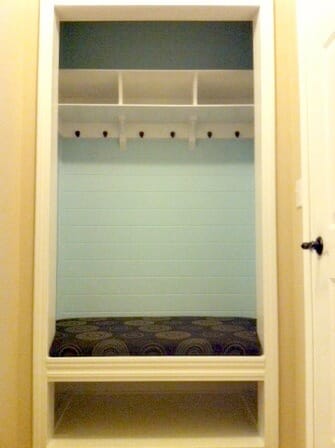 I cut a similar piece of plywood to the seat already installed, cut my foam to match, and then attempted to upholster the seating, not once – but twice because I messed up the cuts for the inverted corners.
Finally, the last portion of the makeover was to build some boxes for storage under the bench. While it would have been nice to find some of those wonderful fabric boxes or something to stash under our bench for shoes, I knew that there was no way I was ever going to find storage cubes the size I needed….so I built some!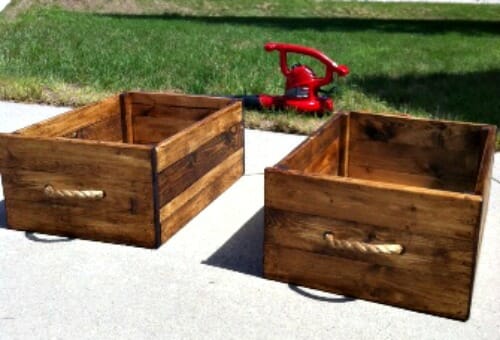 I wanted the crates to feel "vintage-y" so I built them out of plywood in a "plank style". I wanted to have them look like crates so I put two coats of stain on them and finished them with rope pulls (purchased at my local hardware store, by the foot).
I couldn't be happier with the end result of my project!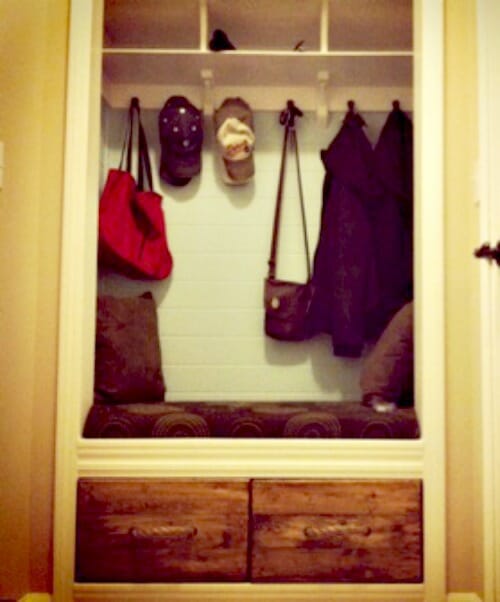 Seriously… doesn't Leslie's closet transformation look fabulous!
I LOVE those crates and definitely have a few places I could use them around our house — maybe I'll have to see if I can make some as cute as hers!
Have you don't any mini makeovers lately?
.