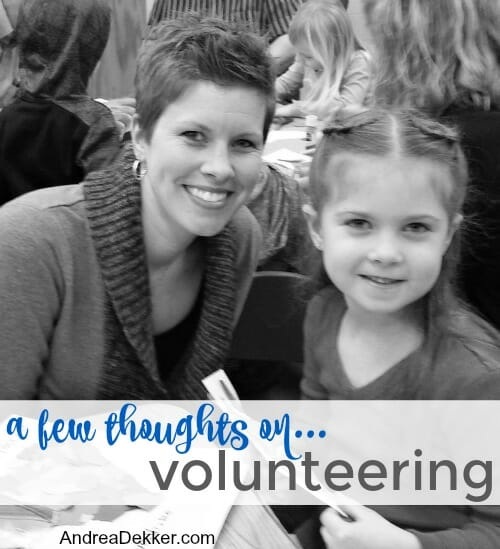 NOTE: This article is specifically geared towards volunteering in the school setting (because it's that time of year). However, I feel strongly that the message pertains to almost any type of volunteer work.
Although this is only my 2nd year as the mother of a school-aged student, I have been the wife of a teacher for more than 11 years and I grew up as the daughter of an elementary school teacher… so I have a little experience with the whole volunteering at school thing.
Obviously schools (especially Christian and other private schools) need lots of parent and teacher volunteers in order to keep costs down… and I definitely don't want to discredit how valuable and useful volunteers are.
However, for those of you who feel really overwhelmed with the amount of volunteer work you might be asked to do this coming school year, I hope this post lets you breathe a sigh of relief and realize you do NOT have to do it all!
When Dave and I were first married, we lived 1 mile from his school, we had no children, and had lots of discretionary time. We did an enormous amount of volunteering and extracurricular activities for his school.
Dave coached 3 sports (he did get paid a small amount for this), he helped out with student council, he sometimes did the scorebook for the home boy's basketball games, and he proctored ACT exams on specific Saturday mornings (to name a few). I officiated many of the high school and middle school volleyball matches, donated items (and my organizing services) to the school auction, and participated in many "special" days for the school.
Together, we attended more sporting events, plays, musical concerts, staff parties, fundraising dinners, and "extra" events than I can even begin to count…
And then we had Nora!
We tried to keep doing everything, but we just couldn't. Dave eventually quit one of his coaching jobs and I quit almost everything I was doing. Dave quit another coaching job after Simon was born, and finally dropped the last coaching gig after James was born.
For the last 2 years, we've hardly made it to a staff party (other than the ones we've hosted) let alone all the other activities and events we gladly attended prior to having children.
Interestingly enough, many of the staff members who had young children when Dave first started teaching (and weren't nearly as involved in extra events) are volunteering and participating in more school functions now that their children are 10 years older and not quite so "needy".
Dave and I are both hopefully optimistic that we will be much more involved in school functions and events once our children are a bit older as well.
Switching gears, I'm now the mother of a kindergartener — and if you know anything about elementary schools, you KNOW they need lots and lots of volunteers.
I've been dreading the whole volunteer situation this year, wondering how on earth I'll be able to contribute anything with a newborn, a 2 year old, and a 3 year old; and then it just hit me…
I don't have to!
Nora has several kids in her class who are the youngest child and those parents have already eagerly offered to help with many of the volunteering needs. One mom, who I know from mutual acquaintances, even said to me, "don't worry, you know you'll help out more once your home life is less busy."
And she's right — I have no issues helping out at my kid's school, but I'm also not sure it's worth the amount of stress it would cause me to drag 3 extra kids around with me, or try to align childcare for Simon and James and take the new baby with me (although Nora already told me she wants to bring her sister for show and tell!)
Thankfully, Nora's teacher seems to understand that all parents might not be able to volunteer in the same ways.
She has 3 different "volunteer lists" posted on her class website.
volunteers for physical help (room parents, craft helpers, recess monitors, Friday lunch duty, etc.)
volunteers to purchase supplies (snack items, art supplies, random lists of things they need in class)
volunteers to help from HOME (stuffing envelopes, cutting out projects, gluing things together, even a couple sewing projects)
Isn't that GENIUS!
I might not be able to drag 3 extra kids around so I can do recess duty or be the "room mom", but I can easily pick up a few extra craft supplies and snack items and send them to school with Nora… and I can certainly find a little time to help out from home.
As with everything, there are seasons of life — and right now, this is NOT my season of life to spend extensive number of hours volunteering for Nora's school (or Dave's school).

That time will come again, and maybe I'll be the seasoned mother assuring the mom of 3 or 4 tiny people that she doesn't need to feel guilty for taking a year (or more) off. Her time will come eventually too!
If you are in a very busy or full season of life — with many little children to care for, elderly parents or a spouse to look after, a new job to learn, a chronic illness, a new community, or any number of things, this might not be your time to accept every great opportunity that comes your way.
I know there will always be people who seem to "do it all" even with little children, aging parents, a new job, chronic illnesses, etc. etc. but I promise you, there is something you do that they don't do (maybe several things). Either that, or they live with a large amount of stress and anxiety (and probably get very little sleep)!
Volunteering for our schools, our churches, our community, or wherever is definitely something I feel is important; but I also think there are seasons of life when we can volunteer more easily than others.
There are plenty of school years left for me to be the ever-present room mom and recess parent 🙂
For this year, I'll be sewing and gluing from home, and sending snacks and craft supplies to school with Nora. I'll be less stressed, I will enjoy helping without feeling so much pressure, I'll be more available for my family, and I'll hear all about the fun things Nora does once she gets home.
What are your thoughts on volunteering? How do you find the right balance?