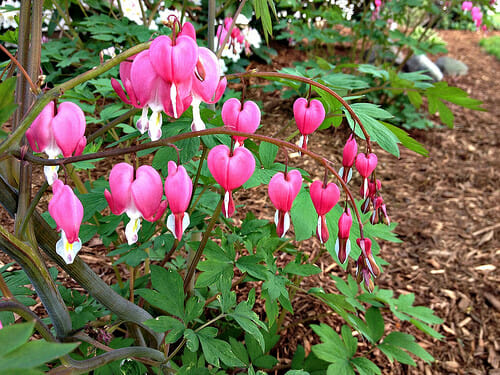 Dave and I have spent a large part of the past 3 summers (and springs and falls) doing some massive landscape renovations to our home. (Read this post for more information and LOTS more pictures!)
We removed over 500 brick pavers and a massive cement "patio" that was randomly in the middle of our backyard, we removed 30+ trees, we installed over 700 feet of fencing, and thousands (literally thousands) of trees, shrubs, and perennials. I honestly don't think there is even one square foot of our 1-acre property that hasn't been changed in some way!
Obviously, we hired out A LOT of the heavy lifting work as we are not qualified or capable to deal with concrete or tree removal. We also enlisted the help of a local landscape architect to draw out the plans for our yard and design various planting beds so everything looked nice once we were finished planting (NOTE: I'm purposely not linking to that company because they are no longer in business).
We definitely could not have transformed our landscape without a lot of help… even just from our parents coming over to watch the kids for a while so Dave and I could both go out and lay sod or dig up pavers or move plants around for an afternoon.
Just like the inside of our house, the landscaping has been a labor of love!

And just like the inside of our house, the landscaping is never truly "finished".
We still have lots of plans to implement "eventually" but for this coming spring and summer, our main goals are:
Planting and maintaining a MUCH larger vegetable garden next to our new shed.
Spreading mulch (probably 30-40 yards — boo!)
Planting a bunch of annuals for color all season long.
Getting a new mailbox
Keeping up with all the watering, fertilizing, weeding, mowing, and other maintenance tasks (especially for the new plants that were just planted last season)
While I'm sure the shortlist above will keep us busy all season long, it's nice to know that we (hopefully) won't have any major landscaping projects on our plate this year!
As you can imagine, the long cold Michigan winters make the first few spring blooms even that much more exciting. And although some of our plants will still be smaller this year, I have a feeling that many of our plants will really start to mature and fill in this coming spring and summer (it will be the 4th growing season for about half the plants).
I've been asked over and over and OVER again if I would share a "Master List" of all the trees, shrubs, and perennials we planted… and since that would actually be really helpful for me to look back on as well, I figured it was time I compiled a list.
So, since spring is practically just around the corner (wishful thinking, maybe!) I've decided to share that list today!
:: ORNAMENTAL TREES ::
Ornamental Pear (3)
River Birch
Crab Apple (2)
Arborvitae (6)
Juniper (5)
Flowering Dogwood
Hydrangea Tree
Redbud
Spruce (5)
:: SHRUBS ::
Almost ALL of these are flowering shrubs.
Serviceberry (1)
Limelight Hydrangeas (21)
PeeGee Hydrangeas (6)
Starburst Hydrangeas (18)
Boxwoods (22)
Rhododendron (3)
Azalea (3)
Holly (3)
Potentilla (3)
Spirea (18)
Double Blooming Knockout Roses (32)
Deutzia (18)
:: GRASSES ::
Hamelyn Grass (9)
Japanese Forest Grass (3)
Maiden Grass (3)
:: PERENNIALS ::
I have no idea how many of each of these we have — LOTS and LOTS!
SUN
Iris (several varieties)
Daylily (several varieties
Tigerlily (several varieties)
Peony
Salvia
Snowcap Daisy
Dianthus
Pink Coneflower
Purple Coneflower
Coreopsis
Phlox (ground cover)
Coral Bells
Blackeyed Susans
Sedum (several varieties)
Geranium (ground)
SHADE
Astilbe (several varieties)
Ferns (several varieties)
Bleeding Heart
Hosta (several varieties)
Coral Bells (several varieties)
Nepeta (catnip)
:: FRUIT ::
We currently only have 3 rhubarb plants… but we are hoping to plant a bunch of strawberries this spring, and eventually maybe expand to raspberries, blueberries and potentially even some grapes!
I've always ALWAYS wanted to have dwarf fruit trees, but unless we want to turn our entire front yard into an orchard, I don't think I'll get that wish at this house.
.
I originally thought about trying to show pictures with each of the names — but then I realized that would take me FOREVER, not to mention I probably don't have specific pictures of each individual plant.
So instead, I would advise you to do a simple Google search if you are wondering what a particular plant looks like 🙂
.
Also, it's probably worth noting that we are zone 5 — so, unfortunately, lots of plants are not winter-hardy in our climate.
We mainly try to stick to plants that ARE winter-hardy and will come back year after year, however, I do spend about $50 – $75 on annuals each year (from the discount rack after they get cheaper so I can buy more). I use these to add bright pops of color to various areas in front of the house, along the driveway, etc.
Hopefully, Nora will be excited to help me out in the yard again this year… who knows, maybe Simon and James will even be able to help!
Or maybe they'll just play nicely together while Dave and I do yard work. I'd be happy with that too 🙂