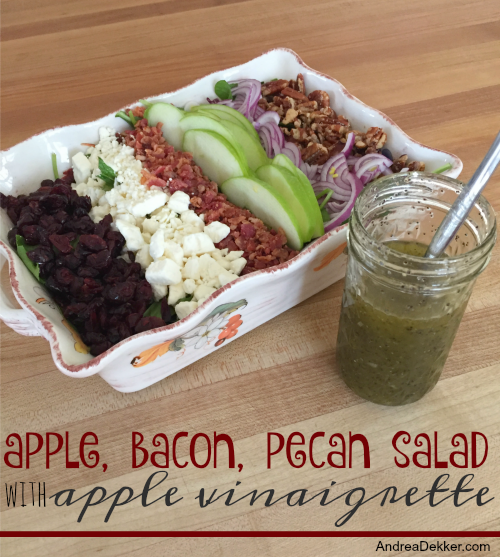 A couple weeks ago, I had the opportunity to bring a salad to a women's luncheon at church.
This might not sound very exciting to many of you, but I LOVE all sorts of different salad ingredients… and I rarely ever have a chance to make them at home because Dave will not eat salad if it contains fresh fruit, dried fruit, nuts, feta cheese, or any sort of homemade dressing.
As I was deciding what salad recipe I wanted to make for our luncheon, I looked through various recipes as well as what ingredients I had in my house, and decided on this very delicious salad that I think could be perfect just about any time of year.
The baby spinach and fresh lettuce make it a great spring-time salad. The apples and cranberries make it suitable for fall, and the bacon and candied pecans just scream "happy holidays" to me.
You can easily substitute your own favorite dressing or vinaigrette, but the homemade Apple Vinaigrette is so amazing with this salad. I had my doubts when I taste-tested it solo, but once I took my first bite of it drizzled over the delicious salad, I knew it was the perfect compliment to this flavorful salad.
If you're looking for a delicious salad to bring to an upcoming Easter celebration — or just something for yourself for lunch, this salad is amazing!
Recipe for Apple, Bacon, Pecan Salad
serves 10-12
INGREDIENTS:
For the Salad:
1 small head romaine lettuce, chopped
8 oz. baby spinach
1 apple, very thinly sliced (I used 1/2 of a HUGE Granny Smith)
1 c. dried cherries or Craisins
1/2 c. crumbled bacon pieces
1 small purple onion, thinly sliced
1/2 c. feta cheese crumbles
3/4 c. candied pecans (this is the recipe I use)
NOTE: Regular salted pecans would work fine too — I just love the extra sweet crunch of the candied pecans.
For the Dressing:
3/4 c. extra virgin olive oil
1/4 c. apple cider vinegar
1/4 c. honey
2 T sugar
1 T. poppy seeds
1/2 t. salt
1/2 t. dry minced onion
NOTE: This dressing makes PLENTY for the salad — you probably won't use it all unless you really like a ton of dressing. However, I like having extras in the fridge for later.
DIRECTIONS:
Add all the salad ingredients to a large bowl (you can arrange it to look pretty if you'd like!)
Mix up all the dressing ingredients in a mason jar or another container with tight-fitting lid. Stir and/or shake vigorously until ingredients are well combined. (You can make the dressing a few days in advance if you want).
Pour dressing over salad or serve dressing on the side. Refrigerate leftovers.
Doesn't it look pretty?
And honestly, I think this salad could work for almost any occasion, any holiday, any season of the year — maybe not a child's birthday party, but practically anything else 🙂
As I mentioned above, I usually have leftover dressing which I store in a small mason jar in the fridge for a couple of weeks. However, don't be alarmed if it majorly separates in the fridge. This is what my dressing usually looks like when I pull it out. Just give it a REALLY good shake and it will look "normal" again.
This salad has just the right combination of crunchy and chewy and savory and sweet… if you love "non traditional" salads, you'll want to give this recipe a try.
If not, you can come over and have Romaine lettuce, cheddar cheese, croutons, and Ranch dressing with Dave 🙂
Do you have a favorite salad or dressing recipe?
Visit my virtual recipe box for more simple, delicious, family friendly recipes!