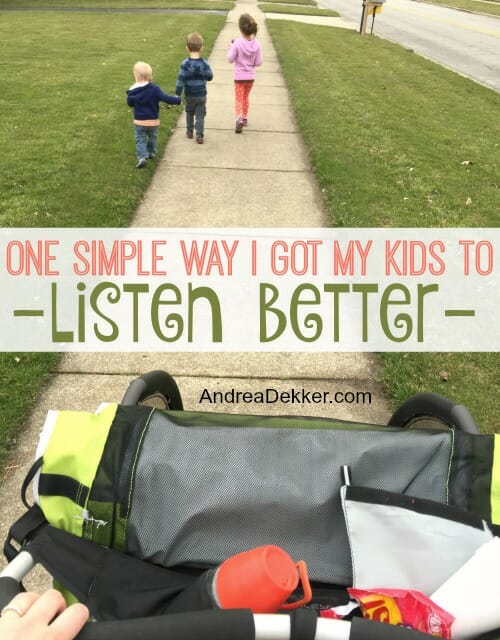 I would never, ever claim to be any sort of parenting expert… or even knowledgeable to give any sort of real "parenting advice". In fact, I'm often the one looking for answers, asking the questions, reading books, and wondering "How did I not know this before?" or "Why didn't I think of that?"
I think my motherhood journey could most accurately be summed up with the following statement:
Lots and lots of trial and error, marginal success, and a whole bunch of sticktoitiveness!
(they couldn't figure out how I realized they snuck a Hershey's Kiss!)
I realize I will never be the perfect mom and my kids will never be perfect children… but there is one thing that bugs me almost more than anything else (even more than noisy chewing — and that's really saying something for me).
I can NOT stand it when I have to ask my kids to do something multiple times before they actually do it.
"Please pick up the dressup clothes and change back into your regular clothes for lunch."
5 minutes later, they're still happily playing.
"Get those dressup clothes put away. Your lunch is almost ready and you need to change into your regular clothes."
No response.
"Your lunch is ready… are the dressup clothes picked up?"
Oh yay, lunch time! they shout as they run down the stairs (still in their dressup clothes) to eat lunch.
"After you go to the bathroom, I want you to get dressed, brush your hair, and make sure your folder is in your backpack."
She scampers off to the bathroom.
"Nora, did you get dressed yet?"
"no"… as she runs to her bedroom.
"Nora, did you brush your hair yet?"
"not yet"… as she runs to the bathroom.
"Nora, did you get your backpack ready yet?
"I thought you did that"… as she heads to the mudroom to get her backpack.
Oh. My. Word… It drives me crazy!
Most of the time, I truly don't think they are blatantly disobeying me as much as they literally just don't pay attention to anything I say, or forget what I said the moment after I said it.
So, I started making them repeat what I said after I said it.
The very first time I did this with Nora, the conversation went something like this:
ME: After you finish your snack, I want you to pick up all the play food.
NORA: Thanks for my snack.
ME: And what are you going to do after you finish your snack?
NORA: (staring blankly) Get a drink? Go to the bathroom?
ME: No, what did I just ask you to do after your snack?
NORA: I don't know? Did you ask me to do something?
ME: Yes. I asked you to pick up all the play food after you finished your snack… OK?
NORA: Fine.
ME: So what do you need to do after your snack?
NORA: Pick up the play food?
ME: Exactly.
And… she actually did it relatively quickly too!
.
Now I don't want any of you to get the impression that by simply asking my kids to repeat what I say magically compels them to do everything I say without moaning, groaning, whining, and complaining.
They are still normal kids who don't love picking up, who never want to stop playing, and who always want to try it "just one more time" before we move onto the next activity.
HOWEVER, by having them repeat what I said back to me, they know that I know that they understand what I want them to do. They can't "play dumb" and pretend they didn't hear me or think I was talking to someone else. And this has really seemed to make a big difference for us.
I realize it won't work for everyone, but it's simple enough that I wanted to share it — after all, the worst thing that could happen is that you try it and it doesn't work as well as you hoped it would. At least you didn't waste any money or even much time 🙂
Do you have any other super simple parenting "hacks" to get kids to listen better?