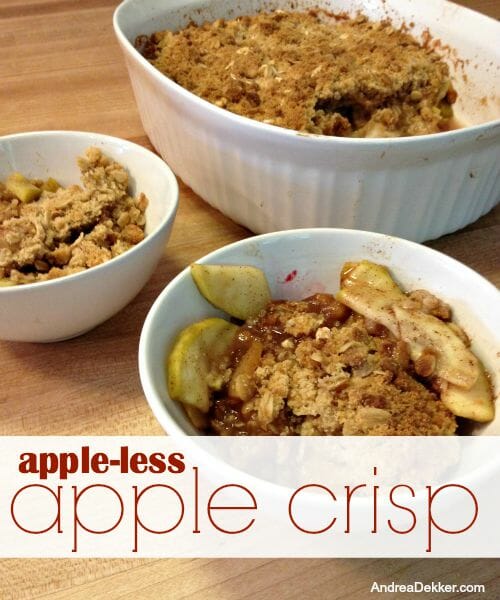 It's almost officially fall — which means it's apple season here in West Michigan.
Apples have been my favorite fruit for as long as I can remember, so I'm always looking for new apple recipes to try. I've acquired plenty of yummy apple recipes over the years, but today, I'm actually sharing a recipe that tastes (and smells) exactly like a yummy apple crisp, but… there's not a single apple in the entire dish!
Instead of apples, I use zucchini!
Yup, that's right — zucchini crisp!
I fooled Dave, my parents, my aunt, my kids, and everyone else who has tried my zucchini crisp recipe. Plus, I used up a whole bunch of zucchinis from our garden!
What's so amazing to me (besides the fact that the zucchini truly does taste like apples) is that the sliced zucchini actually LOOKS like sliced apples!
Even after I told people about the zucchini (usually about half way through their bowls) they just couldn't believe me. Dave thought I was joking for several minutes before I finally convinced him by showing him a couple seeds that were left behind in one of the zucchini slices.
And speaking of seeds, as you'll see in the baking instructions below, I peeled and seeded the zucchini before slicing it. I would definitely recommend doing this as the peeling and seeds will not improve the taste of this dish.
This dessert tastes fabulous warm out of the oven, or room temperature the next day. Just don't forget to add a scoop or two of vanilla ice cream!
If you're looking for a way to use up extra zucchini — or if you just want to fool your family and/or dinner guests, you should give this one a try!
Recipe for Apple-less Apple Crisp
Enough for a 9″ x 9″ or 2.5 quart dish
INGREDIENTS:
For the "Fruit" Filling:
6 c. zucchini (peeled, seeded, and sliced)
1/3 c. lemon juice
1/2 c. granulated sugar
1 T. Apple Pie spice (or a mixture of cinnamon, nutmeg and cloves)
For the Crisp Topping:
1 c. brown sugar
1 c. rolled oats
1 c. all-purpose flour
1/2 c. cold butter
DIRECTIONS:
Preheat oven to 375*F
Peel, quarter, seed, and slice 6 c. of zucchini into a medium-size bowl
Add lemon juice, granulated sugar, and spices to the zucchinis and mix well
Pour zucchini mixture into greased baking pan
In the same bowl, mix brown sugar, oats, and flour
Cut butter into smaller chunks and cut into flour mixture until crumbly (I use my hands)
Cover the top of the zucchini with the flour topping
Chill in refrigerator for 15 minutes (or as long as you'd like. This chills the butter again and makes the topping really crispy)
Bake in preheated oven for 40-45 minutes, or until topping is very crisp
Serve with vanilla ice cream or whipped topping
I should state the obvious — you can certainly substitute apples in place of the zucchini if you'd like (or do half and half). Just cut back on the lemon juice if you're using all apples (maybe only 1 T. or so).
Another thing I really like about this recipe is that you can make it ahead of time and store it in the refrigerator until you're ready to bake it. It also tastes great over the next couple of days — and in my experience, the crisp topping stayed crispy for several days (even with a sealed lid on my dish)
It was so fun to try this recipe, and even more fun when I realized how great it tasted.
What is your most crazy dessert recipe?
Visit my virtual recipe box for more simple, delicious, family friendly recipes!