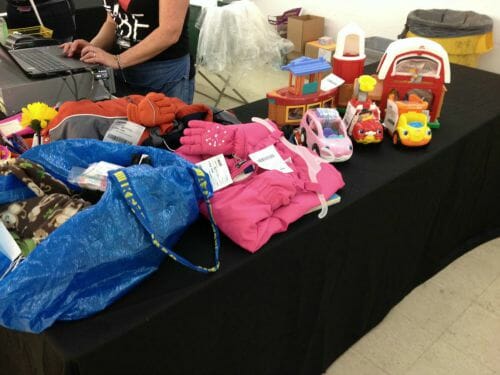 Earlier this week, I attended a pre-sale for the Just Between Friends second-hand sale happening in Grand Rapids, MI, tonight.
It was the absolute PERFECT shopping environment for me — everything was second-hand (a.k.a less expensive), things were super neat and organized, and there were only a few people invited to the pre-sale, so I didn't have to wade through crowds or wait in line!
Also, there was SOOOOOOOOO much stuff for sale! I was there for just over 2 hours and didn't even come close to looking through everything! The photo below is just part of the section of infant and toddler toys. There were literally multiple rooms of toys!
Also, these are the shoes for Nora's size — she would have been in Heaven!
It was so much fun to preview the sale and to be able to shop with so few people around. It also reminded me how much I LOVE finding deals on things we need and use anyway!
So, since the fall months always seem to bring boatloads of second-hand sales to West Michigan, I thought it might be fitting to share a few of my tips to make the most of your second-hand shopping endeavors (garage sales, yard sales, estate sales, thrift stores, flea markets, craigslist, eBay, etc.)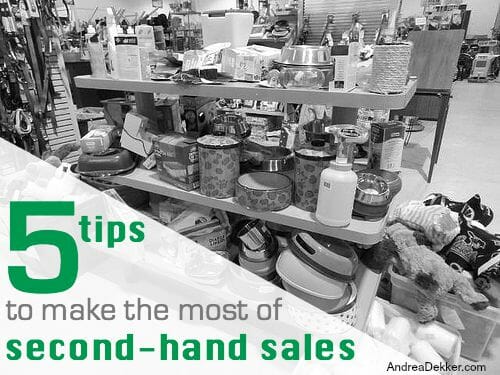 1. Make a list.
I know, I know — I'm obsessed with list-making. However, when it comes to buying used, I know for a fact that one of the main reasons I'm often able to find such great deals is because I keep an on-going list of things we need or want to buy.
For example, I recently found Nora a super cute pair of roller skates on Craigslist for $5. She has been begging for roller skates all summer and I told her I would look to find a good deal. I put her skates on my list and kept searching every few days until I found this amazing deal!
I'm guessing many of us make lists for grocery shopping or holiday shopping, but when you're shopping at second-hand sales or garage sales, a list is even more important (in my opinion).
It's so easy for me to forget what I'm searching for when I see massive amounts of clothing, toys, and furniture; all at such great prices. Without my list, I'm very likely to buy several things I don't necessarily need (or have room to store in my house) and I forget to look for the important things.
Also, it's a good idea to take a picture of your list (or make the list in your phone) so you always have it with you in case you come across a great deal at an unexpected time.
2. Know your measurements.
Whether you're looking for a kitchen table, a mirror, toddler shoes, or back-to-school clothing, you must know the sizes and measurements you need before you head out to the sales.
Since most second-hand sales do not offer refunds, if you buy something that doesn't fit or doesn't work in your home, you're out of luck (and money).
Take measurements of the rooms you want to buy furniture for, measure wall space for pictures and other decorations, take measurements of your kids feet, and even take a few items of their current clothing along so you can hold up and compare. Write down specific sizes and measurements on your list (see #1 above) so you have them with you.
I literally brought a pair of pants and a shirt from each of my kids' closets so I knew not to buy anything smaller… but also not to buy anything considerably larger. Same with their shoes — I can't tell you how much this helps to alleviate any guessing games as to if certain sizes will fit or not.
3. Have your price-point in mind.
There's nothing worse that buying something used, only to find out later that you could have purchased the same item brand new for a very similar price. I've done it once… and I'll hopefully never do it again!
Now, before I buy something used, I take a minute or two to look up the pricing of a similar item brand new.
I don't do this for every single thing (not inexpensive clothing items) but I do it a lot. This has really paid off for me when it comes to furniture, kids' toys, electronics, home decor pieces… and so many other things.
A quick Amazon.com search told me that the skates I got for $5 were $45 brand new — so it was definitely worth buying them used. I've also used Google to search for prices, or I've gone to store websites if I know where the items came from.
4. Be physically prepared.
Most of you know that I don't particularly love shopping… however, if I'm planning to do a bunch of shopping, I definitely make sure I'm physically prepared so I can make the most of my time.
I wear comfortable clothes and shoes, take some extra bags with me, make sure I have lots of cash (especially smaller bills), and of course, I bring my list 🙂
I usually bring a snack, my water bottle, and a lightweight purse so I don't have to lug around a heavy purse or shoulder bag all day. Also, if I'm looking for larger items, I might take the car seats out of my car so I can fold the seats down if necessary.
This might sound a little over-the-top, but if you knew how cranky I get when I'm hungry, hot, tired, etc. you would know why it's so important for me to plan ahead for a day of second-hand shopping!
5. Be mentally prepared.
When you're shopping second-hand sales, it can get discouraging if you don't find any fabulous bargains right away (or even after a few hours). It can also be draining to weed through piles and piles of other people's castoffs for extended periods of time… but it's worth it if you have patience and perseverance 🙂
I'm not necessarily the most patient person in the world, and I prefer to shop online, at second-hand stores like ThredUp (where I can search for exactly the items I want)… so I have to mentally prepare myself for second-hand shopping.
I have to remind myself that it might take a while, that I'll need to look at each item before making a decision, that I shouldn't buy anything I don't need or have a space for (even if it is an amazing deal), and that there might be large crowds to navigate around.
If I do each of these 5 things, I end up finding the most deals and having a much more enjoyable experience!
I was really happy with everything I found from the JBF pre-sale… I'm saving most of it for Nora's birthday and Christmas gifts because I am definitely not too proud to give used gifts to my kids 🙂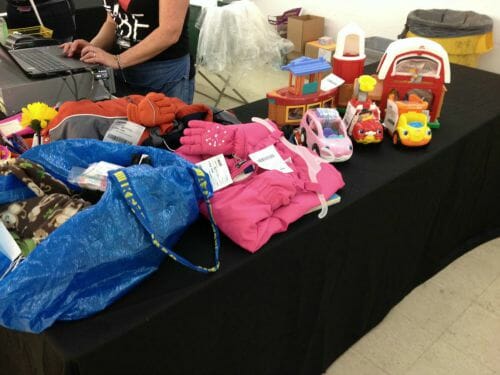 What are your best tips to make the most of second-hand sales?