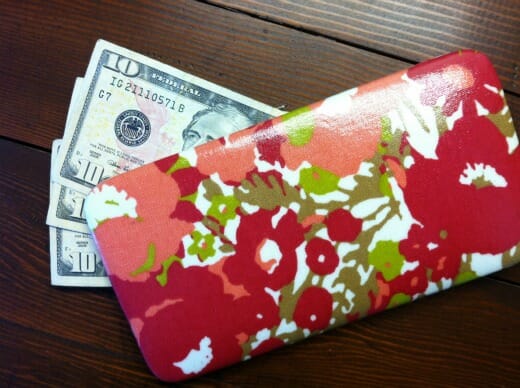 Our church's fiscal year ends in June; so does Dave's school year and many other non-profit organizations in our area. So we've been getting letters, attending foundation dinners, and listening to stewarship presentations on a very regular basis.
It seems like almost every week we get asked to give some type of donation to a charitable cause, non-profit organization, school fundraiser, church event, etc. etc. In fact, I just came in from getting the mail and there were 2 more requests for donations!
Of course, all of these requests are worthy, and all of them are for wonderful organizations that really DO need donations.
I feel guilty for saying no, but Dave and I just can't say yes to every request.
If you've ever felt guilty for saying no to a request for money, or if you've ever given out of guilt, I might have a "solution" for you…
Create a Giving Budget
At the beginning of each New Year (or whenever you set up other financial matters) take a few extra minutes to think about how much money you would like to give over the course of the next year, and what organizations you would like to give that money to.
Write it down…
Set that money aside…
And move on.
Then, when you get other donation requests throughout the year, you can explain that "you've decided to donate to other organizations this year but will keep them in mind for next year". And (hopefully) you won't feel guilty about it either!
You'll notice that in my FREE financial workbook, I provide a section for "giving" — and that's because I really do feel it's important to plan out what you're going to give each year.
A Giving Budget also works for your time.
I know that I've personally been stretched too thin when it comes to volunteering for WAY TOO MANY different organizations. Just like these organization need monetary donations, they also need volunteers… and they often keep asking and asking until I feel "guilted into it".
I hate that!
When I found out that I was pregnant with Nora, I quickly realized that I would not be able to continue volunteering for so many organizations and committees… so I quit ALL of them, and then re-joined a couple that I felt connected to.
Dave and I are each involved in 2 committees at church and he does quite a bit with his school. We are not nearly as involved as we were for the first 5 years of our marriage, but as we entered into a new phase of life (parenthood) we found that we had other priorities!
Pick the groups and organizations that mean something to you; then don't feel bad saying no to ALL the other requests you get.
Don't give out of guilt!
For me, there's nothing worse than giving out of guilt… so by having a plan in place, we are able to give willingly to the organizations we choose and not feel guilty saying no to the rest.
So unless you are blessed with unlimited finances and time, try making a giving budget and see if it alleviates some of your guilt (and stress).
Have you ever given out of guilt?