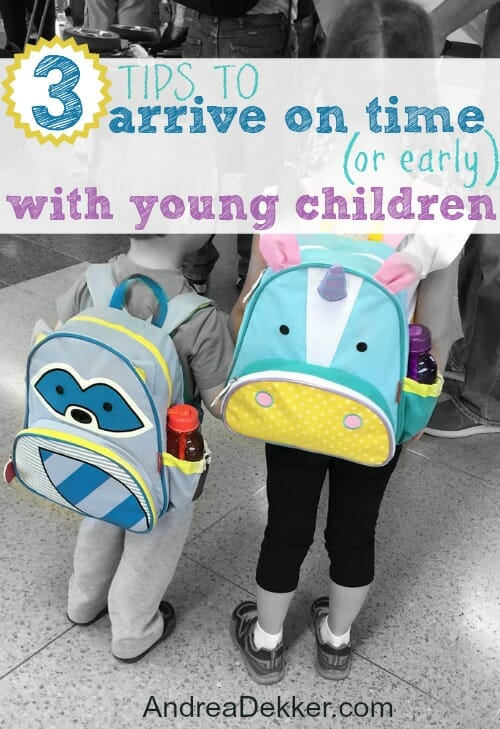 I am a very punctual person, much preferring to be 5-10 minutes early and just sit in my car, wait in the waiting room, or casually walk around until I'm needed. I've always been this way, even as a child, figuring out where I needed to be, when I needed to be there, and how long it would take me to get there so I'd arrive with plenty of time to relax, regroup, and be ready for the practice, game, rehearsal, event, meeting, or outing.
Nearly everyone in my life knows this about me, and I think half of them were secretively hoping the addition of small children would sabotage my abilities to continue arriving on time.
It was a learning curve, that's for sure — but 7 years and 4 small children later, I can confidently say we still arrive on time (or early) almost everywhere we go!
As I was talking with friends the other day, they mentioned that no matter what they do, there are always so many last-minute things that prevent them from arriving on-time…
someone can't find their shoes
another broke a zipper on their coat
the diaper bag wasn't restocked after their last outing
the baby poops as they are being buckled into their carseat
the car needs more gas
etc. etc.
This sparked an in-depth conversation about the things we do to help us get out the door and to our destination on time (often early) even with our children in tow.
My 3 tips really aren't all that revolutionary — however, they are simple tactics we can all implement into our daily lives… and they work!
If you struggle to arrive on time (with or without children!) try my tips and see if they help!
1. I have everything ready the night before.
I'm ALWAYS amazed how many things I need to prepare for our family before we go anywhere…
Is the diaper bag stocked and ready to go?
Do I have my wallet and keys?
Are the backpacks, lunches, snacks and/or water bottles ready to go?
Is the stroller loaded up in the van?
Do we need any other "tools" for our trips — shopping bags, toys, bikes, blankets, umbrella, adverse weather clothing?
What supplies do we need for our activities — library books to return, bank deposit slips, food to bring to someone, items to return to a store, cooler if we'll be gone for longer periods of time, paperwork or laptop for various meetings, etc. etc.
Do I know where I'm going? Do I need to send directions to my phone?
Do I have my to-do list, shopping list, etc. ready to go?
Do I know the plan for breakfast and have the foods ready to go?
Are clothes and accessories set out for the day?
If these items aren't ready to go the night before, chances are very high we will be rushed and frazzled in the morning — and I'll probably end up repeating myself over and over and over again, telling the kids to "hurry up" so we aren't late.
Definitely NOT my idea of a happy morning!
2. I mentally DOUBLE the time I think it will take to get to our destination… and then add 10 minutes to get out the door.
If we're driving somewhere 10 minutes away and need to be there by 9:00, I will LEAVE THE HOUSE by 8:40 so I have a full 20 minutes to get there.
When we drop Simon off for preschool at 8:15 (roughly 3-5 minutes away) we always LEAVE THE HOUSE by 8:05 (or earlier) so we have a full 10 minutes in case we hit all the lights red and have to stop for a train. We're usually one of the first ones in the parking lot, but then we just sit and talk or I check my emails while the kids watch a show.
Also, note that I said, "we LEAVE THE HOUSE" with double the time — not "we start getting ready to leave".
This is a huge difference!
When we bring Simon to school, we LEAVE the house (we are literally driving down the driveway) by 8:05. This means we're all in the mudroom 10 minutes before that, getting our shoes and coats on, grabbing backpacks and water bottles, etc.
This step will definitely take some getting used to if you are perpetually late for everything, but I think it's one of the biggest reasons I'm able to arrive on time with my small tribe of children.
After you double your expected travel time, go ahead and add 10 minutes to that time… and THAT is the time you should be loading up the car, getting shoes and coats on, etc. etc.
3. I load the kids up and go back inside for a once-over check.
This is something I never really considered to be a "tip" until my aforementioned conversation with friends a couple weeks ago.
I explained how I load the kids into the van and then go back inside to make sure we didn't forget anything and that I'm completely ready (and joked that I sometimes just want to stay inside alone!) They thought this was an ingenious idea and have already tried implementing it into their own daily routines.
Basically, I load all the kids into their carseats, turn the car on using my remote starter (with the garage door open!), get the heat or AC running, turn music or a show on, and then run back inside to make sure I have everything ready to go.
I check to make sure all the lights are off and the doors are locked.
I turn the heat down so it's not running while we're gone.
I do a once-over of the main floor (anything I can quickly pick up or put away??)
I go to the bathroom and finish anything I need to do to get ready.
I make sure we have everything we need
That whole process takes 5-10 minutes, depending on the day and how long we'll be gone, and the kids think it's crazy fun to be in the car without mom or dad.
They can't go anywhere because they are buckled in and I have the keys with me, but they can't bother me or distract me while I'm trying to get us all out the door on time.
.
I realize some of you may be reading this and wondering why on earth I put so much "pressure" on myself to arrive on time with young children. Don't worry, I get it, I'm probably a little strange. However, being late (especially without any notice or appropriate excuse) is one of my BIGGEST PET PEEVES EVER!

I personally feel like my time is disrespected and taken for granted when others arrive late or simply don't show up at all. I guess I might personalize the issue too much — but I just don't want to be the woman who takes someone else's time for granted or assumes they have nothing better to do than wait for me and my children.

I chose to bring these 4 children into the world, I choose to do various activities with my 4 children, I know when those activities and events start, and it's my responsibility to get my 4 children to the activities and events on time.
I really don't feel "pressured" to arrive on time – but I DO think it's my responsibility as an adult member of society to model punctual behavior for my children and teach them to respect others' time.
We are not an exception to the rules of society simply because 4 of us are under 4 feet tall, nor do we have a built-in excuse for arriving late, simply because there are more of us.
.
Of course, there are always unavoidable situations (often caused by young children) that thwart even the best efforts to arrive on time — I do have empathy for these situations, but I also expect them to be exceptions… not the norm.
If we are ever late, I will take every measure necessary to assure the waiting parties know what's happening.
I will text them immediately and let them know we are running a little late
I will text again as we're pulling out of the driveway with our estimated arrival time
I will prep my children for the fact that we will need to rush more than normal when we get to the event
I will own the fact that I most likely didn't plan enough time for us to get ready, get out the door, and get to our destination on-time
I will apologize (without excessive detail) and thank the waiting parties for accommodating our tardiness
There are lots of things I don't do well with 4 children (like travel, the mall, or any sort of restaurant) but getting out the door and arriving to our destination on-time (often even early) is one thing I can do!
What are your tips to arrive on-time with young children?