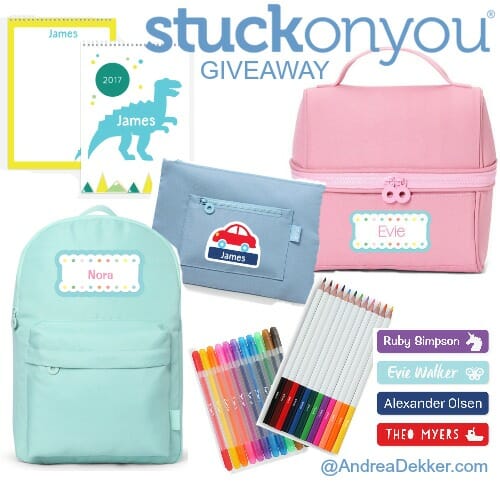 Earlier this summer, I was searching for personalized notebooks and markers for my kids so they couldn't fight over whose was whose anymore, or if someone "stole" another person's most favorite marker or pad of paper.
I happened to stumble across Stuck On You and was immediately drawn to the simple yet creative ways I could personalize so many different things for my kiddos.
I ended up ordering a personalized sketchbook, set of markers, and set of colored pencils for each child and surprised them with it over one of our vacations. It was the perfect way to keep them occupied during a few of the rainy days, and even the adults thought these personalized items were so cool!
After vacation, I ordered a set of name labels for each child (I even got one for the new baby) so we can label various toys that they have alike so we won't have to wonder whose is whose — something that is a daily debate around our house.
NOTE: The new baby's name is NOT "Evie". This was just one of the stock photos from the Stuck On You website that I chose because I liked the lunch bag. I never considered people would think it was our baby's name.

I won't give it up that easily — you'll have to wait another month!
The labels are SUPER thick and durable — I've already used them to label several of Nora's kindergarten items and I wouldn't be surprised if the labels stay put for the entire school year!
We use the Classic Mini Labels, but there are dozens of label options to choose from — large, medium, small, or mini; rectangle, circle, square, or geometric; basic and designer; clear, white, colored; address labels, book labels, clothing labels, shoe labels, allergy labels, and SO many more!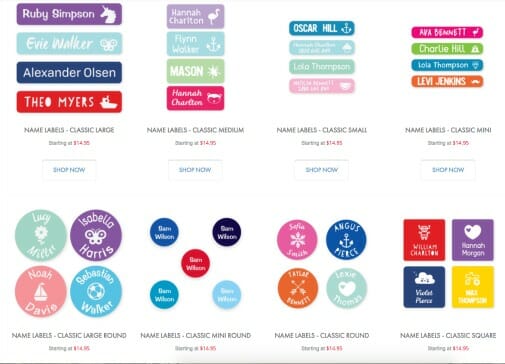 The Stuck On You Products are extremely well made, very durable, super cute, and so simple to order. In fact, I already have a few Stuck On You goodies stockpiled for the kids' Christmas gifts!
If you're looking for a fabulous selection of high-quality labels and other personalized goodies, Stuck On You has you covered!
More about Stuck On You:
Stuck On You began as quality labels created in the owner's spare bedroom… and over the last 20+ years, it has grown to offer a variety of personalized bags, clothing, toys, art, stationery, and more!
Visit Stuck On You on the web:

Website: www.stuckonyou.us
Facebook: StuckOnYouUS
Twitter: @StuckOnYouTweet
Pinterest: StuckOnYou
Instagram: stuckonyouofficial
YouTube: StuckOnYou
Enter To Win This Giveaway!
Today, Stuck On You is giving TWO very lucky readers a free back-to-school kit, which includes everything listed and pictured below!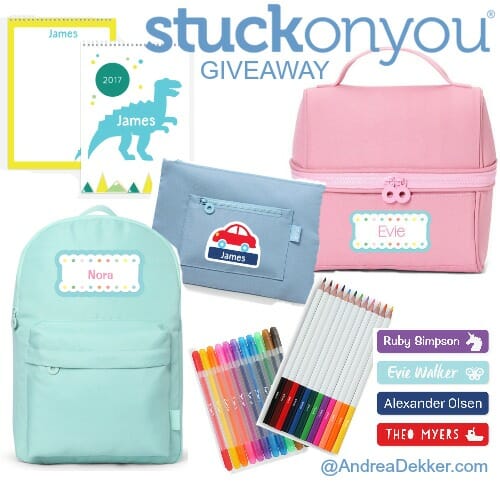 To enter, simply use the Rafflecopter widget below (it might take a second to load).
a Rafflecopter giveaway

This giveaway ends at 11:59 pm EST, Monday, 08/21/2017, and is open to anyone 18 years or older. The winners will be randomly selected via Rafflecopter and notified via email. I received compensation in exchange for hosting this giveaway — but all opinions are 100% my own. Please see my full disclosure policy and contact me with any questions you have. Good luck!