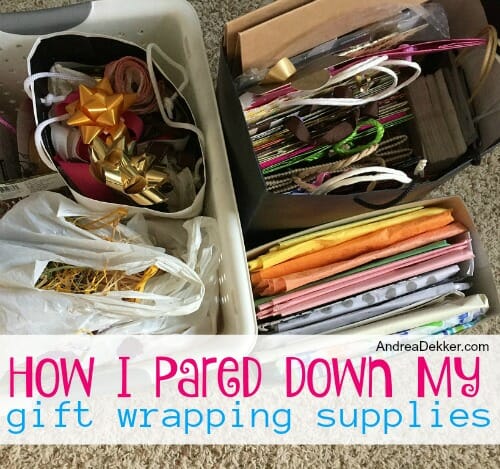 From Thanksgiving week through New Year's Day, Dave and my immediate families celebrate 6 birthdays and attend 4+ Christmas parties.
It's a fun (and busy) time of year; and it always gives me a great opportunity to do a quick purge and reorganization of my gift wrap!
My grandma had given me a bunch of her wrapping supplies over the summer, and we got several baby gifts for Clara over the past month, so I really did need to go through all my gift wrap as it was sort of shoved, stuffed, and strewn about.
I tackled this mini project last week — with the help of Simon and James who felt the need to inspect, open, and test out almost every single gift bag 🙂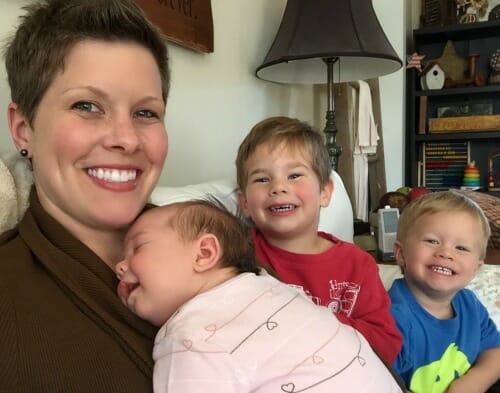 I started by compiling all my wrapping supplies into one spot — I chose the sitting area upstairs so the boys could play while I worked (Nora was at school and Clara was napping).
I honestly didn't have as much as I thought I did — but even still, I knew I didn't need even half of what I had.
I just don't wrap that many gifts in fun wrapping paper or cute bags anymore. I prefer to use butcher block paper or plain white paper and then fun tissue paper, ribbons, or raffia.
After I got all my wrapping supplies in one spot, I quickly sorted things into 3 piles:
Trash (anything that was ripped, badly crumpled, or just really junky looking)
Donate (anything still in good condition that I simply didn't want)
Keep
I decided to donate all "themed" wrapping supplies — anything with baby, wedding, birthday, or other holiday themes went directly into the donation bag.
I did save out a few Christmas supplies to use this year, but I'm planning to stick with solid color bags and butcher block paper from here on out. It just makes it easier to keep fewer options (in my opinion).
I also pulled out the bags I'm planning to use for some of the upcoming birthday gifts.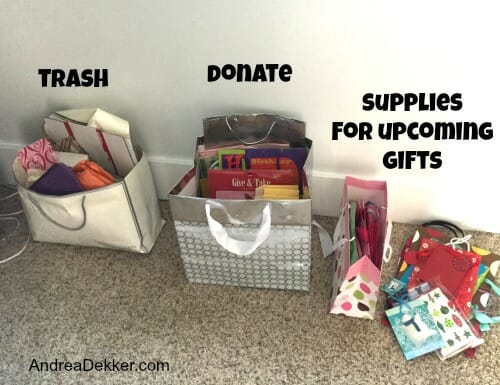 I probably still have more than I need, but I'm happy with the amount of storage space my current stash takes up — and with with selection and variety of colors I have for future gifts.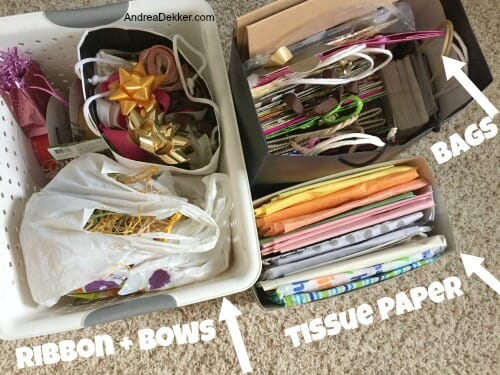 I now have a shoebox of tissue paper, a medium size bag filled with roughly 20 other gift bags, and a small basket of ribbons, bows, raffia, and other gift accessories.
I also have a roll of butcher block paper, a roll of white paper, and few brown boxes.
Everything fits on one small shelf inside an armoire (I keep any gifts I buy throughout the year in this armoire too.)
The whole project took me about 20 minutes (with my 2 crazy "helpers") and it got me excited for our upcoming birthday/holiday season!
Next year, I'll pare it down once again!
If you're looking for a quick-ish organizing project to get you in the mood for the holiday season, this might be just the right project for you!