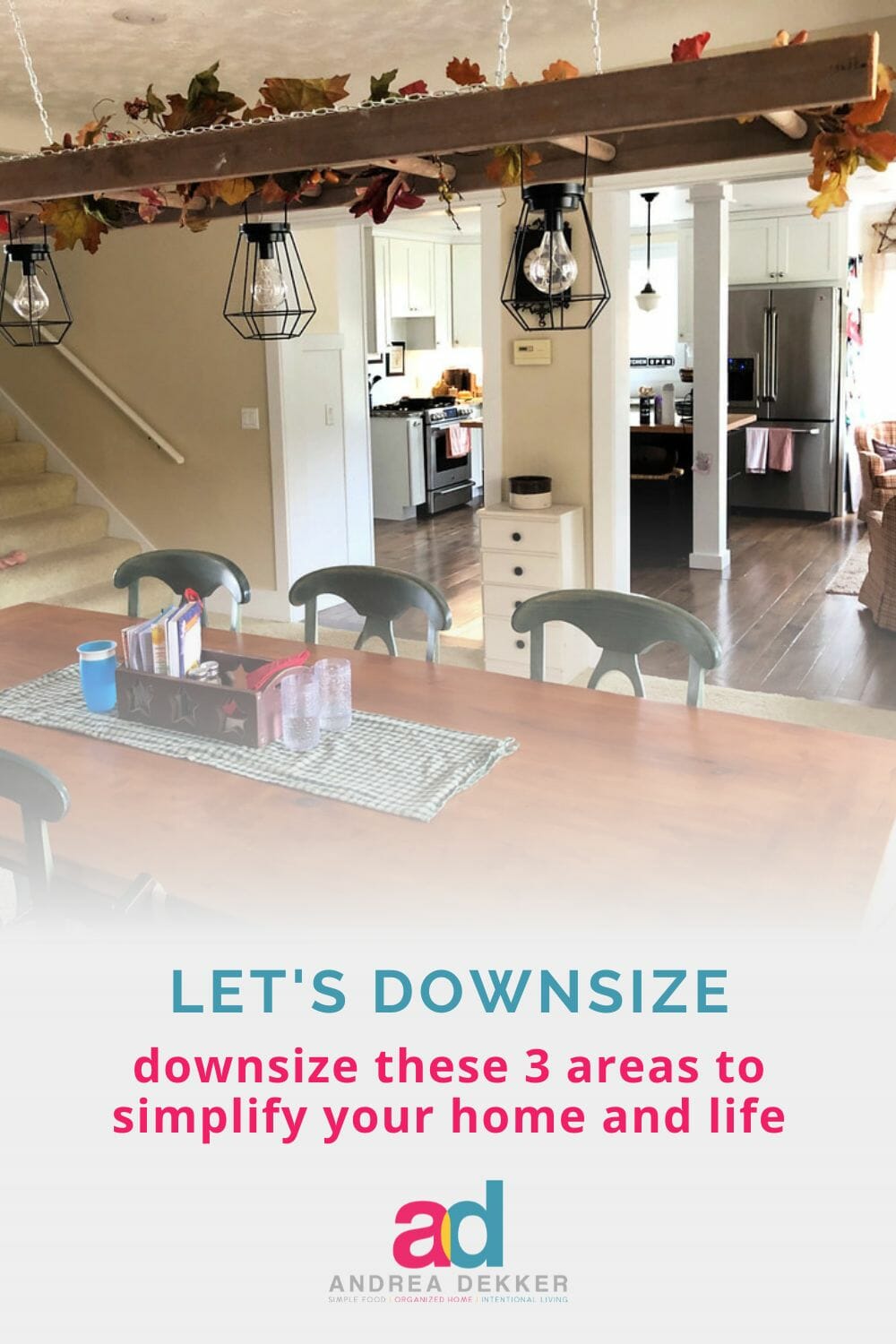 Downsize these 3 areas and enjoy a simpler, slower, more intentional life — starting today!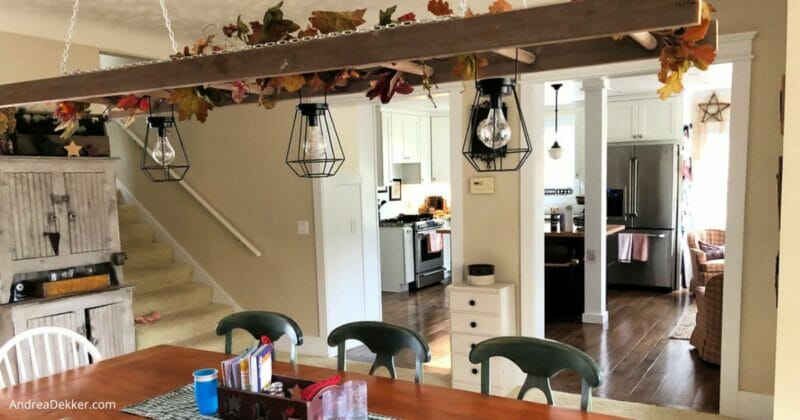 Does your home feel more cluttered and chaotic than you'd like?
Does your schedule feel fuller than it should be?
Does your life feel like a constant juggling act… just waiting for the "balls" to come crashing down?
Do you wonder if you'll ever make noticeable progress toward enjoying a simpler life?
If so, you're not alone… nor are you without hope!
I challenge you to consider ways you might "downsize" your life today…
One definition for the word "downsize" is: "to reduce in size or number".
So let's look at 3 areas of our homes and lives and consider what it might look like to "downsize" or to "reduce in size or number".
Downsize the things in your home and life.
Downsize the commitments on your calendar.
Downsize the expectations for yourself and others.
Keep in mind that downsizing most likely won't change your life overnight… but eventually, you will start to see the unmistakable correlation between your efforts to downsize and your ability to enjoy a simpler, slower, more intentional life!
1. Downsize Your Things
It's no surprise that decluttering is a key component to downsizing and simplifying!
With less stuff to store, organize, pick up, clean around, and maintain, it's no wonder so many people are jumping on the minimalist bandwagon these days!
As I mentioned above, I am not a minimalist, but I do consistently remove items we don't currently need, use, want, wear, or love…. even if we might need them later.
No matter how big or small your living space, you'll enjoy that space more if you downsize your things so everything has a home.
Starting today, work 15-20 minutes of decluttering time into your daily schedule and marvel at how much progress you'll eventually make over time.
As you work through your home, really think about how you'd like to use your space and how your excess stuff is potentially preventing you from using your space in that way.
Be honest…
Do you really need your "backup toaster"? Or would you rather have more room in your kitchen to cook and entertain?
Will you realistically wear your business wardrobe now that you're working from home? Or would you rather have more breathing room in your closet?
Can you even remember what's inside all those storage bins? Or would you rather use this space in your basement/garage for a different purpose?
Over time, your efforts will result in a simpler, more organized home for you and your family to enjoy.
2. Downsize Your Commitments
One of my goals as a mother is to create a home environment that doesn't feel rushed, hurried or frazzled — running from one activity to the next, constantly shouting orders, and prodding the littles to "hurry up" over and over again.
I've even gone so far as to challenge myself to never say "hurry up" to my kids (I still catch myself on school mornings though!)
Whether we want to admit it or not, mothers have a HUGE amount of control over the family calendar — after all, we're the ones who sign our kiddos up for all those extra-curricular activities, we're the ones to pay for lessons and clubs, and we're the ones who spend countless hours driving them back and forth.
Yes, our children can learn many life lessons and useful skills from these extra activities… but they aren't 100% necessary.
Fun… yes.
Valuable… probably.
Necessary… no.
In that post I wrote:
Yes, use your gifts and talents to serve others. Use your time and energy to be a blessing to those in need. Use your money to make a difference… but also use discernment and say "no" when you have too much on your plate.

There's an unlimited number of "good things" you could say "yes" to every day… but if you don't take care of your health, your family, your home, and your life, you will eventually burn out and realize you sacrificed an awful lot for those "yeses".
I often think back to that post when I need a little boost of encouragement to say "no" — because the truth is, I LOVE saying "yes" (especially to my kids!)
I'm sure you can relate.
But for my own happiness and well-being (which eventually trickles down to my family's happiness and well-being), I must exercise restraint when extra activities pull our family in too many directions at once.
There are seasons of life that are just busier than others — that's to be expected.
However, if you feel like you're treading water and losing steam with no relief in sight, it's time to take a step back and downsize your commitments.
3. Downsize Your Expectations
This one is huge! I've said it before, and I'm certain I'll say it again… expectations matter!
Whenever I reflect on times of disappointment in my life, it almost always comes back to having unrealistic expectations — everything from the cleanliness of my home, the growth of my business, the behavior of my children, weight loss after each baby, and even new bread recipes (true story!)
A few years ago, I realized I simply had to lower my expectations for my home, my business, my children, and even myself… not because I needed an excuse to be lazy, but because I wanted to be happier!
I am still very intentional in everything I do, but I don't put nearly as much pressure on myself.
NOTE: one helpful way I lowered expectations was by stepping away from social media which often encourages unrealistic expectations.
Having realistic expectations for our lives won't magically transform everything around us into a blissful oasis of happiness and simplicity… however, "downsizing our expectations" for ourselves, our spouses, our children, our friends, our jobs, our homes, and our lives is a helpful step to a more joyful, less stressful life.
Let's Get Started!
The hardest part right now is motivating yourself to actually get started. I get this!
Maybe you feel too busy (ironic, huh!) to add one more thing to your plate… or maybe your home is so cluttered that you don't think downsizing will actually make any amount of difference (honestly, it might not in the beginning).
Don't focus on everything you want to do at once… instead, choose one bothersome space in your home to start decluttering, pick one task to remove from your schedule, and acknowledge one area in your life that could benefit from lowered expectations.
Then get started!
With continual effort, downsizing these 3 areas will eventually lead to a simpler, more purpose-filled life!
What area of your life could benefit the most from some downsizing?