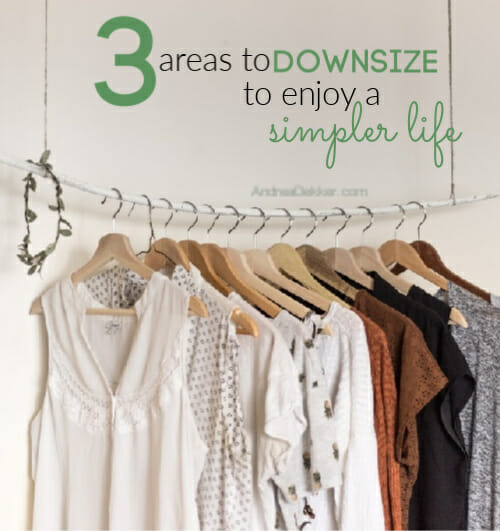 Does your home feel chaotic? Does your schedule feel jam-packed? Does your life feel like it's spiraling out of control? Do you wonder how you might ever enjoy a simpler life?
If so, I hope today's post motivates you to downsize your life in some small way.
One definition for the word "downsize" is "to reduce in size or number".
My challenge for you today is 3-fold…
Downsize the number of things you have in your life.
Downsize the number of commitments and obligations you have.
Downsize the number of expectations you have for yourself and others around you.
As a result, you will also "downsize" the amount of busyness and stress you feel on a daily and weekly basis.
Change won't happen overnight…
But eventually, you should start to see the unmistakable correlation between your efforts to downsize your life and your ability to enjoy a simpler life!
1. Downsize Your Things
It most likely goes without too much explanation that the act of simplifying and downsizing your life should include some pretty major purging!
Personally, I try to bring donated items away at least once a month in an effort to keep up with ALL the stuff my kids bring INTO our home on a daily and weekly basis (I counted one day last week… the kids brought home a collective 32 pieces of paper from school and other activities!)
As I mentioned above, I am not a minimalist, but I strongly believe in purging anything I don't need, use, want, wear, or love. And I absolutely will NOT hold onto something "just in case I need it" someday.
I realize this approach to excess stuff doesn't necessarily work for every family… however, no matter how big or small your living space is, I guarantee you'll enjoy that space more if you downsize your things to a manageable amount.
Pick ONE room, set your timer for 15 minutes at some point TODAY, and see how many things you can trash, recycle, donate, etc. within that time. Then do the same thing tomorrow, and the next day, etc. etc.
Think through each space and each item… and be honest with yourself!
do you really need your "back up" toaster?
will you realistically wear your business wardrobe again now that you changed jobs?
can you even remember what's inside your storage bins?
It's not easy… but your efforts will be worth it in the end when you can enjoy a simpler life at home!
RELATED POST: How to Thoroughly Declutter Your Closet in 5 Simple Steps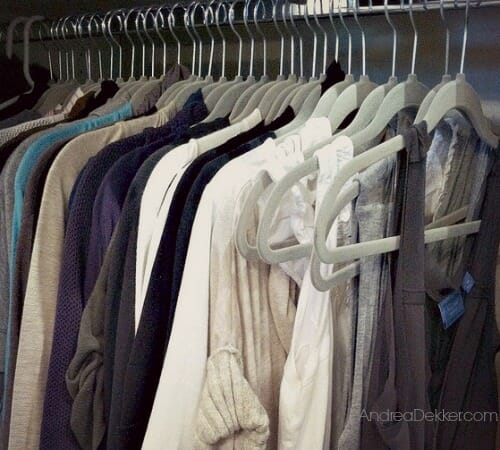 .
2. Downsize Your Commitments
For my entire adult life, I have "preached" the importance of saying "No" when something just doesn't fit your current season life. This is NOT because I'm a horribly lazy person (I promise I'm not) but rather because I know the importance of personal limits and having "white space" in my life (especially as an introvert).
Yes, there are seasons of life that are busier than others — that's to be expected.
However, when you feel like you're treading water and starting to lose steam with no real relief in sight, it's time to take a step back and downsize your commitments.
In the post I wrote:
YES, use your gifts and talents to serve others, use your time and energy to be a blessing to those in need, use your money to make a difference… but also use discernment and say "no" when you have too much on your plate.

There are millions of "good things" you could say "yes" to every day… but if you don't take care of your health, your family, your house, and your life, you will eventually burn out and realize you sacrificed an awful lot for those "yeses".
I still think back to that post on a VERY regular basis — reminding myself that just because I have a certain skill or just because I enjoy doing something does not mean I MUST say "yes" to every opportunity that comes my way.
For my own happiness and well-being (which eventually trickles down to my whole family's happiness and well-being), I must use restraint when accepting outside commitments — realizing that my current season of life requires me to be present and available for my family more than previous seasons of life.
Downsizing my commitments (many of which I thoroughly enjoyed) was not necessarily easy for me to do, but I don't regret any of my "Nos" these past 8 years.
RELATED POST: A few of my thoughts on extra-curricular activities.
.
3. Downsize Your Expectations
This one is HUUUUUGE!
I've said it before, and I'm certain I'll say it again… Expectations Matter!
Whenever I reflect on times of disappointment in my life, it almost always comes back to the fact that I had unrealistic expectations for the outcome. Everything from the cleanliness of my home, the growth of my social media, the behavior of my children, and even my own issues with back pain and an abdominal separation.
I don't want to sound pessimistic, but a few years ago I drastically lowered my expectations for my home, my business, my children, and even myself… and I have been SO much happier and more content ever since.
NOTE: a big part of lowered expectations is staying away from social media (which is often the cause of unrealistic expectations in the first place). I can definitely say I enjoy a simpler life thanks to the lack of social media in my life!
It's not that I don't try. It's not that I don't care. It's simply that I don't obsess or worry or fret about nearly as many things anymore.
Our bathrooms aren't completely clean when unexpected company arrives… at least I wiped the pee off the seat.
My blog post had a few typos or was missing a picture… I'll fix it when I have a chance.
A child had a meltdown in public… oh well, such is life.
I look like I'm 4 months pregnant all the time… I'll wear baggier shirts and move on with my day.
"Having realistic expectations for our lives" will not magically transform everything around us into a blissful oasis of happiness and simplicity… I know this!
However, I DO think "downsizing our expectations" for ourselves, our spouses, our children, our friends, our jobs, our homes, and our lives is a key step to enjoying a simpler, happier, more fulfilled, less stressed life.
RELATED POST: How Lowering My Expectations Helped Increase My Productivity and My Mood
.
Are you ready to enjoy a simpler life?
I realize that the hardest part right now is motivating yourself to actually get started and implement any of my suggestions.

Maybe you feel too busy (ironic, huh!) to add one more thing to your plate… or maybe your home is so cluttered that you don't think downsizing will actually make any amount of difference (honestly, it might not in the beginning).

Don't focus on EVERYTHING you want to do… instead, pick ONE task or obligation to remove from your schedule this week, acknowledge ONE area you could loosen your expectations with, and choose ONE small area of your home to start purging (and block out a time when you will do it each day)
With continual effort, downsizing these 3 areas will eventually help you relax, destress, and enjoy a simpler life!
What area of your life will you downsize first?