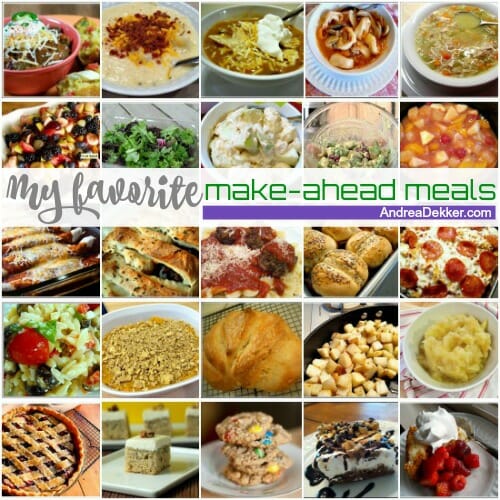 A few weeks ago, I shared my Favorite 5-Part Foolproof Appetizer in an effort to show how simple entertaining CAN be with a little planning ahead.
Here's an expert from that post (if you missed it, definitely go back and read it later!)
In an effort to simplify entertaining EVEN MORE, I have a favorite go-to appetizer platter that I can whip up in minutes if we have last-minute guests OR make well in advance if I have the time.

This 5-part foolproof appetizer is perfect any time of year, for any type of party, and can accommodate almost any dietary restrictions or food allergies. Plus, it's super simple, fairly frugal, and uses many ingredients you can buy ahead and stock up on when they are on sale so you always have them in the house.
As I read through the comments from that post and answered all the email questions, I started realizing that my favorite way to cook and bake (both for my family and for guests) is with recipes I can easily make in advance using ingredients I can stock up and store in the freezer or pantry.
I'm not a fan of last-minute meals, I don't like cooking or really even being in the kitchen all that much when guests are over, and I hate trying to add all sorts of last-minute details to foods when my kids are hungry, pulling on my legs, and running around the kitchen like crazy people.
I much prefer meals I can make completely in advance and simply shove in the oven at the appropriate time — maybe steaming or sauteing some veggies right before we eat.
So since many of you have asked for my favorite make-ahead meals and side dishes, I thought it would be a perfect time to share — especially considering the busy back-to-school season is HERE!
If you're looking for relatively simple, quick, easy, frugal, semi-homemade, make-ahead meals that should please your family and your guests… keep reading!
My Favorite Make-Ahead Breakfasts:
So many people think breakfast is too challenging to make ahead because it requires getting up really early — but I beg to differ!
My family has enjoyed a hot breakfast almost every single day this entire summer, without a huge amount of effort on my part. We also love having company over for breakfast — which I can fairly easily pull off even without waking up at the crack of dawn.
For starters, if we're going to have meat with our breakfast, I ALWAYS cook it up the day before — I'll make sausage patties, fry up the bacon, and thinly slice ham, then put it in zip-top bags or food storage containers until we're almost ready to eat. It only takes a few minutes to reheat the meat (either in the oven, on the stove, or in the microwave) and I promise, it tastes just as good as if you cooked it that morning, with the bonus that you don't completely reek of fried bacon grease all day!
These bacon wrapped sausages are also a fabulous make-ahead option. You can have them completely assembled the night before and just pop them in the oven about 30 minutes before you're ready to eat — and I'd be surprised if you had any leftover once your guests leave!
Also, I usually opt for some type of baked egg dish if we're having a larger group of people over — just because it's so easy to make the night before, it's easy to make 2 or 3 large 9″ x 13″ pans if necessary, it stays hot for a long time, and the leftovers taste great the next day!
Here are some of my favorite recipes:
I usually try to avoid pancakes, french toast, or waffles when I'm feeding a crowd — mainly because I feel it's awkward for me to stand in the kitchen flipping pancakes and making food while everyone else is eating. I want to be eating too!
However, if I really want to go the pancake/waffle/french toast route, I always have the batter made up the night before. Also, here are a couple recipes that can kind of be made ahead of time.
Instead of pancakes, waffles, or french toast, I often opt for bagels, muffins, cinnamon rolls, or danishes as the "carb" for our meal.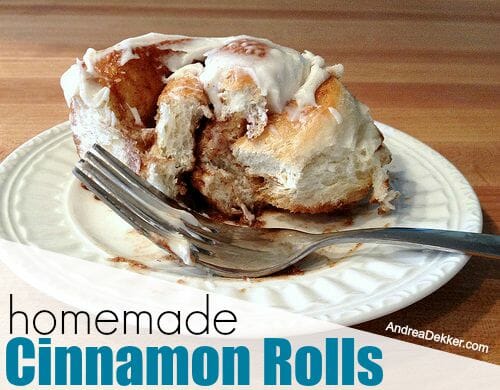 A couple other make-ahead breakfast "side dishes" are:
.
My Favorite Make-Ahead Lunches:
Considering we eat big breakfasts and early dinners, lunch is almost always our smallest meal of the day. We also rarely entertain at lunch time — only occasionally on Sundays or a holiday, in which case, we would eat "Dinner Foods" around noon (see below for my favorite make-ahead dinners).
That said, I just recently wrote about our favorite hot and cold make-ahead lunches — if you're interested, you can click over to that post to read all the details!
.
My Favorite Make-Ahead Dinners:
During the school year, my goal is to have dinner ready for the oven (or in the slow cooker) by the time Dave gets home from school.
Sometimes, this means making part or all of the meal the night before, or filling the slow cooker after breakfast and letting the food cook all day. Other times, it means turning a show on for my kids after lunch (when they are full and happy) and quickly whipping up a casserole, pasta dish, or other oven-ready meal.
That way, I can simply shove the pan in the oven or stir the slow cooker and enjoy a little time to get some work done while he's playing with the kids after school and before dinner.
The same goes for when we have company over — I try to have everything ready well in advance so I can enjoy myself instead of frantically trying to remember all the last-minute steps for various recipes.
Thankfully there are SOOOOOOOOOOO many really delicious dinner recipes that are a piece of cake to make in advance. I'll list off a bunch of my favorites below: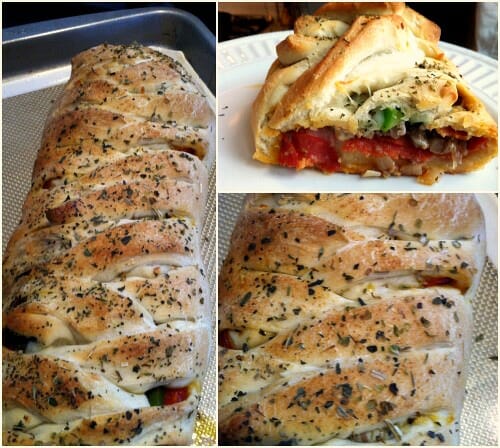 And don't forget soups — all of which can usually be left to simmer on the stove for hours or made ahead in the slow cooker:
By choosing a make-ahead main dish, and pairing it with some roasted veggie (usually able to be prepared ahead), a simple salad, fresh fruit, and yummy bread, you can easily have a full meal with almost no last-minute effort on your part — aside from dishing up the food and bringing it to the table!
.
If you're not used to make-ahead meals, it will probably take some practice and a diligent effort towards planning your menu ahead of time, but I'm almost positive the extra time and lack of stress will be enough to motivate you to stick with it!
I know make-ahead meals aren't for everyone, but for someone like me, with multiple young children and a tight schedule to keep, make-ahead meals are one of the MAJOR ways I am able to simplify each day!
What are your favorite make-ahead meals?