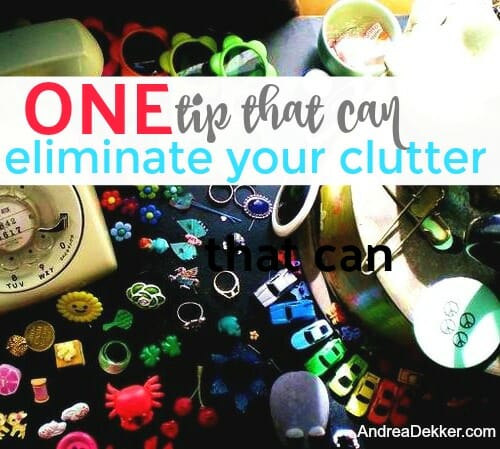 One of the things I hear most often regarding cleaning, decluttering, and organizing various spaces is that it's TOO OVERWHELMING.
So one of MY personal goals is to break down, dumb down, and simplify the often overwhelming task of decluttering our homes and lives — because I'm 100% confident anyone can be more organized if they put in a little time and effort up front, commit to doing regular maintenance, and monitor what they bring into their homes.
Yes, that means YOU can be organized too!
It might not happen immediately, it might require A LOT of up-front work on your end, and you might get very frustrated at times — but the overall results of a cleaner, neater, more organized space will most likely outweigh all the "blood, sweat, and tears" it took to create. Plus, once you GET organized, it's a lot easier to STAY organized with minimal maintenance.
Want to know my #1 tip that has the potential to virtually eliminate all the clutter in your home?
Make a space for everything and put everything away in its space!
If you have a space to store all your things — and you put all your things away in their appropriate storage space once you're finished using them, you essentially cannot have clutter.

Even if you have LOTS and LOTS of stuff, but have a designated storage place for each item (and put each item away in the designated storage space) your home will be clutter-free.

On the flip-side, even if you live an extremely minimalistic lifestyle but do not put your few possessions away, they will sit out and look cluttery.
I know this is ultra-simplified and not necessarily EASY to do — but if you search your home, your office, your car, your purse, your kitchen counters, your bedroom closet, or any other space you feel is always cluttered up, you will most likely find that the things causing the clutter are things with no homes or things that have not been put back into their homes.
Of course, all of this is trickier when other people live in the same clutter-filled spaces with us — because often times, it's the other people who don't put things back in their homes… right!? 🙂
I do realize how difficult it can be to maintain order and organization in home filled with other people, but I can also speak from experience that it is NOT impossible to do.
Dave and I are both very diligent at making spaces for anything we bring into our homes AND putting those things away in the appropriate places when we're finished using them. Even small things like office supplies, extra cords, craft items, and kitchen gadgets all have their place and all get put away.
We consistently model this behavior for our children, and although they definitely don't always put their things away on their own, they DO always know where their things go and that eventually, all their things need to be put away (usually before bed at night).
Our "homes" aren't necessarily fancy or decorative or matching, but they are practical, efficient, and (usually) frugal — and in all honesty, I've found that practical storage solutions out-perform any of the cutest, fanciest, and most decorative storage options around!
It IS nice for our storage spaces to look attractive, but it's more important that they function well for our families and our lifestyles — otherwise, we won't actually take the time to put our things away.
The one "flaw" in my super simple tip is that creating a space for all our things isn't necessarily EASY.
It might involve lots and LOTS of purging in order to have few enough things that you can actually make a space for each item in your home.
It might require a significant amount of time and effort creating homes for all your things.
It might bring about excess frustration if others in your home aren't as eager to keep your home clean or aren't as diligent about putting their things away.
Unfortunately, I don't have a magical solution to any of the issues I listed above — but if getting your home more organized and less cluttered is important enough to you, I KNOW that all the time you spend purging and making homes for your things WILL pay off.
Eventually, your family will notice the difference. They will see you continually putting things back in their homes, and (hopefully) start to follow along. And if they are totally clueless, at least YOUR areas of the home will be less cluttered (progress, not perfection… right!)
Like I mentioned above, I know it's not necessarily easy, and I know it won't happen overnight, but it IS a very simple concept that really does work!
If you continue to struggle with excess clutter in your home and life, I would strongly encourage you to take a good hard look at all your clutter and consider why it's clutter.
Do the items not have an appropriate storage space?
Do you simply not put the items back in their storage space because the home isn't convenient for your current lifestyle?
Do you even need the items that are sitting out — or can they be removed from your home altogether?
Are they someone else's items that either need a home or need to be put away in their home?
Are the other people in your home not putting items away because the items don't have a home or because the other people are too "lazy".
Once you start asking yourself these questions, you'll have a much clearer picture of why you have clutter… and once you know WHY your clutter is around in the first place, it will be even easier to come up with an action plan to eliminate (or at least reduce) the clutter in your home and life.
What is one thing you need to create a space for?