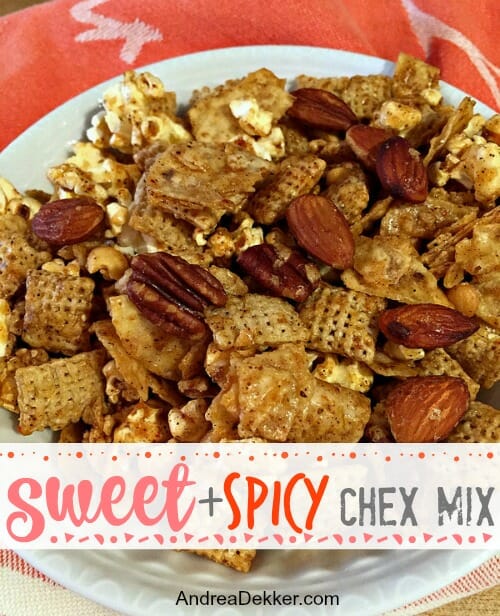 Dave and I are big snackers! We definitely enjoy full meals, but we also love little snacks between each meal and before we go to bed.
We love all types of Chex mix, popcorn, nuts, trail mix, granola, pretzels, candy corn mix, and more — especially this time of year and throughout the holiday season.
Today's recipe for Sweet and Spicy Snack Mix is a newer favorite of ours. I got the recipe from a friend this summer — and WOW is it good!
I've made it a few times for food gifts, and I'm sure I'll make it a few more times for holiday parties. It's the perfect balance of sweet, salty, spicy, savory, crunchy, chewy, and oh so delicious!
The only thing I don't like about this recipe is how difficult it is to stop munching on it!
Recipe for Sweet and Spicy Snack Mix
Makes a lot — at least 20 cups.
INGREDIENT:
5 c. tortilla chips (crunched up a bit)
5 c. Rice Chex or Crispix cereal
1 bag (3.5 oz.) popped popcorn (neutral flavor is best)
1 can (16 oz.) mixed nuts
1/2 c. butter
1/2 c. corn syrup
1 c. brown sugar
1 Tbl. Chili powder
1 tsp. cinnamon
1/4 tsp. ground Cayenne
DIRECTIONS:
Preheat oven to 250ºF. Spray a very large roasting pan or sheet pan with cooking spray.
Dump the chips, cereal, popcorn and nuts into roaster.
In a medium pan, melt butter over medium heat, add in all the other ingredients and stir until bubbly and completely liquified.
Pour caramel mixture over cereal mixture and stir.
Bake in preheated oven for 1 hour, stirring every 20 minutes or so.
Once mixture is baked, dump it out onto wax paper to cool. Break apart any really big chunks and store in an air-tight container.
Eat and enjoy!
Doesn't it look yummy!?!?!
I promise it tastes amazing too!
This mix makes a fantastic food gift for teachers, coaches, instructors, bus drivers, group leaders, or anyone who you might like to treat with something — but not necessarily buy a full-fledged gift.
I scoop it into these cone-shaped bags (affiliate link) and often tie some candy or chocolate along with a little note. This food gift is always well-received!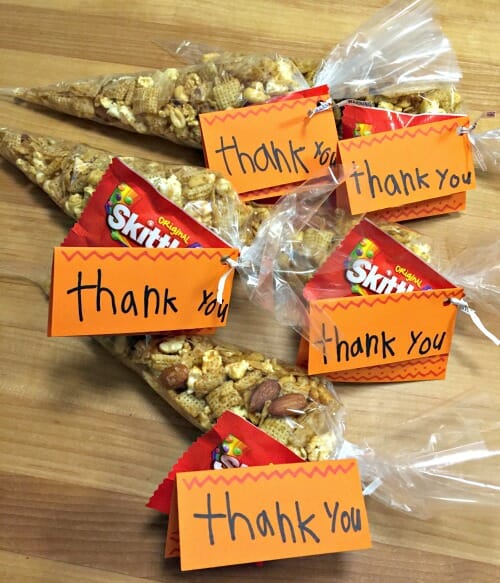 The next time you need to bring a snacky food to a gathering of any type, gift this sweet and spicy snack mix a try. My only suggestion is to bring several recipes cards with the recipe printed out as you'll be asked for the recipe all night long!
What are your favorite snack mixes?
Visit my virtual recipe box for more simple, delicious, family friendly recipes!