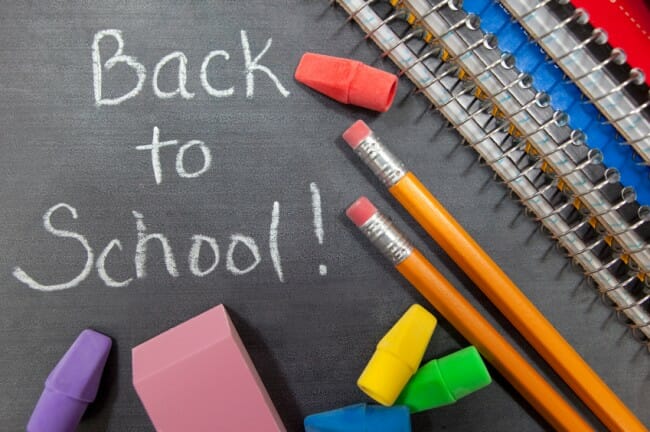 School is right around the corner — like I need to remind you!
Are you ready?
Making the transition from lazy summer days to structured school days can be tough for many children…and adults! Here are some tips to help you get back in a routine and make the transition easier on you and your kids.
Plan Ahead:
Start a transition period of putting your children to bed a little earlier each night and wakeing them up a little earlier each day. This transition will help them adjust to their new school schedule and the first day won't be a rush to get everyone out the door.
Take your children to school and walk the halls. Find their classroom and meet their teacher. Find the closest bathroom, the library, the gym, the cafeteria, and the office.
Stock up on back-to-school supplies now (if you haven't already) and on snacks and other school lunch supplies.
Create a menu of quick and easy dinners for the first week of school.
Clear out old books to make space for new books and reading materials.
Toss their paperwork from last year and stock up on school supplies for this year
Get rid of clothing that they have outgrown and look for sales on clothing they'll need this year.
Donate games and toys they don't love.
Create a specific area to display future artwork, school projects, etc.
Get your Schedule in Order:
Make appointments for haircuts, dentist, doctor, etc. to get first dibs on convenient times, and avoid taking your kids out of school.
Register the kids for their fall activities such as sports teams, music or art lessons.
If you feel your child might need a tutor, book one now before school is in full swing.
Look ahead; it's not too early to start planning and scheduling holiday activities.
Don't forget to mark all upcoming events and activities on your calendar
No one wants to be scrambling on the first day of school…so start now! All of these ideas will help you jump start your school year and get off on the right foot!
Oh, and don't forget to enjoy the last few days of summer too!
Photo: Reader's Digest