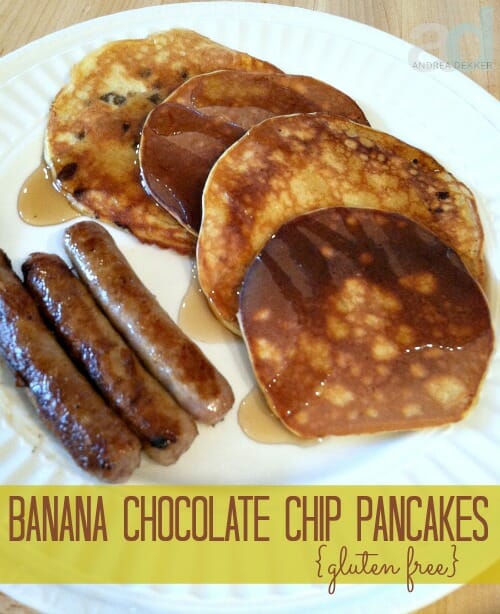 Several weeks ago, I shared my most favorite pancake recipe with you — seriously, it's SOOOO good! However, while they do taste delicious, I recieved many requests for a yummy pancake recipe that could work for those of you who are gluten-free and dairy-free.
Since no one in our house has any issue with gluten or dairy (they are probably our two staples around here!), I didn't know exactly where to start or how to create a gluten-free and dairy-free alternative.
However, I didn't have to… because just a few days later, I shared the post 4 Tips for Cooking Without a Recipe and at the end of the post, I asked you to share your favorite "no-recipe needed" foods.
Well, it just so happens that Barbara L. shared her SUPER SIMPLE recipe for banana pancakes that are gluten and dairy free!
These are the quickest pancakes that are healthy, easy to make, and taste delicious.

In a blender mix 4 eggs
2 bananas
1 T peanut butter (optional, but tastes really good)
2 t. vanilla

That's it! Pour into hot frying pan and you have pancakes! I like to drop chocolate chips into them as they're cooking. My kids go crazy for them.
I read Barbara's comment on a Saturday morning and immediately went into the kitchen to test her recipe — 15 minutes later, I was flipping banana chocolate chip pancakes off our griddle and onto our plates.
The results = delicious!
We took Barbara's advice and added mini chocolate chips to our pancakes. However, without the chocolate chips these pancakes are dairy-free (also gluten-free) and packed full of flavor and protein. They would make a delicious breakfast or a super hearty after-school snack.
Thanks for sharing Barbara!
Recipe for Banana Pancakes:
Makes about 2 cups of pancake batter or about 8 pancakes.
INGREDIENTS:
Note: this is MY version of the recipe and not exactly like Barbara's recipe above — however, I can attest that both recipes taste fabulous!
2 medium bananas

4 eggs
2 T. peanut butter (optional – or substitute any other nut butter)
1 t. vanilla (optional and not pictured)
1/4 c. chocolate chips (optional)
DIRECTIONS:
Put all ingredients (besides chocolate chips) in a blender (I used my immersion blender)
Blend until smooth
Pour batter onto hot griddle (it's MUCH runnier than traditional pancake batter.)
Add chocolate chips if desired.
Flip and cook until golden brown on both sides.
Eat and enjoy!
These pancakes are super satisfying even without butter and syrup — but of course Dave had to slather them with both!
I'm so thankful for this new simple breakfast and snack recipe… and for another way to use up overly ripe bananas.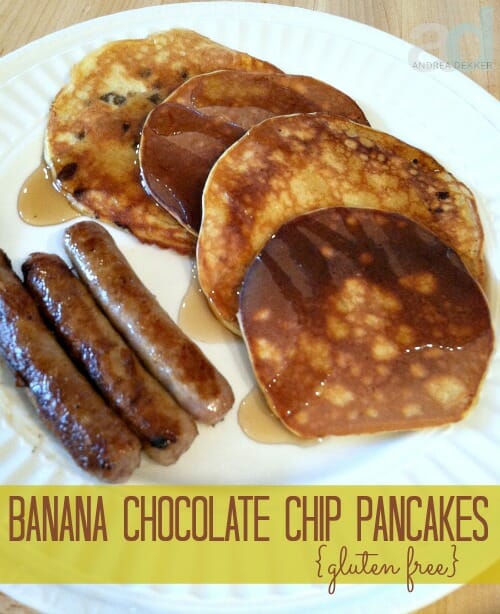 Visit my virtual recipe box for more simple, delicious, family friendly, recipes!