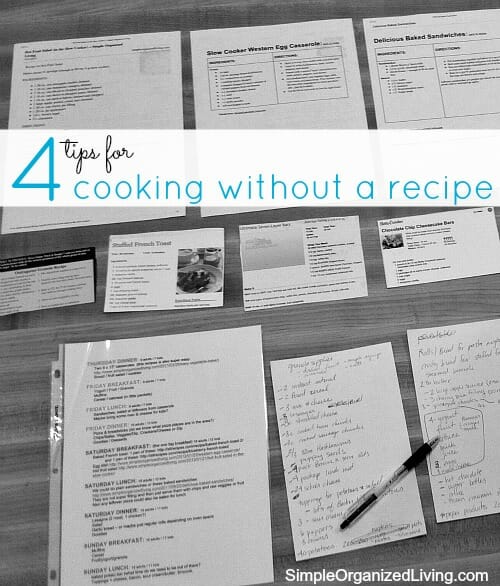 As I'm sure you can tell by looking through my recipe box, I am NOT a gourmet chef.
I don't cook fancy foods, I don't use hard-to-find or expensive ingredients, I don't spend all day in the kitchen, and I don't use complicated recipes.
In fact, I rarely use recipes at all these days!
You see, a few years ago, I decided I was confident enough in my cooking abilities that I didn't need to use recipes as much. So I started experimenting with some of our favorite meals to see if I could tweak them a bit, swap out ingredients for a new flavor, and do it all without the "crutch" of my trusty recipe cards and books.
I often wanted to run back to my cookbook or to my computer to look up a recipe or google something — but I held back, forcing myself to use my own instincts and learn first-hand what did and didn't work.
There were a few times when I totally bombed and chose the WRONG type of substitutions or added way too much of a certain ingredient… but for the most part, my food continued to taste delicious and I began to feel much more confident in my cooking abilities (even if I was cooking simple foods).
I always enjoyed cooking, but after I forced myself to branch out, be more adventuresome, and try something new, I took on a whole new love for food and for cooking (without my nose buried in a recipe).
After I started to feel more confident cooking without recipes, I then decided I wanted to learn how to do it without measuring utensils.
I enjoyed watching cooking shows where they would simply sprinkle a little of this and a dash of that. Pour an amount of olive oil in the pan without measuring, scoop a handful of rice into the pan, and eye-ball just the right amount of seasonings.
It all looked so glamorous — and even better, there were less dishes to wash!
I wasn't quite sure how to go about measuring food without measuring utensils, so I started to pay really close attention to what the food I was measuring looked like after it was measured.
What did 4 c. of water look like in my pans?
What did 2 T. of oil look like? And how long did it take me to pour?
What did 1 t. of cinnamon (or any other spice) look like in the palm of my hand?
How many scoops of sour cream did it take for me to get to 1 c.?
I would accurately measure the ingredients, take note of what that specific amount looked like, and then try to replicate that amount without measuring.
I would dump some cinnamon into my hand and then scoop it out of my hand with a measuring spoon to see how accurate I really was. Or I would pour rice into a bowl and then scoop it back out again with a measuring cup and see if I filled it or not (or overflowed it!)
This was a relatively simple process and only took a few extra minutes when I was preparing the food — however it helped me learn how to more-accurately measure without measuring cups and spoons.
So you might be wondering where this post is going or what the point is… don't worry, I'm getting there. 🙂
The point is that I enjoy cooking SOOOOOO much more now that I have a large repertoire of simple recipes I can make at a moment's notice, without a recipe, without worrying about accurately measuring every single ingredient, and without a special trip to the store (I can usually think of something to substitute if I don't have all the ingredients in the house.)
Not only does this save me lots of time, stress, energy (and dishes!), it also simplifies my weekly meal planning and gives me so much more freedom and confidence in the kitchen.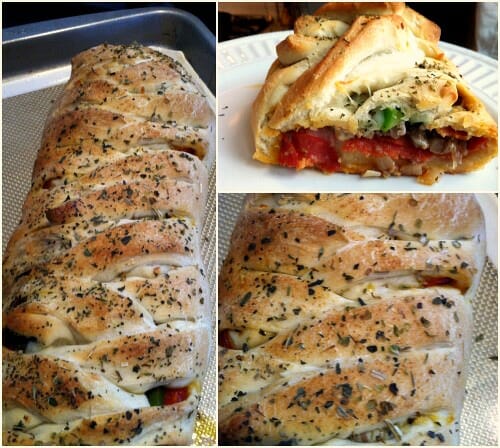 I can make almost all the recipes on my blog without following the recipe, and I frequently tweak them a bit based on the ingredients I have on hand or what's on sale that week.
If you'd like to be a little more adventuresome in the kitchen and start cooking without a recipe, here are a 4 simple tips that have helped me.
1. Don't be afraid to fail.
Since you're still reading this post, my guess is that you are not a gourmet chef! So if that's the case, I can almost guarantee that you WILL fail with at least one recipe at some time or another.
You'll make a bad substitution, you'll cook something too long, you'll mix weird flavor combinations, or you'll add way too much of a certain ingredient.
But that's OK. That's the only way you're going to learn this type of a skill — trial and error (and probably more error in the beginning).
Yes, you might waste food and order a $10 pizza for dinner instead, but you'll learn so much in the process and it will ultimately make you a better, more confident cook.
2. Just try it.

I can't tell you how many emails I get on a weekly basis asking me things like:
Do you think I could substitute ________ for _______?

Do you think this recipe would work with ______ instead of ______?
Do you think _______ would taste good with ________?
Do you think I could freeze _________?
Do you think I could try _______?
These questions often make me chuckle because most of the time, I have no idea so I Google the questions and then respond with my answer! However, I ALWAYS encourage the person to "just try it" and then they'll know if it works or not.
The absolute worst thing that could happen is a less than stellar outcome. Not the end of the world by any means — plus, now you know not to do _______ next time!
ham and cheese baked sandwiches
3. Learn the basics.
I remember calling my mom over and over again when Dave and I were first married — asking the most basic questions.
How long do I need to boil potatoes?

How long does broccoli need to steam?
How long should the bread rise?
How much butter did I need for this recipe?
How much chicken should I add to the casserole?
They were all good questions, but by doing some of these simple tasks over and over again, I can now do them all without thinking twice.
It doesn't even matter if I set the timer for the potatoes or the broccoli or the bread; I know just by looking at it (or piercing it with a knife) if the food is done or not.
4. Master a few favorites.
If you are new to cooking without recipes, I'd suggest starting with 3-5 of your most favorite, simple recipes and mastering those first.
Learn how to make substitutions, measure the appropriate amount of ingredients, and tweak those recipes based on your tastes and the ingredients you have on hand.
Once you master those recipes, then add a few more. This way, you'll always be able to whip something up in a pinch if company comes over or if your plans change at the last minute.
I started with many pasta recipes, breakfast recipes, and Mexican recipes because they are all quite forgiving. Also, roasting meat is relatively simple once you know what you're doing (especially if you put it in a slow cooker).
I think you'll find that once you feel comfortable making a few different meals without recipes, it will start to get easier and easier to learn more recipes and try new things.
slow cooker sweet n' sour pork
I should mention that there is absolutely nothing wrong with using recipes or measuring utensils. In fact, I almost always use measuring utensils when I bake — and I'll often use a recipe when I'm trying something new for the first time or just to refresh my memory.
I just want to encourage and motivate you to trust yourself and your cooking abilities more. Try something new and don't worry if it doesn't turn out exactly like last time. Who knows, it might even taste better!
It takes time (and probably a few burnt, tasteless meals), but cooking without recipes is not a skill reserved for professional chefs. If I can do it, YOU CAN DO IT TOO — and I dare to bet you'll enjoy your time in the kitchen so much more!
What are your favorite "no recipes needed" foods?
Visit my virtual recipe box for more simple, delicious, family friendly, recipes!