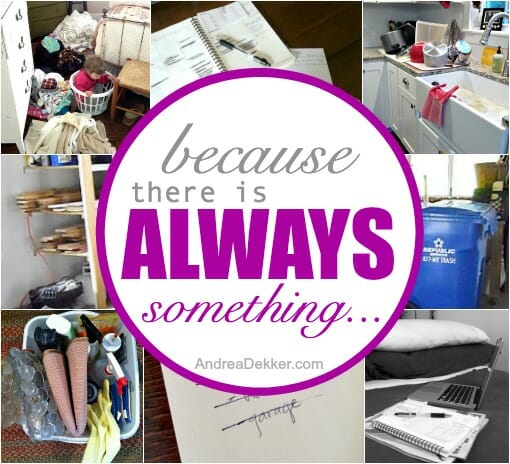 I recently asked a group of women if the idea of "simple living" was encouraging or discouraging… and I was SO surprised to learn that many women actually felt DISCOURAGED when they thought about simple living.
Apparently, they felt discouraged because there is always something else they could be or should be doing to pursue a simplified life.
There is always another meal to prepare, always more laundry to do, always another to-do list to make, always things to declutter, purge, put away, or take to the donation center.
There is ALWAYS Something!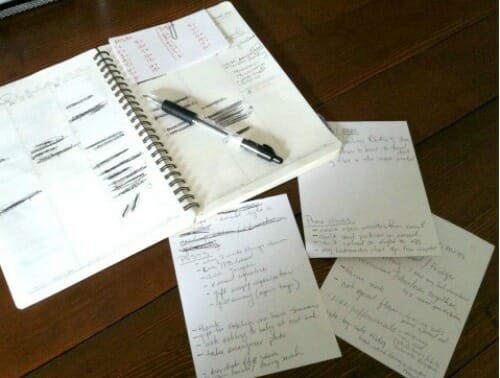 As much as I'd love to have the magic secret to completely simplify and organize all our lives for good, simple living will forever be a process, not a once-and-done activity you can cross off your list forever.
Let me say that one more time…
Simple living is a process, NOT a once-and-done activity you can cross off your list forever.
Just like eating, sleeping, grooming, and so many other activities we mindlessly work into our days (sometimes several times a day) we must also learn to work cleaning, organizing, purging, and streamlining into our daily lives as well.
Of course, this is MUCH easier to say than to actually implement; however, it is essential to realize this if we're truly seeking to simplify our lives.
I assume most of us don't get completely discouraged when we realize there are more dirty clothes even though we "just" did the laundry 3 days ago. We don't get upset when we realize people are hungry even though we "just" ate 4 hours ago.
We might not necessarily always enjoy doing the laundry, preparing meals, running errands, packing lunches, changing diapers, or washing dishes… but we know we need to do them eventually as it's just part of life.
Similarly, we shouldn't let ourselves get completely discouraged by the fact that there is always something more to do on our journey to a simpler life.
In case you're wondering, this discouraging feeling doesn't always bypass me either!
I thrive on finding new and better ways to simplify and organize pretty much everything… yet there are still plenty of times when I have felt discouraged by a growing to-do list and days when my efforts towards simple living don't even seem to make a difference.
When this happens, I try to realize all those mundane daily activities that propel me towards a simpler more organized life must be completed at some point; so I might as well just do them as quickly and as efficiently as possible… and then move onto something more fun.
We will ALWAYS have more to do… that's just a fact of life, and there's no special trick or magic secret I can give you to change that.
Sorry. I'm good, but not THAT good 🙂
However, there is one relatively simple tweak we can all make to our attitude and frame of mind that just might help with the ever-discouraging feeling of "there is always something".
On one hand, if we look at it from the perspective of "Wow! I have so much to do, I'll never complete everything on my list… and even when I do, there will most certainly be another mess to clean up. Why even bother in the first place," we will not enjoy any of the process, we will dread simple tasks like folding laundry, washing the dishes, and pick up our homes, and we will be discouraged by the idea of simplifying and organizing our lives.
On the other hand, if we take the perspective of "It has to be done at some point so I might as well just do it now. I know it will never be perfect and I'll never be fully finished, but I'm taking small steps to keep my home and life on track," we will have more purpose to our tasks, we will look forward to crossing them off our list (even if we still don't look forward to doing them), and we will hopefully feel more encouraged by the small steps we are taking to simplify and organize our lives.
Clearly, this will not work every time — we all have bad days (and weeks and months). I'm not naive enough to think that simply forcing a smile and positive attitude will magically cause us to love cooking, cleaning, organizing, filing, purging, bathing, diapering, and all those other monotonous daily to-dos that must be done at some point.
But can it really hurt to give it a try?
The next time you start to feel discouraged by your growing to-do list or the fact that your entire home and life feel totally overwhelming and out of control, take a step back and try to put a positive spin on it. Think of all the good things that could potentially come from doing that task (not the fact that you'll most likely need to do it again tomorrow!)
It won't be easy at first, but if we can force ourselves to think about these chores in a more positive way and just get started, we WILL begin to cross off our list and (more importantly) notice a difference in our homes and lives!
Yes, there is always something… what's next on YOUR list?