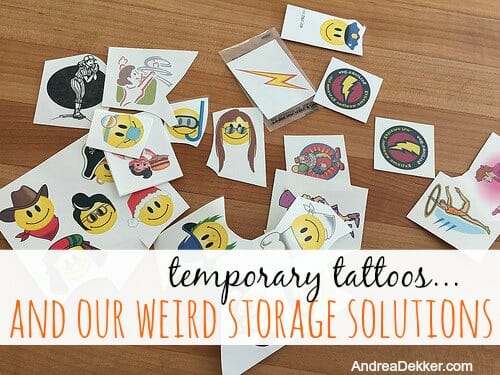 The other day, we had friends over and the kids were all begging to have temporary tattoos — so without much thought, I grabbed our baggie of temporary tattoos out of our medicine cabinet and let each child pick the one they wanted.
As I put the tattoos on each kid, the other mom questioned why we kept our tattoos in our medicine cabinet.
I guess I hadn't ever thought of that storage place being so odd (now that I think about it though, it is a little strange!) However, I explained that the reason we keep the temporary tattoos in our medicine cabinet is because they are things I don't want our kids getting into — just like I don't want them getting into the medicine, bandages, and other first aid items.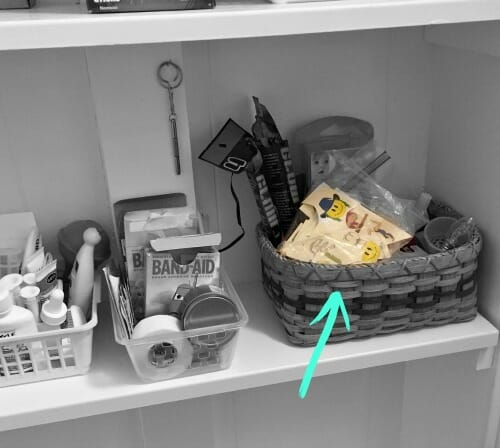 As I put the tattoos away later that afternoon, I started thinking about how they ended up in the medicine cabinet in the first place…
We had originally put the tattoos in with the craft supplies — but since Nora has always had free-rein of everything in the craft cabinet, this ended with lots of wasted and ill-placed tattoos when she tried to do them herself (she was only 2 at the time).
Then I moved the tattoos to the office supply drawer in our kitchen (we don't really have a true "junk drawer"). This drawer was high enough that the kids couldn't reach them (at least at that time) but the tattoos kept sliding all over the place inside the drawer, falling out of the bag, and getting in MY way.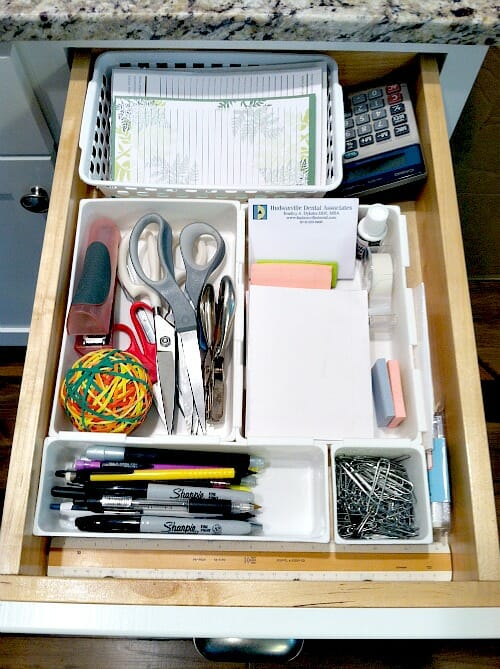 When I finally moved the tattoos to the medicine cabinet just over a year ago, they instantly became a non-issue.
They weren't in the way, they weren't messy, they weren't tempting for little hands — they were just there, nicely organized and ready to go whenever it was time for another tattoo.
.
Are you still following me?
Yes, I have a point… and no, it really has nothing to do with temporary tattoos!
.
The point I want to make is that there is NO single "right way" to store or organize anything in your home.
Maybe storing temporary tattoos in a medicine cabinet is super weird, but it works for our kids, our family, our house, and our season of life… that's all that really matters.
Maybe storing our collapsible step stool next to the kitchen trash is abnormal, but that's what works for our kitchen storage and our kids' needs.
Maybe storing my sewing machine in my office seems odd, but that's what works well for me right now.
Maybe storing our comforter in the bottom drawer of James' dresser during the warmer months sounds strange, but it makes sense for our needs.
Maybe storing our grilling utensils in the mudroom sounds crazy (yeah, I know!) but it truly is the most logical storage place we can come up with at this time!
I could probably list 20 more examples of things we store in odd places throughout our house — but that's not really the point. The point is that these strange storage places WORK FOR US RIGHT NOW.
The tattoos in the medicine cabinet work because they are out of the way but still easily accessible.
The step stool next to the trash can works because the trash cabinet is right next to the sink and the island — which are the 2 places our kids use the stool.
The sewing machine in my office works because I can quickly slide my desk chair over and do a little sewing or mending whenever I need to.
Our comforter in James' room works because he has a huge empty dresser drawer and his room is just a few steps away from our room (we have no linen closet).
The grilling utensils in the mudroom work because they are too big to fit in our kitchen drawers, we don't like to keep them outside, and our mudroom is right next to our deck and grill.
None of these storage solutions will make it into a magazine, most of them probably won't work for your home, and there's a decent chance they won't even work for our family forever.

As the kids get older and our needs change, I will continually reevaluate our storage solutions and adjust accordingly… but until a particular storage solution stops working, I don't plan to change a thing!
If you're searching for the perfect storage solution for your things, just remember there is no "one right way".
Many storage ideas in magazines, on various blogs, or in your friends' homes serve as good inspiration, but they might not actually be that practical or functional in YOUR home. Just keep trying different options until you find something that works — and don't rule out some crazy weird storage options either! (I know this can be frustrating, but it's worth the effort).
Also, just because a particular storage solution works well right now, doesn't mean it will work indefinitely. As your needs change, your storage solutions will most likely change as well — this is natural; try not to let it discourage you.
Now I'd love to know… do you have any weird storage solutions?