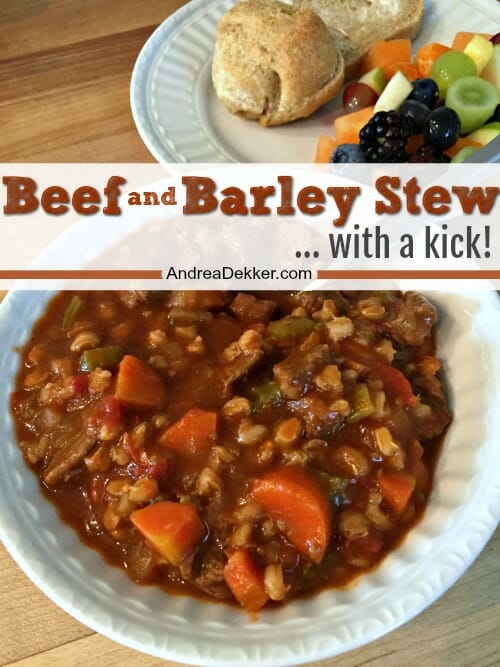 Beef and barley stew is one of those classic meals that has stood the test of time (lots and lots of time). In fact, I've read that barley was one of the earliest cultivated crops — thousands and thousands of years ago!
My personal first memory of barley is my mom (an elementary school music teacher) teaching us the song Oats, Peas, Beans, and Barley Grow — I still find myself humming or whistling this song whenever I'm cooking or baking with barley.
As an adult, I've grown to LOVE the nutty flavor of barley and have started adding ground barley flour to most of our pancakes and waffles as well. Our kids just think it's a type of rice and haven't ever complained about it when they eat it in a soup, stew, casserole, etc.
Barley is a unique grain in the sense that the fiber content is throughout the entire grain (not just the bran or germ). So even though "hulled barley" (the type you'll most likely find in stores) isn't technically a "whole grain", it's still full of fiber!
Barley is also VERY "thirsty" in the sense that it will absorb a lot of water — making it perfect for soups and stews.
This beef and barley stew is one of Dave and my favorite cold weather comfort foods — however, I have recently been adding just a little bit of spice to give an extra kick we both love (the kids say it's 'too spicy' but they are wimpy!)
Anyway, if you're looking for a slightly different twist on this time-tested dish, give my Beef and Barley Stew… with a kick a try!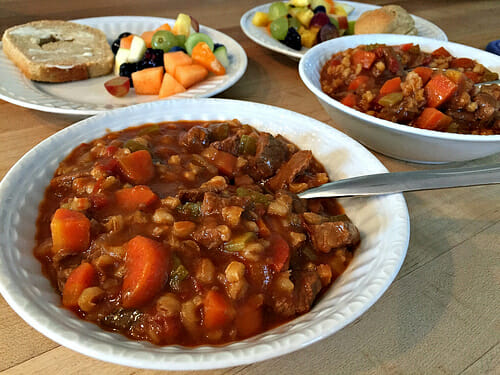 Recipe for Beef and Barley Stew… with a kick!
Serves 6
INGREDIENTS:
olive oil or butter
1 pound beef stew meat; cut into bite-size chunks
1/2 t. salt
1 red onion, diced
1 T. minced garlic (3-4 cloves)
3 celery stalks, diced
3 carrots, diced
1 can (14 oz) diced tomatoes
3 T. tomato paste
3 T. Worcestershire sauce
1/4 t. red pepper flakes*
1/4 t. cayenne pepper*
1 t. ground thyme
2 bay leaves
4 c. beef broth or water
1/2 c. barley (or rice or quinoa)
additional salt and pepper to taste
* NOTE: Omit red pepper flakes and cayenne pepper if you don't want any "kick". Your stew will still taste amazing, but after making this recipe with and without the extra spices, I will say that the additional "heat" adds great flavor (and amazing after-taste!)
DIRECTIONS:
Heat oil or butter in a large stock pot over medium heat.
Sprinkle 1/2 t. salt over meat and cook until no longer pink. Drain grease and set meat aside.
Heat additional oil or butter over medium heat. Sauté onions for 2-3 minutes, then add garlic, celery, and carrots and cook 5 minutes longer; stirring regularly.
Add all the rest of the ingredients (including the cooked beef) and simmer for 2 hours, stirring occasionally.
Remove bay leaves, add additional salt and pepper to taste.
Serve with crusty bread, a side salad, and/or fruit. Enjoy!
I usually use stew meat for this (because we have a lot in the freezer) but I have made it with leftover roast, leftover steak, and even ground beef — all of which tasted great in my opinion!
I have not tried it in the slow cooker, but I'm positive it would work — as long as you cook the meat and sauté the veggies before putting them in the slow cooker. I'd probably let it cook 6 hours on low heat.
This is one of our favorite soups/stews — perfect for cold weather (especially with the extra "heat" from the spices!)
What do you think… will you include the extra spice or not?!?
Visit my virtual recipe box for more simple, delicious, family friendly recipes!