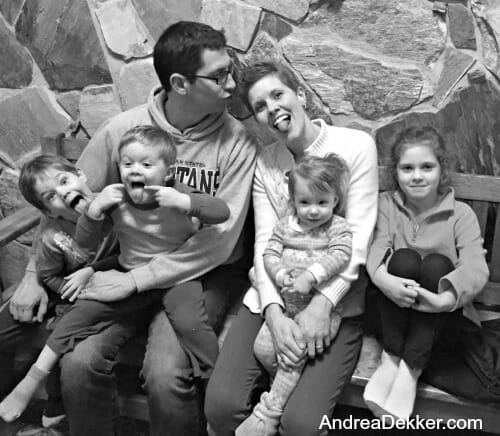 TRUE STORY…
About 3 weeks before James was born (summer of 2015), I got an email from the folks over at TLC (the TV network). Apparently they wanted to come out to our home and film our family for a pilot episode of a potential new show — all about "normal moms" who successfully manage everyday life with work, family, and home responsibilities.
The email was filled with dates, times, things we needed to do to prepare, suggestions for what to wear, and what their crew would need when they arrived.
WHAT!!! SO EXCITING!!!
Dave was home on summer vacation at the time, and I hardly even finished reading the email before yelling for him to come downstairs to read it too.
We both stared at my computer screen for a few minutes, then looked at each other, and then looked down at my HUGE belly…
The realization quickly set in that it was NOT the right time to bring a TV crew into our home or our lives.
I replied to the email explaining that we'd love to pursue this opportunity, but suggested we wait to film anything until after James was born, or even after school started up for Dave and we had a chance to get back into our "normal" routine again.
Of course, the TV network was thrilled with the idea of incorporating a new birth into the "plot" — filming how we adjusted our productivity and our routines with a new baby. But they didn't care about our timeline, and still wanted to start filming immediately.
After a few more back-and-forth emails I said, "Thanks, but no-thanks" and encouraged them to keep us in mind for future opportunities.
That was the last I heard from TLC… and to the best of my knowledge, the show never did come to fruition (at least not in our area).
.
Soon after James was born, I started thinking about the reality of a TV network entering our home and filming our lives. It would have been awful (at least for that time in my life).
I had a newborn, a 16 month old, and a 3 year old.
I was chubby and "puffy" from just giving birth, we were in the middle of a couple house and yard projects that weren't moving super quickly, and I definitely didn't feel like being overly productive to appease TV directors.
Although a TV show probably should have been something I bent over backwards to make happen… I just didn't want to do it!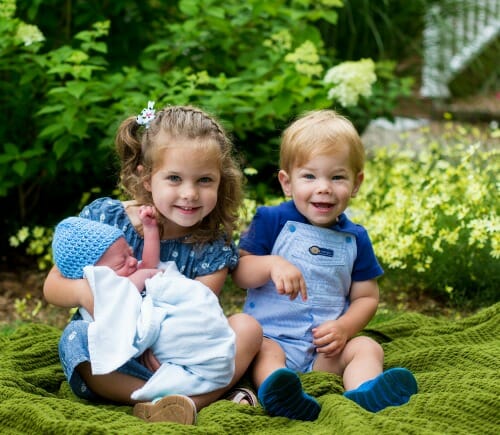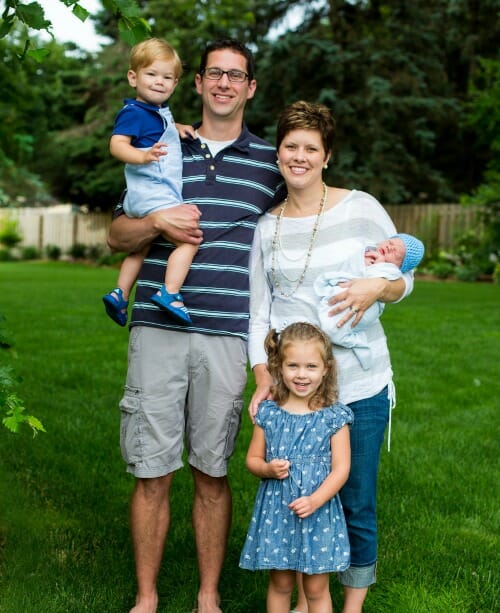 I don't think Dave or I told anyone about this opportunity at the time — mainly because we knew most people would say we were crazy for "passing up such an amazing opportunity".
But the more I think about it (even now, almost 4 years later) I realize that opportunity would have been SO WRONG for our family!
We are not the type of people who like others in our "space", we don't like to be tied to rigid timelines with strict rules (especially not in the summer), and we definitely don't like to "perform" in front of a camera — well, maybe Clara does!
Saying "yes" to those TV show producers would have meant lots of additional stress, anxiety, and busyness for our family at a time when additional stress, anxiety, and busyness were not needed (I already have enough after my deliveries!)
Saying "no", and acknowledging the fact that a TV show was something I personally did NOT want at that point in my life, meant we were able to quietly welcome a new baby into our family without any extra to-do's, commitments, stress, or hoopla!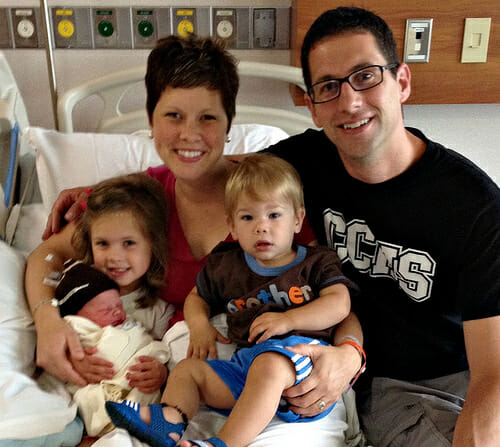 Looking back, that summer ended up being one of the most relaxing summers for our family. We stopped working on house and yard projects, we didn't go anywhere, and we didn't do much of anything.
We just enjoyed being home together without an agenda!
Dave even took Nora and Simon on a mini vacation with the rest of his family while I stayed home with James and laid on the couch for 3 days.
It was glorious!
I can't even fathom how different that summer would have been if I hadn't trusted my own instinct, realized what I did NOT want to do, and stood my ground against the TV network (who, by the way, was VERY persistent!)
.
So what's the point of my story?
Don't worry… I'm getting there! It's such a fun story though!
When we think about time management, productivity, and reaching our goals, so much of it comes down to what we feel we SHOULD do, what we MUST accomplish, how many things we can say "YES" to without over-doing it, etc. etc.
However, in my personal opinion, knowing what we DON'T want is just as important (if not more important).
Over the past 10-15 years, I've worked REALLY hard to regularly set goals for myself, our home, my business, our family, etc. etc. (both big and small). After I set the goals, I continually work towards achieving them — which involves making many decisions about what I will AND will NOT DO in order to achieve the goals.
This has often meant saying "no" even when it's uncomfortable or might upset someone. It has meant making choices that are not as fun in the short-term in order to reach a long-term goal much more quickly. And it has meant forgoing exciting opportunities (like vacations and TV shows) when they don't align with the goals I have for my life.
By knowing what I DON'T want, I'm able to make smarter decisions that help me better manage my time, increase my productivity, and make steady progress towards my goals.
Here are a few examples of things I personally DON'T want in my life:
extra clutter and anything we don't need, use, want, or love — which means I regularly purge and try to limit the stuff that comes into our home.
stress, busyness, chaos — which means we say "no" to lots of extra requests for our time, even if they might be really fun.
feeling over-worked — which means there are TONS of business-related things I don't do (social media, email newsletters, podcasts, interviews, books, promotional posts, additional Virtual Assistant work, TV shows, etc.) even if it means a loss of income
financial strain — which means we live fairly frugally, we take a LONG time to finish house projects, we rarely ever go out to eat or on vacation, and we only buy things we have money in the bank to pay for.
Of course, I could add lots more to this list, but hopefully this gives you an idea of how my thought process works when I say I "don't want something".
I suppose it's somewhat of a backwards way of working towards my goals, but for me, having a very clear picture of what I DON'T want truly does help me to make better decisions as to how I will and will not spend my time, money, energy, and other resources.
Have you ever thought about what you DON'T want and how those choices affect your life?