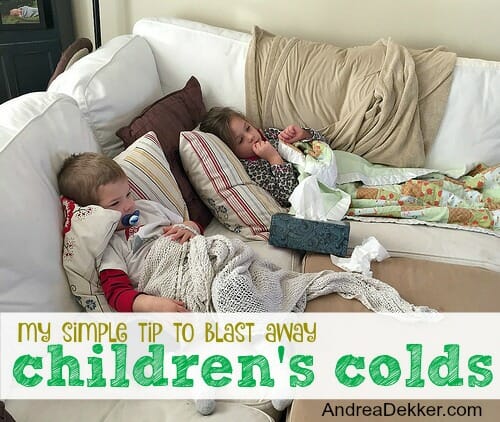 Nobody wants sick kids — especially sick kids over the holidays (although our children's bout with Hand Foot and Mouth Disease over Thanksgiving did weigh in our favor this year!)
The past few months have been sort of "sickly" for our family — at least much more than any other year. Dave, Nora, and Simon all missed 1 day of school for being sick — I honestly can't remember the last time Dave took a sick day.
I'm sure part of this is because we have 2 kids in school, so there's more chance of someone bringing something home (hence the Hand Foot Mouth business). There's also the fact that Clara is my first thumb-sucker, putting so many germs into her mouth every day… and probably passing those germs to siblings.
On top of all of that, we're getting out of the house for some sort of activity almost every single day — Story Time at the library, play group at the local Early Childhood Center, Coffee Break at church, Toddler Time at Rebounderz etc. etc. And that doesn't even include things like grocery shopping, swinging through the bank, stopping by the dollar store, or the variety of other errands I run each week with various numbers of children in tow (all being exposed to germs at every new location.)
Aren't you proud of me! 🙂
When it comes to gross kid germs, I'm honestly not a germaphobe as I know it's probably good to introduce them to germs now in order to build up their immune system.
That said, I still don't love it when my kids are stuffed up and can't sleep, sneezing all over the place, or just generally "under the weather".
I don't want them to feel lousy, and (selfishly) I don't want to change/cancel my plans because I can't do the things I wanted to do with sick children.
A couple years ago, when both Nora and Simon were on the couch with colds, I randomly decided to give them each a new water bottle I had been saving for "someday".
They were SO excited about the new water bottle that they just drank and drank and drank (and peed and peed and peed) for the next 48 hours.
They got over that cold so fast and were back to normal almost the next day.
I didn't put two and two together until a few days later when I realized all that extra water drinking was most certainly helpful in pushing those cold germs out of their bodies more quickly… and the reason they were drinking more water was because of their new, fun, "water delivery vehicles"!
Since then, we almost always break out some type of "new" water bottle, special straw, surprise juice boxes, or other fun cup whenever they come down with a cold — and it seems to be an extremely simple, frugal, drug-free, and effective way to push those germs out of their system ASAP.
After the cold passes, the special cups and straws get washed… and mysteriously do not make it back into the normal cabinet with the rest of the cups.
They then magically reappear again when the next cold strikes.
I'm not sure why this works for us — but it does!
There's just something super fun about a new/different cup, straw, water bottle, etc. that gets my kids extra-excited about drinking water.
I should probably note that my kids are used to drinking water almost exclusively… so they generally LIKE water to begin with.
The only time they drink anything other than water is for special occasions (birthday party, eating at a restaurant where a drink comes with their meal, invited over to someone else's house, etc.) and even then, they often still choose water.
I know it won't work for every child or every ailment… but this super simple, super frugal tip has worked fabulously well for our family for the past 3+ years.
With cold and flu season upon us (and lots of germs ready to spread at your holiday parties) it might not be a bad idea to pick up some fun straws or cheapy water bottles "just in case"!
What are your best tips to blast away a cold?