This post may contain affiliate links. See my disclosure policy.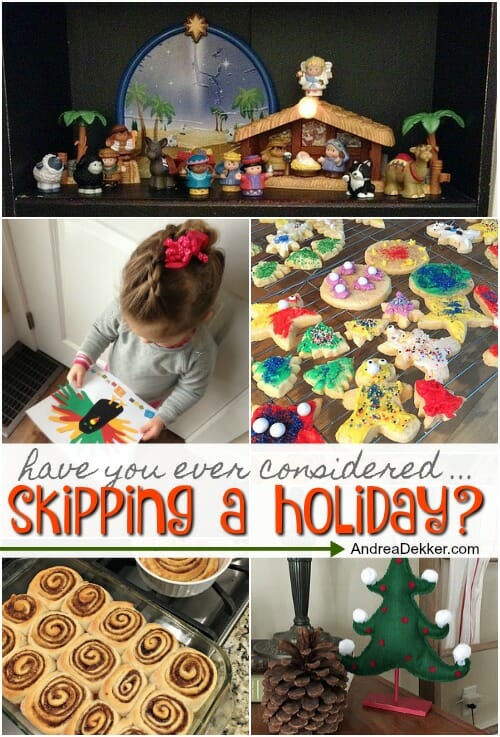 I know, I know… I'm such a Scrooge.
But wait! Don't click away just yet!
Before you shake your head in disgust, thinking I'm the most horrible person ever, read though this post and at least hear me out!
I was NOT planing to share this post today (I had another post ready to go, but moved it to next week). However, due to our kids getting sick last week, our family essentially "skipped" Thanksgiving in the traditional sense… and it was a revolutionary experience for both Dave and me!
.
At first I thought I would be super bummed about skipping Thanksgiving.
After all, it IS my favorite holiday of the year… and since we were supposed to host the party this year, I had already purchased ALL the food, drinks, and paper products, and I even had some of the food prepared and in the fridge or freezer.
However, due to "skipping" Thanksgiving, Dave and I had a fantastic day at home with just our kids, and we felt SO refreshed, rejuvenated, and rested.
Let me explain…
Roughly 2 weeks ago, Clara came down with Hand, Food, and Mouth disease. Simon, James, AND Dave ended up catching it from her (all 2-3 days apart), putting the contagious period still fairly close to Thanksgiving Day.
Based on what I've read, I'm almost positive none of them were actually still contagious on Thanksgiving Day (they all felt 100% and acted healthy and happy), but the rest of my extended family wasn't too keen on having us spread our potential germs to them.
This meant that instead of hosting my family's Thanksgiving party (and making the vast majority of the food), we simply stayed home and enjoyed a marvelously quiet day together.
I didn't have to make any food.
I didn't have to prepare my home (and kitchen/dining room) for a bunch of guests.
I didn't have to clean up after anyone.
I didn't have to pack up leftovers.
I didn't have to remind my kids to "be quiet" or to "stop bothering people".
I didn't have to watch or listen to football all afternoon.
I didn't have to make small talk or keep people entertained.
I didn't have to travel anywhere.
I didn't have to do anything specific.
Instead of spending most of the day Wednesday cooking, baking and preparing our house for the onset of party-goers, and then all day Thursday entertaining and cleaning up, we essentially got 2 "extra" days to simply lounge around at home and do whatever we wanted to!
It was the very first time in my entire life that I didn't have to do something or be somewhere on Thanksgiving Day – and although Thanksgiving is still one of my most favorite holidays, I did not miss the hustle and bustle ONE BIT!
Yup, our family essentially "skipped" Thanksgiving in the sense that we didn't do any holiday parties, we didn't have turkey, stuffing, pie, or any other traditional Thanksgiving foods, we didn't scan the ads for amazing deals, and we didn't see any extended family members or friends.
We just went about our daily routines like we would on any normal Thursday — except we enjoyed having Dave and Nora home from school.
Here's what our "skipped" Thanksgiving Day looked like:
I finished burning my Harvest candle (we let it burn all day long!)
We ate simple foods that required very minimal effort…
Right after breakfast, we did a handful of the new crafts and science experiments Nora got for her birthday. Then I went to church by myself (so much more enjoyable without needing to keep kids quiet the whole service) while Dave built the kids a fort to play in upstairs!
We did a puzzle and played a few games of Uno after lunch. Then the older 3 kids played outside for the vast majority of the afternoon while Clara napped and Dave and I did yard work.
We enjoyed hot chocolate and fresh-from-the orchard apples as an afternoon snack, and our kids all got to bed on time, without being overly exhausted from a super busy day.
Dave and I enjoyed a quiet evening with no party mess to clean up, no overly-stuffed comatose state to nap off, and no work projects (we both usually have lots of school and blog things to work on after the kids are sleeping).
I went to bed fairly early after finishing the 3rd book in the Breathing Series by Rebecca Donovan (so good!), and woke up bright and early the next morning just like I would any other Friday (with no intention of shopping!)
Throughout the rest of the holiday weekend, we enjoyed putting up our Christmas tree and a few other decorations, playing with our Little People's Nativity, doing a few more craft projects and puzzles, reading a bunch of books, watching a few Christmas movies, and playing with Nora's new secret agent kit (another birthday gift!)
Since I had all the Thanksgiving food in the house, and my turkey was already defrosted, I did end up making a more traditional holiday meal for just our family later in the weekend — it tasted fantastic, but was still very low-key!
As a family of introverts who love being home, I can honestly say it was the most restful and relaxing holiday weekend of my entire life.
.
Of course, I wouldn't suggest skipping out on all holiday activities forever and ever, but I will say that my first ever experience with a "skipped" holiday was so positive, I just had to share it on the blog.
It's one thing to SIMPLIFY the holidays by making food ahead of time, paring down the number of gifts you buy, limiting all the extra things you want to do, and putting minimal decorations up in your home.

However it's a completely new ballgame when you actually "SKIP" the holiday altogether!
I honestly feel like we gained 2 full days of free-time, and much less hassle and busyness during an already fairly full time of year for our family.
I'll take it!!
If you read this whole article and are still shaking your head, thinking we are a boring family of Scrooges… that's OK!
Keep in mind Dave and I tend to be more introverted, so staying home is almost always more appealing than going out.
Our kids also seem to enjoy being home with their own toys, their own spaces, their "normal" routine, etc.
Our kids play really well together (for the most part) so even when we are with others, they still often play together.
And then there's the fact that Dave and I both have jobs that require lots and lots of "at home" work. He spends most evenings (and early mornings) grading and lesson planning, while I spend evenings and early mornings writing blog posts, completing tasks for my VA work, making food, etc. It was a HUGE treat to be able to just sit and relax and not have anything we absolutely had to do.
In a few more years, I might look back on this Thanksgiving and wonder why on earth I was so happy to "skip out" on all the traditional activities…. but for this year, for this season in our lives, it was exactly what Dave and I needed.
Could you benefit from a skipped holiday?
No, you don't need to totally skip out on all the fun holiday traditions and activities, but I do think it's worth looking over your calendar for the next 4-6 weeks and honestly evaluating if you REALLY need to do everything you have written down.
Think through your various holiday parties, commitments, events, programs, etc. and consider if you are participating in these things because you and your family will actually enjoy them, or simply because you feel obligated to do them as part of your "holiday tradition".
Of course, there will always be plenty of things we do because we know we should or because we are expected to (that's understandable) but we're also all adults who can (and should) set boundaries and make our own choices — regardless of what others might think.
If there is a party or activity or other holiday event you just don't want to do this year, consider skipping it completely and see how you feel.
You might ruffle a few feathers or cause a bit of family tension, but you might also realize that no one cared and you saved yourself a ton of work, hassle, time, busyness, and stress!
Have you ever skipped out on holiday festivities?
I'd love to hear about your experience too!