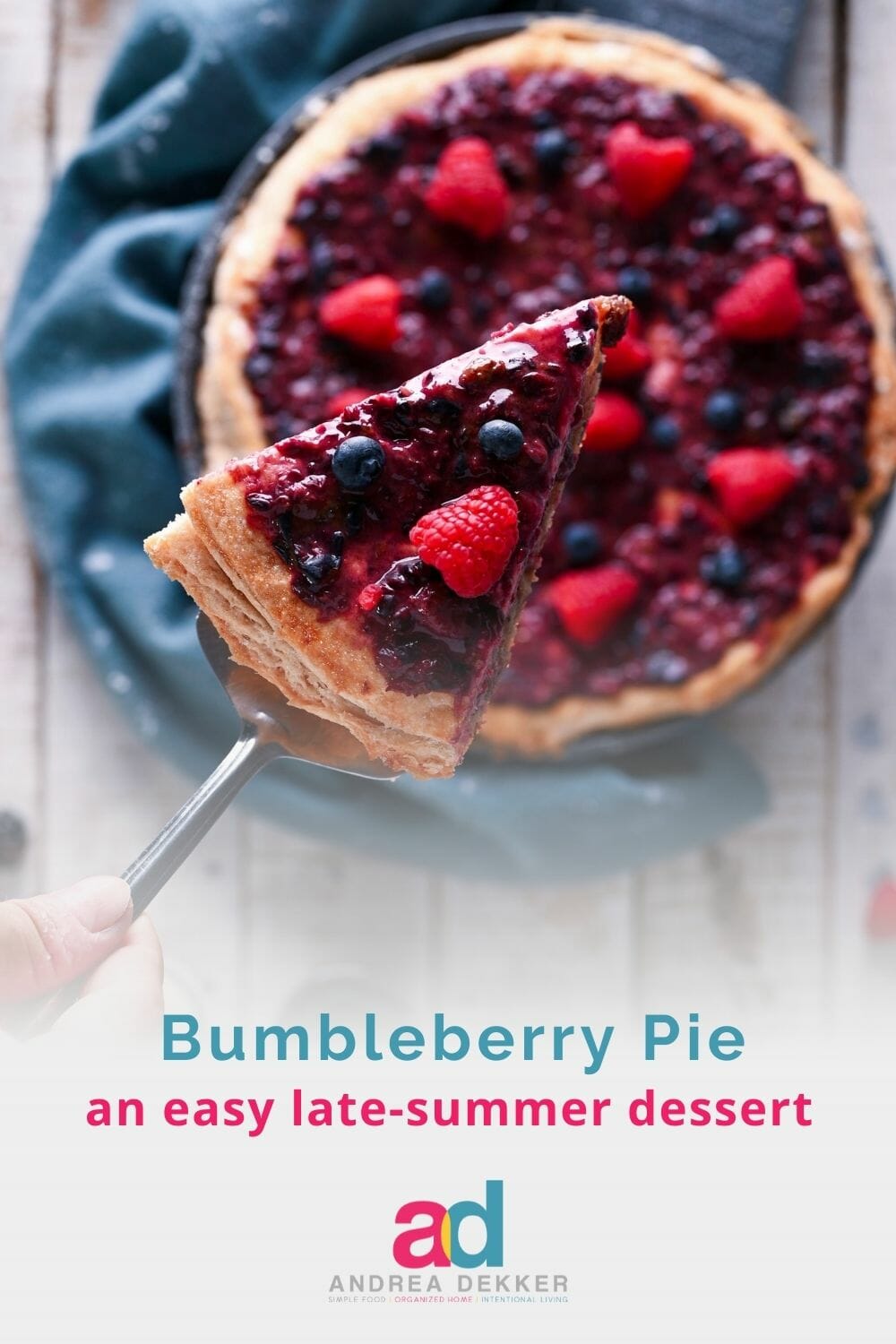 Bumbleberry Pie is a delicious way to enjoy all your favorite flavors of spring and summer in one easy dessert!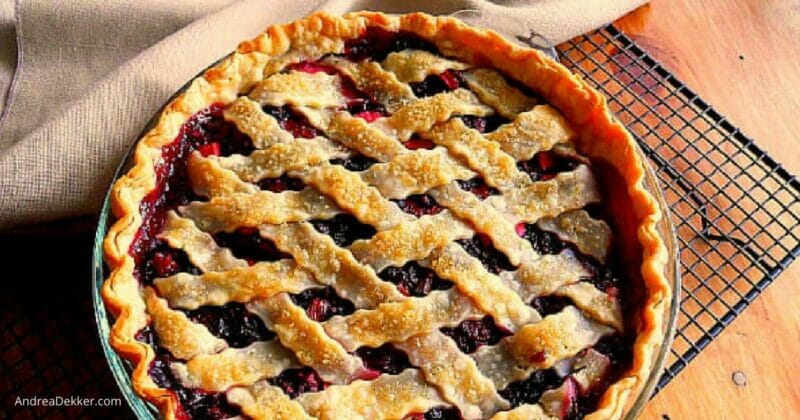 Bumbleberry pie is one of my favorite pies to make; especially this time of year after I've picked and frozen all sorts of delicious fruits and berries throughout the Spring and Summer.
Yes, that's right — you can make this pie with frozen fruit!
Now, for those of you who don't know what a Bumbleberry is… just kidding, it's not actually a berry! It's a made-up word used to describe a random mix of berries (ones you might "bumble" upon in the wild).
Truthfully, all you really need to know about Bumbleberry pie is that it's absolutely delicious!
I've successfully tested almost every type of berry in this recipe. I also regularly add apples, cherries, rhubarb, peaches, and plums with great results every time.
In many ways, this recipe is a deliciously simple way to clean out the last bits of fruit from the fridge and freezer — great for those times when you don't have enough to make one type of pie, or maybe when you can't decide what type of pie to make.
And yes, you can use this Bumbleberry fruit mixture to make all sorts of dessert — pies, tarts, crisps, crepes, etc. It's pretty tasty no matter how you bake it!
After roughly an hour, your random bits of fruit will be a tasty treat.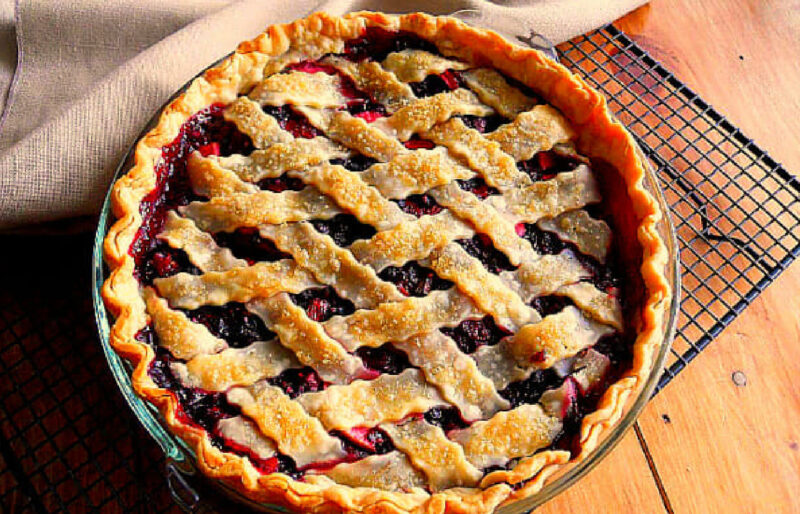 As I mentioned above, you can use almost any type of fruit — however, for the purpose of keeping things simple, this post contains my most favorite Bumbleberry fruit combination.
If you're not a seasoned pie maker, I'd suggest starting with my recipe the first time and then adjusting the recipe from there.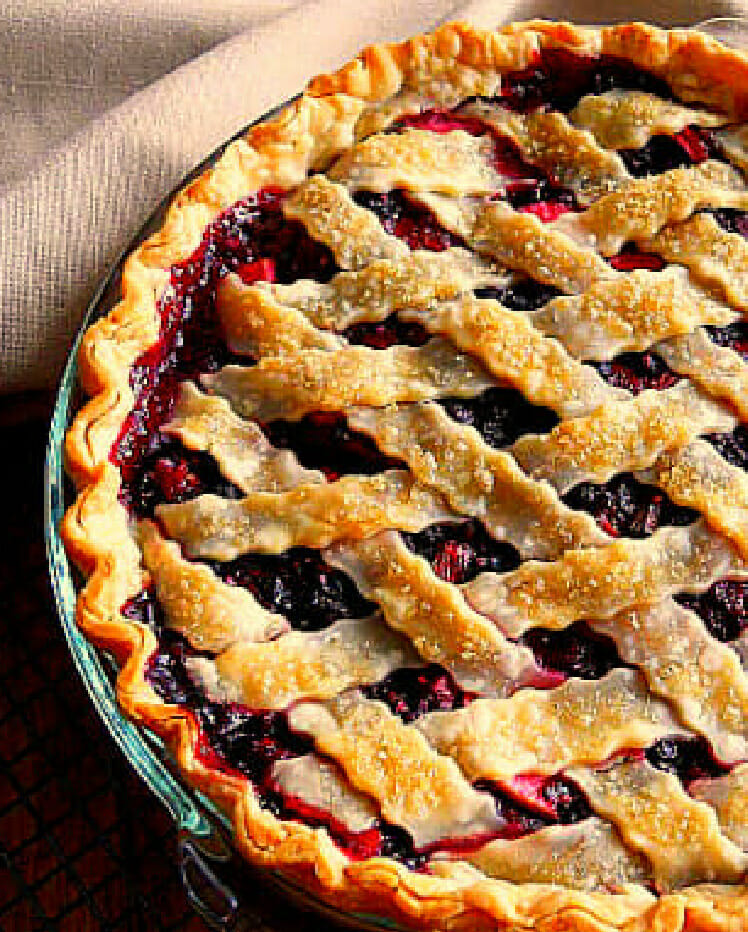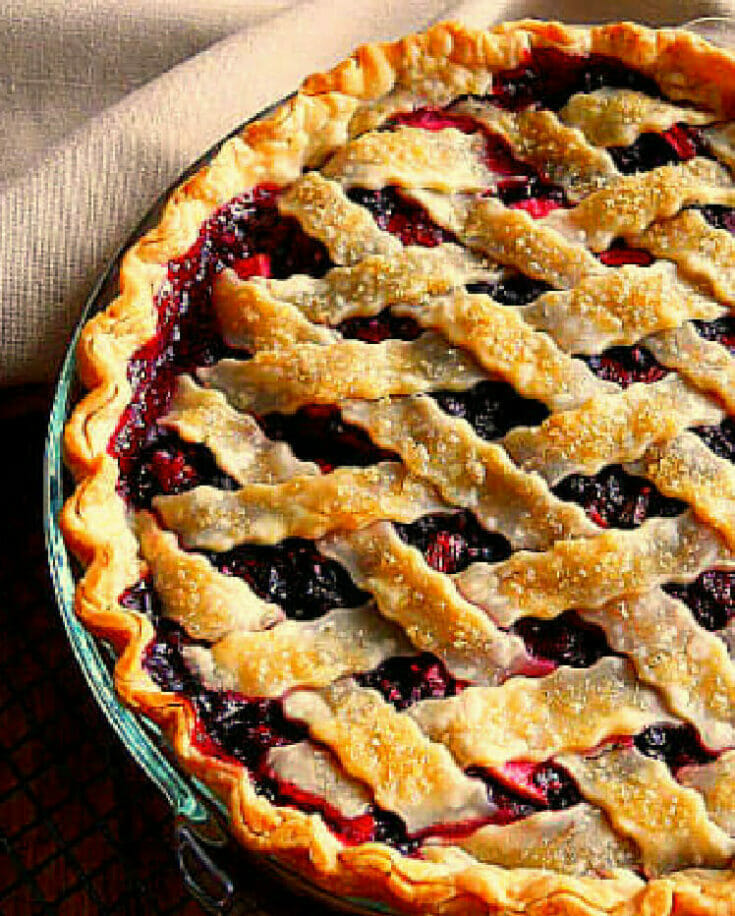 Bumbleberry Pie is a delicious way to clean out your produce drawer and enjoy all the yummy flavors of spring and summer!
Additional Time
15 minutes
Total Time
1 hour
15 minutes
Ingredients
pie crust (store-bought or homemade -- enough for two 9" crusts)
2 c. tart apples; peeled, cored, and chopped
1 c. rhubarb; washed and chopped (not cooked)
1 c. strawberries; washed, hulled, and sliced
1 c. blueberries; washed
1 c. raspberries; washed
1 T. lemon juice
1 c. sugar
1/3 c. all-purpose flour
1 T. tapioca (or cornstarch)
2 T. milk
2 T. sugar
Instructions
If using frozen fruit, defrost and drain it in a large colander (this prevents the baked pie from being soggy)
Preheat oven to 375º F.
Line a 9" glass pie plate with 1 pie crust and set it aside
In a large bowl, combine all fruit and lemon juice.
Mix together sugar, flour, and tapioca; gently toss with fruit mixture.
Scoop fruit mixture into pie plate
Top with 2nd crust (see notes for lattice crust).
Brush top crust with milk and sprinkle with additional sugar (optional).
Cut a few slits in the top to allow steam to vent (unless you're using a lattice top).
Bake in preheated oven for 45 minutes, or until filling is bubbly in center and top is golden brown (cover with aluminum foil if the crust starts to get too brown).
Let pie rest for at least 15 minutes, then serve with ice cream or whipped cream.
Notes
You can use almost any type of fruit for this pie as long as you stick to roughly 6 cups of prepared fruit.
Also, keep in mind that juicier fruits will create a juicier pie -- and thus the leftovers might get soggy. If you're planning to eat it all at one time, this won't matter. 🙂
Also, you can skip the top crust and go for a "crumbly" topping or just top it with fresh berries after the pie cools.
Recommended Products
As an Amazon Associate and member of other affiliate programs, I earn from qualifying purchases.
Nutrition Information
Yield
8
Serving Size
1
Amount Per Serving
Calories

278
Total Fat

6g
Saturated Fat

2g
Trans Fat

0g
Unsaturated Fat

4g
Cholesterol

0mg
Sodium

94mg
Carbohydrates

55g
Fiber

4g
Sugar

36g
Protein

3g
Nutritional information is approximate and does not account for additional ingredients or added toppings.
See what I mean — pretty simple!
Direction for a lattice crust:
If you want to get a little fancier, here are my instructions for a lattice top crust (which really does look extra yummy)!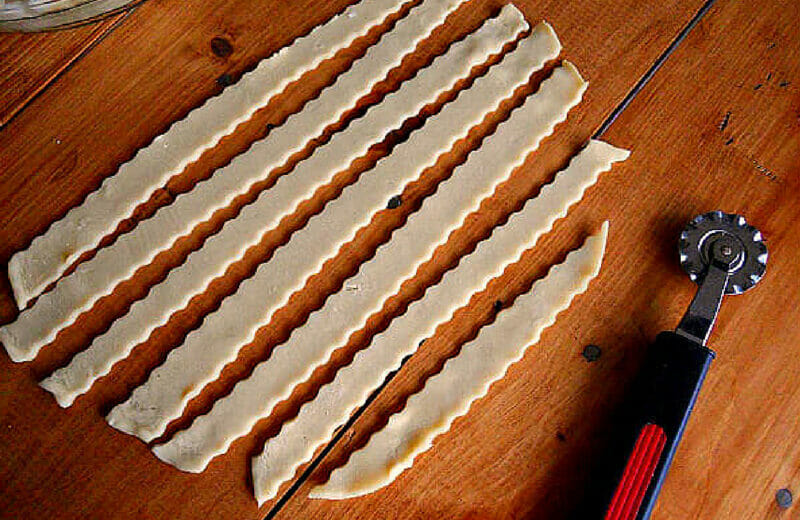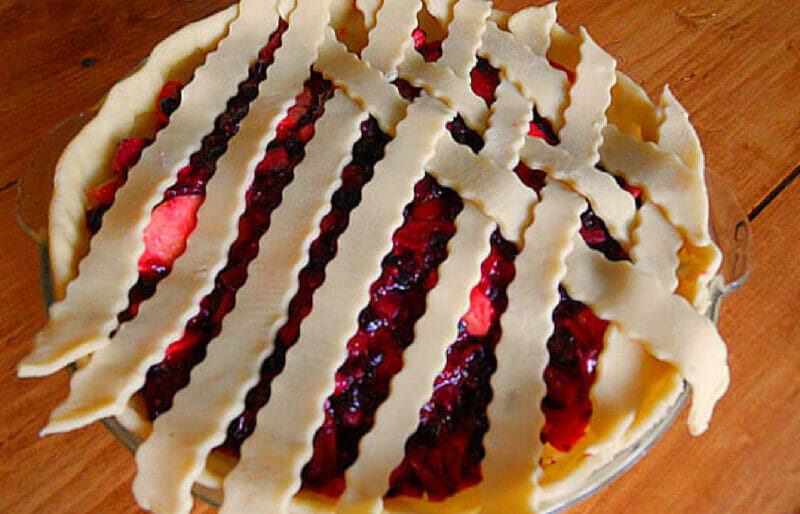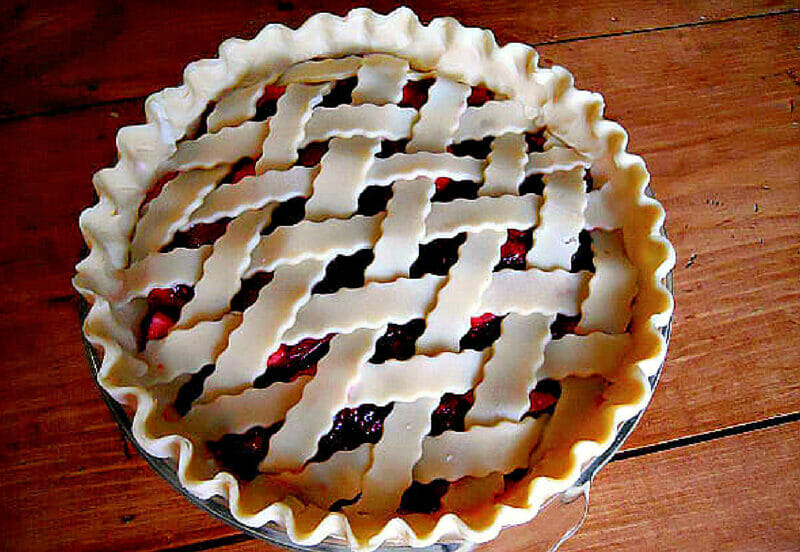 Or skip the top crust and garnish with fresh berries.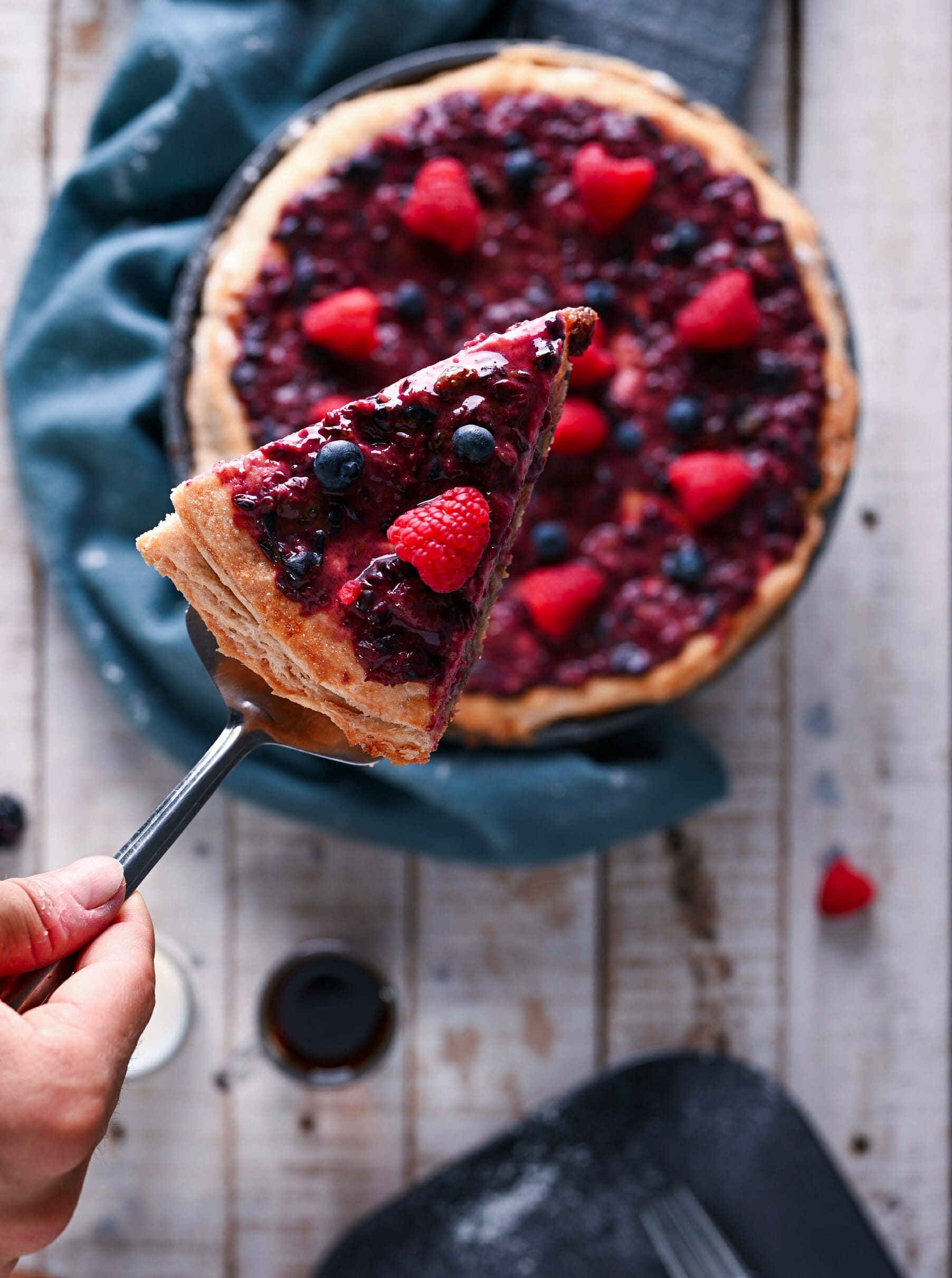 Either way, you can't go wrong with Bumbleberry Pie — especially not if you add a scoop of vanilla ice cream or a dollop of whipped cream!
I'm telling you, it's nearly impossible to mess up (unless your frozen fruit is too juicy) — and did I mention the taste? The mix of tart apples and rhubarb paired with sweet berries is the perfect combination for a fruity dessert.
Over the last 15 years, I've brought this pie to many family parties, staff gatherings, and holiday functions… and have never returned home with even one extra piece.
What are you waiting for… add Bumbleberry Pie to your fall baking list today!
Visit my virtual recipe box for more simple, delicious, family-friendly, recipes!
And check out all my other pie recipes here.