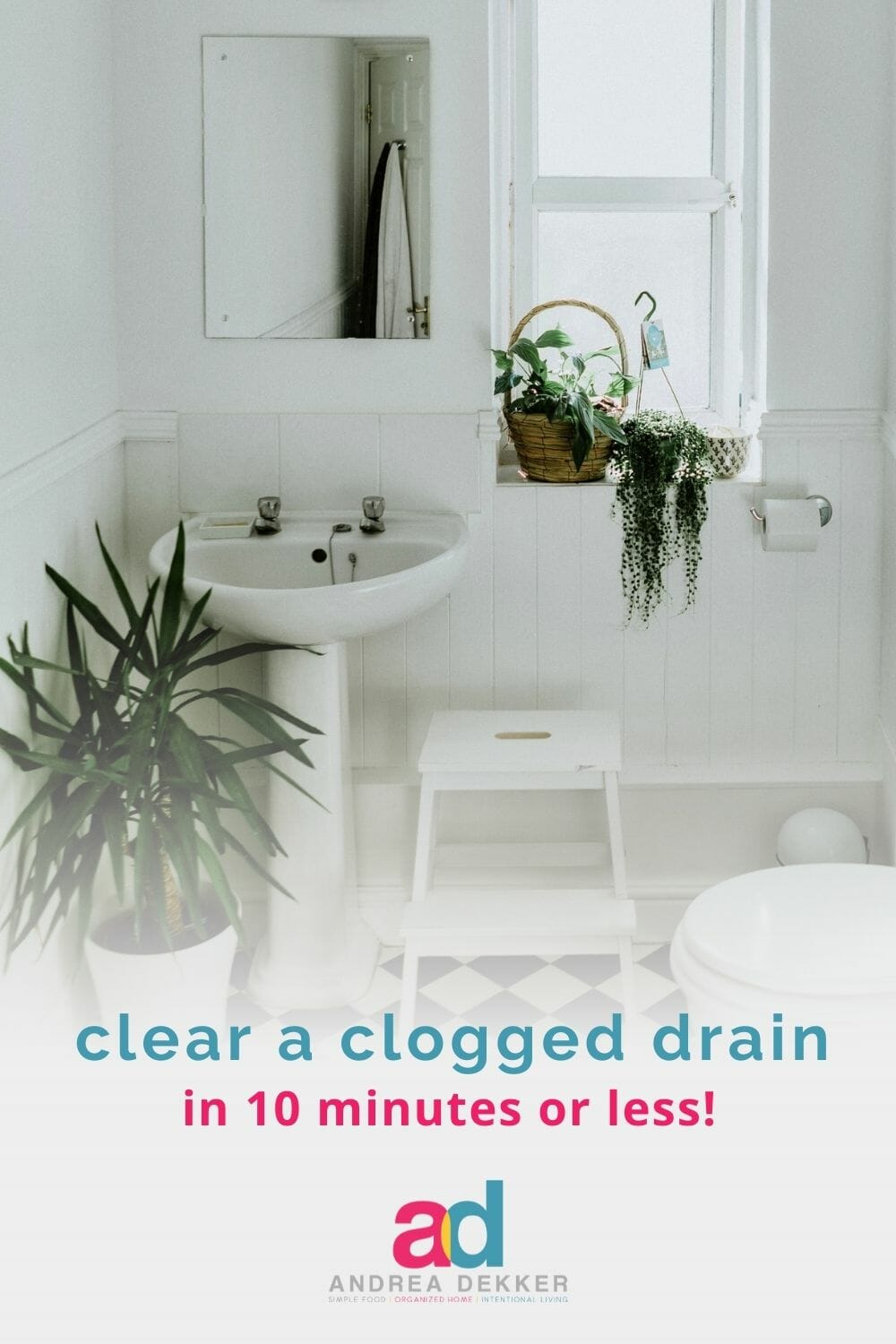 Tired of using expensive, toxic chemicals to clean your home? Learn how to quickly clear a clogged drain using edible ingredients from your kitchen pantry!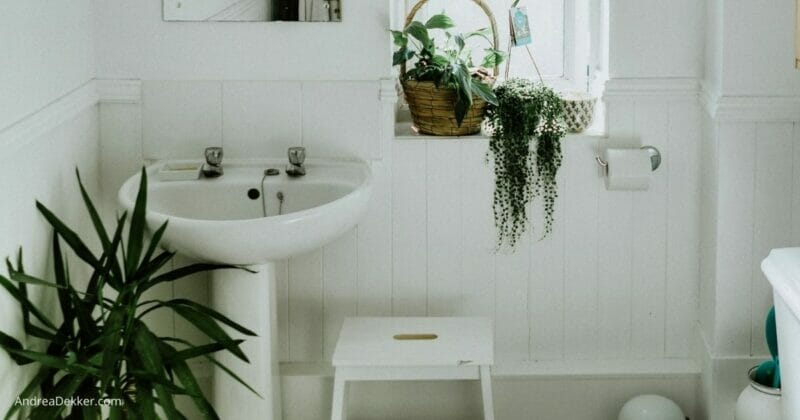 As someone who grew up with all sisters, lived more than half her life with very long, very thick, very curly hair, and now has 2 daughters with long thick hair, I have quite a bit of experience with clogged drains — specifically, hairy clogged drains.
I really wanted to share pictures of my most recent drain de-clogging session last week… but since Nora almost gagged when I showed her, I'll spare you the visuals!
Needless to say, clogged drains are not only annoying, they are also really gross, and can even be quite smelly.
The chemical cleaners available in most grocery and hardware stores often smell even worse… and even though we love our plumber, I know how much it's going to cost for a service call, and I try to avoid those calls (and costs) as much as possible!
Fortunately, I have an extremely quick, simple, easy, and frugal DIY recipe I use to clear my clogged drains… with ingredients from our pantry.
Oh, and it should only take you about 10 minutes total!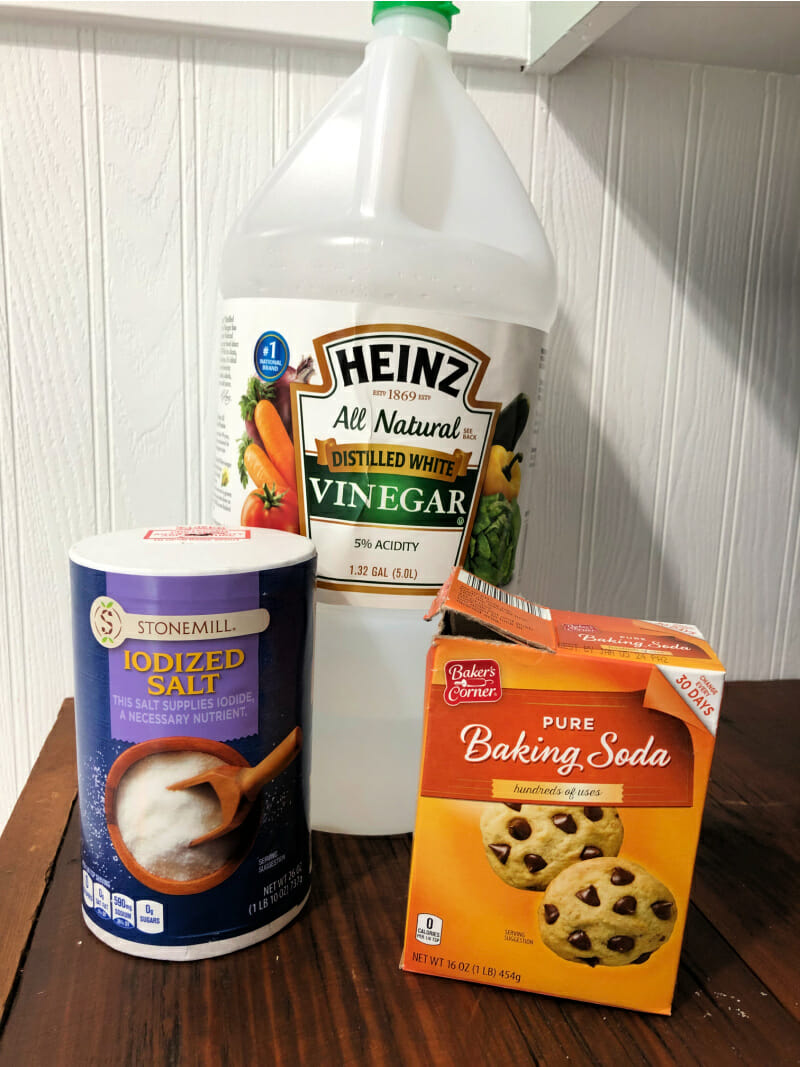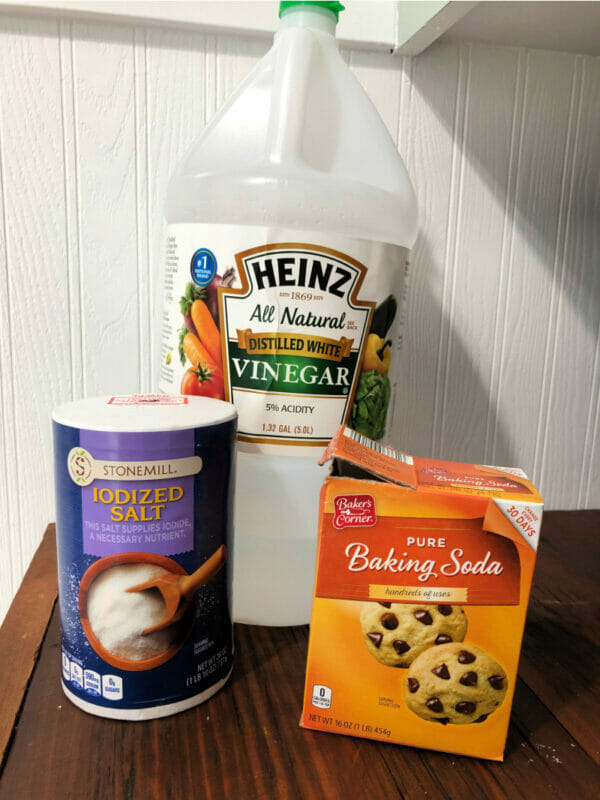 To date, this simple DIY method hasn't failed me yet… and our girl's hair has really put it to the test!
It works for bathtubs, showers, and bathroom sinks (I use a different method for my garbage disposal).
How to Clear a Clogged Drain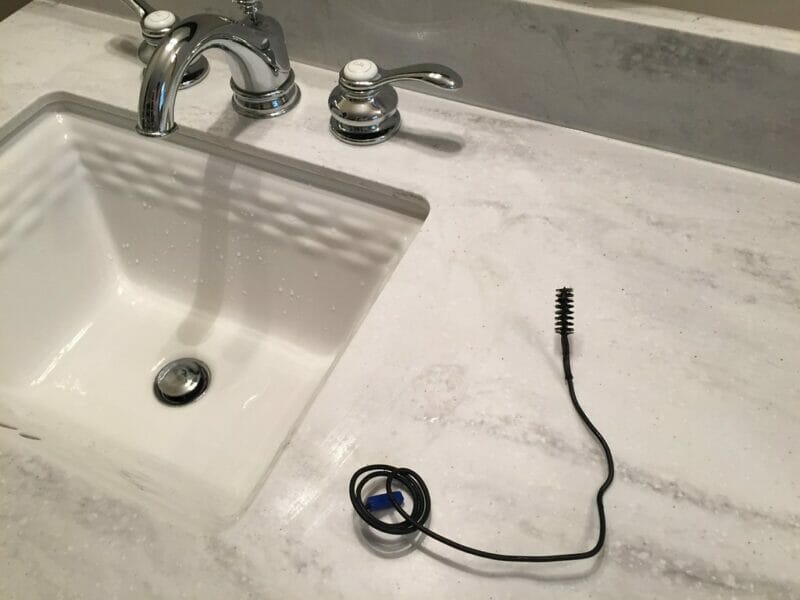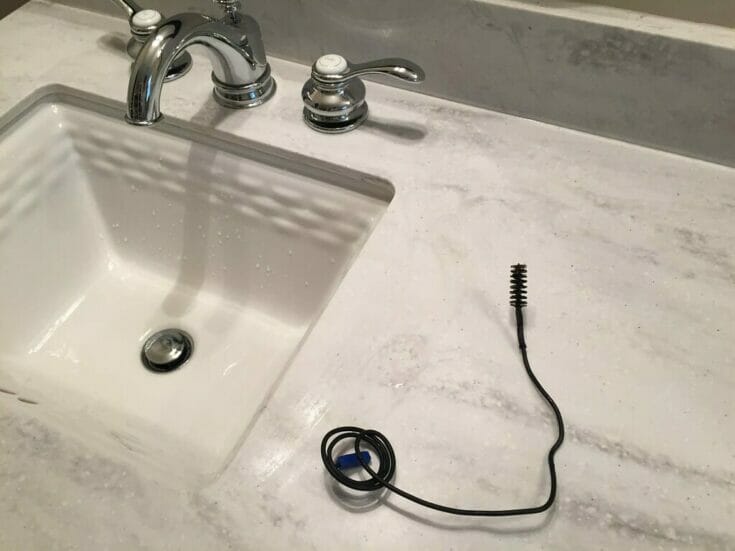 Tired of using expensive, toxic chemicals to clean your home? Learn how to quickly clear a clogged drain using edible ingredients from your kitchen pantry!
Materials
Water
Baking Soda
Salt (any kind)
White Distilled Vinegar
Tools
Pot or kettle to boil water
Drain Snake (optional)
Instructions
Fill a kettle or large pot with water and bring to a boil.
Remove drain stopper (if possible).
(Optional) Use a drain snake to loosen debris.
Pour 1/2 cup baking soda and 1/2 cup salt into the drain.
Pour 2 cups vinegar over the baking soda and salt (this should create lots of bubbles.)
After the bubbles die down, slowly pour several cups of boiling water down the drain (this will create more bubbles).
Test drain and repeat process (if necessary) to remove any remaining debris.
Notes
Depending on how big your drain is and how bad the clog is, feel free to use more or less baking soda, salt, and vinegar. It does NOT need to be an exact measurement.
This same process works well for shower drains, tub drains, and sink drains. I have not tried it on garbage disposals though.
Recommended Products
As an Amazon Associate and member of other affiliate programs, I earn from qualifying purchases.
That's it!
As an added bonus, it's almost like a mini science experiment for the kids to watch (mine love watching the chemical reaction between baking soda and vinegar).
If you'd like to invest a few bucks and expedite the drain-declogging process even more, I'd highly recommend purchasing a set of drain snakes.
We've had our set for well over 10 years and I use them on a monthly basis to help unclog various drains. It's a tiny investment for how many plumber bills I've negated!
Related Reading:
Bottom Line: Clogged drains are a pain… and really quite gross. You can remedy this problem in your home with just a few simple pantry staples and roughly 10 minutes.
Not too shabby!