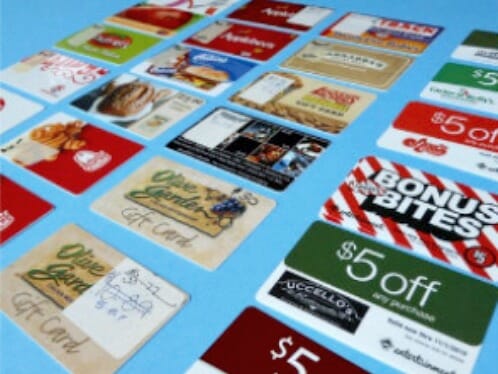 Every year around Christmas, a whole bunch of stores and restaurants offer fabulous deals and discounts for purchasing gift cards.
Of course, the reason they do this is so that we buy gift cards to give as gifts.
The restaurants and stores make out like bandits because they get their money right up front and they don't have to worry about returns.
Plus, there are SOOOOO many people who either lose or forget about their gift cards (over $2 Billion in unused gift cards last year alone) that the companies, stores, and restaurants can afford to offer extra incentives to encourage more gift card buying.
It's kind of a crazy cycle — unless you're buying gift cards for YOURSELF and have a good system for organizing the gift cards.
In that case, YOU will make out like a bandit!
I've already shared how much I love giving gift cards as clutter-free holiday gifts I know the recipient will like. However, I've never shared how Dave and I use some of our Christmas money to buy gift cards for ourselves this time of year.
Yup, we actually buy a lot of gift cards!
We capitalize on the freebie gift cards, bonus offers, and other seasonal gift card deals to literally get free money. Then we use the gift cards for simple date nights (paired with coupons to stretch the gift cards further) throughout the rest of the year — or however long they last.
Here are some examples of gift cards we buy:
Meijer Grocery/Gas — $5 off every $50 gift card purchase
Culver's — free value basket (about $8-$9 value) with every $25 gift card purchase
Olive Garden — free $10 gift card with every $50 gift card purchase
Applebee's — free $10 gift card with every $50 gift card purchase
Arby's — free dessert with every $10 gift card purchase (I haven't seen this one yet in 2013)
If you're looking for any bonus offers near you, check out this VERY comprehensive list at About.com.
These are all restaurants and stores that we go to anyway (and I often get good coupons for these places too), so while we're spending a more up-front, we're saving A LOT in the long run.
We store the extra gift cards in our fire-proof safe and keep a couple of each in a little "gift card pouch" I have in my purse.
Then, whenever we get a good BOGO coupon or high-value off coupon, we plan our nights out accordingly and enjoy the extra savings.
Merry Christmas to us!