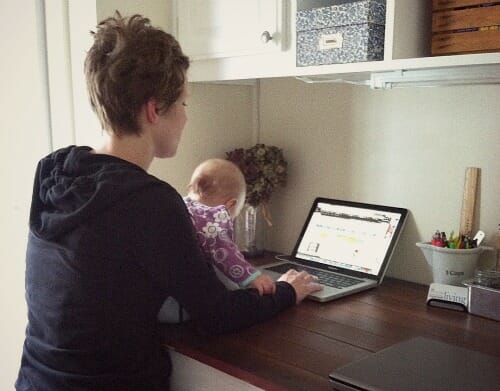 This topic has been on my mind for well over a year — since just before Nora was born. And now, almost 15 months later, I'll be the first to admit that I grossly underestimated how difficult it would be to manage a full-time at-home job, all our home renovations, Dave's busy schedule, and a baby… all while trying to have some semblance of a life!
So can working parents 'have it all'?
Obviously, I think part of the answer depends on your own definition of 'having it all.'
For me 'having it all' means a happy family, a healthy baby, a growing business, the ability to support Dave as a teacher and coach, a clean & organized home, a smart financial plan, and a little time left over for fun.
Whew!
As many of you know all too well, I like being productive, crossing things off my to-do list, and planning ahead. So you can probably imagine how Nora's arrival stopped me dead in my ultra-productive tracks.
Yes, I politely smiled every time someone told me "your life will never be the same after your baby is born," but I also rolled my eyes the second those people walked away. After all, one baby really wouldn't be that much extra work. I could totally 'have it all' and then some!
Feel free to laugh, point your finger, and say "I told you so".
Nora is darling, and of course, we wouldn't trade her for the world… but as I mentioned yesterday, our current daily schedule is less perfect — especially for someone like me who likes to be productive from the moment my feet touch the floor.
I want order and a set-in-stone daily schedule with no hiccups or mishaps. However, I've come to realize that as a work-from-home-parent, there is absolutely no way my daily and weekly schedule can be anywhere close to as structured as it was before I had Nora!
So does this mean I can't 'have it all'?
Not exactly, it just means that I have to make a few sacrifices and change my priorities a bit.
Some of these changes include:
hiring a babysitter to watch Nora for a few hours each week so I can work
relying more on family and friends for help (yes, we really do know how lucky we are to have family all around us)
lowering my standards for how clean our house really "needs" to be
only doing home renovation projects during the summer when Dave is out of school
quitting almost all my extra-curricular and evening commitments (at least for a while)
being even more focused during my working hours
saying no to some very fun and exciting business opportunities
only doing tasks that are absolutely necessary
getting less sleep 🙂
Motherhood has taken its toll on me mentally, emotionally, and physically. Some days I feel like I've successfully balanced family, home, work, and life. Then the very next day, I'll crawl into bed (much too late) feeling totally defeated by the number of items left on my to-do list.
No, my life isn't picture-perfect, and I certainly don't have all the answers. Dave and I have BOTH made many sacrifices in attempts to find a healthy balance between work, home, family, and life. Some of the sacrifices have been well worth it, others have been opportunities for learning and growth (to put it nicely).
However, I think we do 'have it all' — or at least ALL of what is important to us at this point in life.
I don't say this to brag, I say this as encouragement for all the parents who might feel totally defeated in their attempts to balance the busyness of life on a daily and weekly basis. There was a long period of time when I thought I'd never be able to 'have it all' ever again — I know how frustrating that feels.
If my super type-A personality can make it through to the other side… so can you!
If you're a working parent struggling to find that balance between work, home, family, and life, I'd encourage you to take a good look at all the tasks you do each day and ruthlessly eliminate EVERYTHING you don't absolutely need to do.
So can we 'have it all'?
Again, this depends on your definition of 'having it all'.
For me, the answer is YES (most of the time!) Even though I've had to prioritize and make many sacrifices this past year, I've still managed to hold on to all the things that are most important to me.
I can live with that!
What do you think… can we 'have it all'?