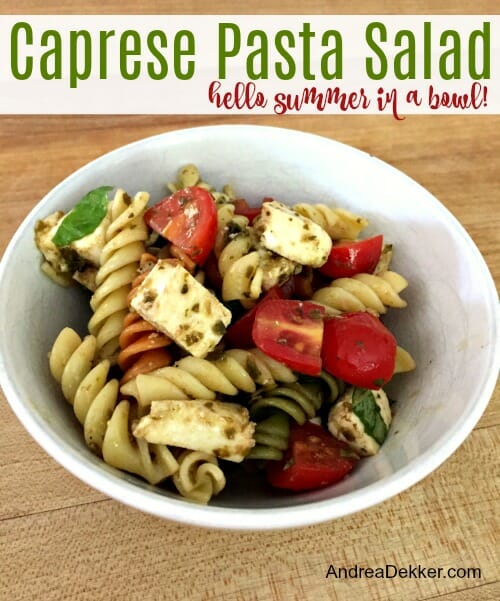 For the majority of my life, I hated tomatoes. I picked them off from and out of anything (except ketchup and marinara sauce).
However, about 7 years ago, I started forcing myself to eat tomatoes — specifically cherry tomatoes — and now, they are one of my favorite things to munch on, top a salad with, or incorporate into various recipes.
With summer tomato season right around the corner, I thought it was high-time I share one of my favorite SUPER simple pasta salad recipes that is perfect this time of year — when fresh tomatoes and basil are readily available.
It tastes and smells like summer in a bowl and is a fabulous side dish to almost any meat.
Also, it's sort of fun to make around Christmastime too (if you can find good produce) because it has tons of red, white, and green in it!
Either way, it's a simple, quick side dish that can easily be made ahead of time, tastes great as leftovers, and is a big crowd pleaser (win, win, win, win!)
Recipe for Caprese Pasta Salad
Serves 8
INGREDIENTS:
1 lb. pasta (I like to use a shorter noodle)
1/4 c. pesto sauce
1/4 c. olive oil
1/4 c. balsamic vinaigrette
salt and pepper to taste
1 lb. cherry tomatoes, halved
1 lb. (16 oz) mozzarella cheese (cut into cubes or buy little balls of it)
a handful of fresh basil (optional)
DIRECTIONS:
Boil pasta according to package directions. Rinse several times in very cold water to completely cool the pasta (you don't want the cheese to melt!)
While noodles boil and cool, mix together pesto, olive oil, vinaigrette, salt, and pepper
Add tomatoes and cheese to bowl of noodles
Pour sauce over top and mix well
Garnish with fresh basil if desired
Refrigerate until ready to serve (and yes, you can make it well in advance – even the day before)
NOTE: If you want to cook the pasta ahead of time, just mix the drained noodles with a bit of oil so they don't stick together.
Also, PLEASE FEEL FREE to alter and change up the ingredients based on what you have in the house. If you want to use more or less of anything, do it. If you want to add in anything, try it. There is no "right way" to make this dish!
This "salad" comes together SO quickly — it probably only takes me 10 minutes once the pasta is cooled!
It's one of those recipes I almost always have all the ingredients on-hand for, and also a recipe I'll have memorized forever and ever because the measurements are so simple.
If you're looking for a super-duper simple side dish to take with you to a summer picnic or gathering (or if you just need dinner tonight!) give this Caprese Pasta Salad a try!
What are your favorite summer salads?
As always, visit my virtual recipe box for more simple, delicious, family friendly recipes!