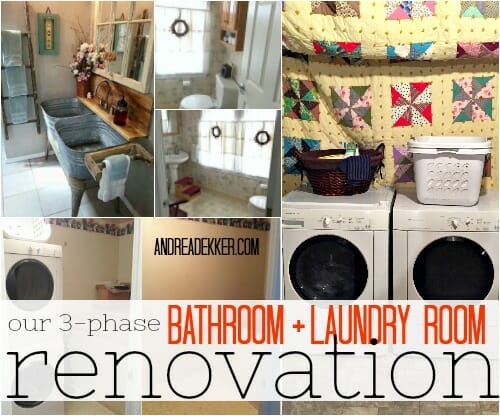 Two months ago, I asked for any brilliant ideas and/or opinions about how we should renovate the full bathroom off our kitchen — and wow, did you respond!
SOOOOOO many fantastic ideas, suggestions, opinions, etc. Dave and I actually went back to the "drawing board" and ultimately ended up changing our plans for this space, thanks in large part to some of your suggestions.
Thank you!
Our "new" project is now a 3-phase project, which will assure that we will never be without a laundry room or a 3rd toilet throughout the course of the project (yippee!). Of course, it will also take more time and cost more money, but I think everything will end up so much nicer for the long-term.
Let me explain…
PHASE 1: Move the current washer and dryer to the basement.
Stay with me here friends — we are NOT putting our "main laundry room" in the basement. We are just moving our current washer and dryer downstairs as a place to do laundry throughout the renovation project.
However, we ARE planning to leave that washer and dryer in the basement, even after the renovations are finished. We figure we don't want to renovate our current laundry room and put old appliances in the new space. But at the same time, our current appliances are working just fine — so we don't want to throw them out, and the resale value on a 10 year old stackable washer and dryer isn't great. So we figured we'd be best off just keeping the old set and putting it in the basement as a 2nd laundry area.
Yes, I did just say a "second laundry area" — one of the perks of this 3-phase project is that I will actually end up with TWO washers and TWO dryers!!!!!
As many of you know, our basement isn't glamorous in any way — just cement floors and old cinderblock walls. However, we are working to set up a somewhat cute and clean laundry area down there right now.
The plumber was here last week and got everything hooked up in the basement. A basement laundry room definitely isn't ideal for me, but I'm thrilled to have a functioning laundry area in our home throughout the remainder of the project, and I have lots of ideas to make this space look and feel nicer.
.
PHASE 2: Turn the current laundry room into a HALF bath.
With our current washer and dryer moved downstairs, our former laundry room is now a construction zone! It sure feels bigger without bulky appliances in it!
We're planning to put the toilet against the wall that the door opens on, and then we'll put the sink right inside the counter area. We plan to squeeze the pipes in above the stairs to the basement (the stairs are right below that awkward counter).
We'll put huge storage cabinets behind the sink — which might be slightly awkward since the mirror will be to the side of the sink, but it's a good tradeoff since I'd otherwise be wasting a huge amount of valuable storage space!
I'll use this extra storage as a space to store towels and linens (we currently have no linen closet anywhere in our house). I'll also probably have some overflow from the new laundry room as we won't have much extra storage in that room (more on that situation below).
I can't wait to see how this room comes together over the next few weeks — and Dave can't wait for a toilet that's not RIGHT in front of a huge window!
.
PHASE 3: Turn the current bathroom into a laundry room WITH A SHOWER.
By doing this project in 3 phases, we'll be able to keep our current bathroom fully intact until the new half bath is completely finished — which means we'll never be without a toilet or sink by our back door (something we really wanted). So we won't even start working on the current bathroom until the half bathroom is completely finished.
Dave and I have gone back and forth over hundreds of different ideas, tweaks, adjustments, etc. to various different plans for this bathroom/laundry room project — and almost every layout would be better if we just nixed the shower and lived with 2 1/2 baths instead of 3 full baths.
HOWEVER, Dave and I ultimately decided that we really DO want to keep our 3rd shower — even if that means sacrificing some storage and sticking with a stackable washer and dryer in our new laundry room. We just feel that in a few years, when we have 4 teenagers living in our house, it might be nice to have a "girls bathroom" and a "boys bathroom" so they could each have their designated showering area.
Also, we would prefer that the kids not use our bathroom since it's already fairly small and we don't have tons of extra storage space. Plus, I have much higher standards for my bathroom cleanliness than I do for the kids' bathrooms. 🙂
I'm very happy with our decision and Nora is VERY excited to start using the new shower once it's finally finished!
The plan right now is to keep the shower in the same place (we'll install a new custom-tiled shower) and then put a stackable washer and dryer where the sink is (we already have the water hook ups and the drain!)
Then, where the current toilet is, I'm going to put a cute rustic-looking laundry tub sink. Maybe a single-basin version of the idea below… SO cute!!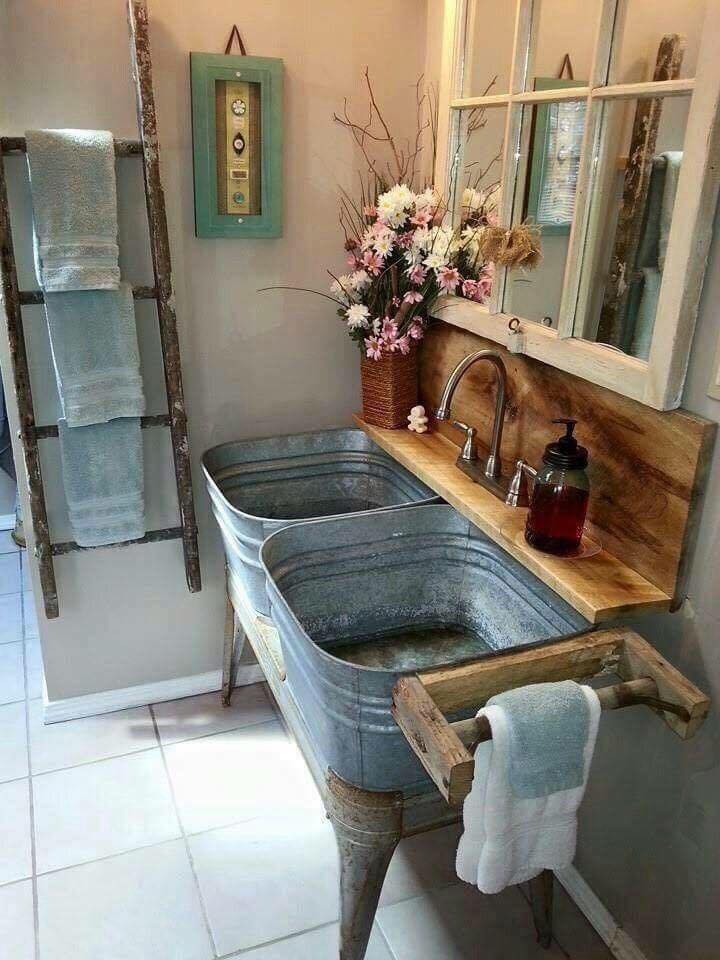 I've never had a sink in my laundry room before so this addition will be really nice; and, as an added bonus, it will be a great spot to wash potential future pets (not saying we'll ever get a dog… but just in case!)
.
If you missed my previous post where I mentioned everything we wanted from these 2 spaces (and asked for your suggestions), you read read it here.
And just so you can get a better feel for how these spaces work together, here's a NOT-to-scale blueprint of the current and future layouts of our 2 rooms….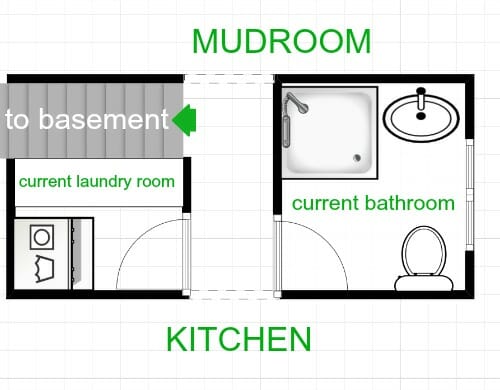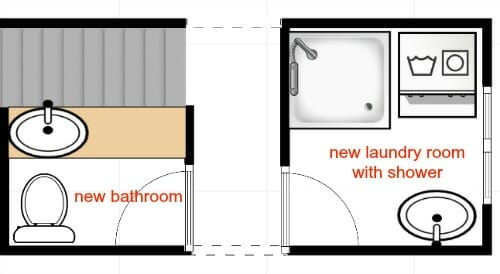 We've pretty much checked off all our must-haves, all our needs, and even most of our wants; so we are very happy with our current plan!
Just for fun, here's a list of the current pros and cons…
The PROS of our 3-phase project:
we get to keep our 3rd shower
we get to keep our big windows
we don't have to do any major construction on the outside of the house (no need to replace siding or reframe windows)
we will end up with TWO sets of washers and dryers!
we'll have TONS of storage in the new half bath
our main floor laundry room will be MUCH larger and brighter than it currently is
I'll actually have a sink in my laundry room — which will be great for soaking dirty clothing, hand washing, or even for potential future pets!
the new half bath will be super cute and private (no more peeing right next to the windows!)
now 2 people can get ready at the same time (one in the half bath, one taking a shower in the laundry room)
dirty children can come in from the outside and wash their hands in the bathroom AND in the new laundry room sink so it should go twice as fast
the 3-phase project means we'll never be without our laundry room or our 3rd toilet
The CONS:
lack of storage in the new main laundry room (I have ideas to remedy this)
slightly odd to have a shower in a laundry room, but it IS to "code"
the washer and dryer will stick out in front of the windows a few inches — but I don't think it will look too bad
the 3-phase project will take longer and be more expensive
.
So that's it for now!
Of course, with a 130-year old house, there will most certainly be things that don't go according to plans. And with 4 young children along for the ride, there will most certainly be many restrictions on our time, which could potentially drag this project out over the entire summer.
My current goal is to have all 3 phases completely, 100% wrapped up by the time Dave starts his school meetings in mid-August. I feel that allowing almost 10 weeks is very realistic… but again, it will all depend on how many obstacles we encounter as we start tearing the rooms apart!
Either way, I'll keep you posted as we finish each phase!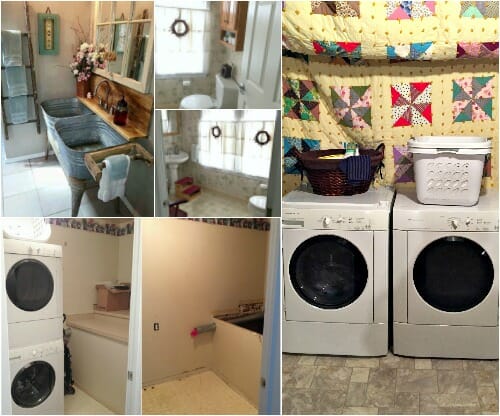 .