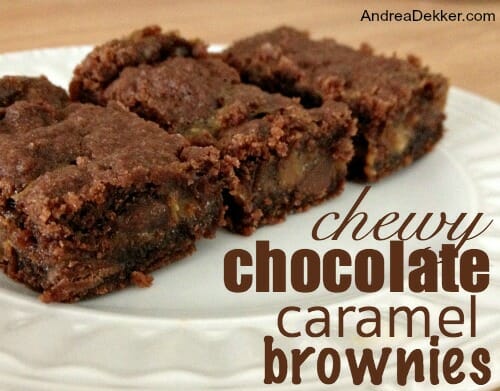 Over Christmas break, I was scrolling through my virtual recipe box, looking for my most favorite caramel brownie recipe. I kept scrolling, up and down, then I used the search box to figure out why I couldn't find it on my recipe page.
Well, it turns out that in over 4 years of blogging, I have yet to share my most favorite, super delicious, tastes like you spent all day in the kitchen brownies (that just so happen to start with a boxed mix!)
My mom often made these brownies over Christmas break — so I've kind of followed suit. However, there is nothing about them that limits them to the holidays… so yes, feel free to make them any time of the year!
As the name suggests, they are SUPER chewy, ooey, gooey, dense, fudgy brownies dripping with caramel.
They are quite rich, so you can definitely get away with cutting the pieces small (great for feeding a crowd) and as with almost all my recipes, they freeze marvelously.
If you're looking for a delicious dessert that tastes gourmet, but only requires a few minutes of hands-on time… this recipe is for you!
Recipe for Chewy Chocolate Caramel Brownies
makes one 9″x13″ pan (I cut my bars into 48 pieces)
INGREDIENTS:
1 chocolate boxed cake mix (18.25 oz)
3/4 c. melted butter (1.5 sticks)
1 bag of caramels or caramel bits (approx. 11 oz.)
1/3 c. evaporated milk (here's a recipe to make your own)
1 c. semi-sweet chocolate chips
DIRECTIONS:
Preheat oven to 350*F. Grease a 9″x 13″ pan and set aside.
In a medium size bowl, mix melted butter with dry cake mix (mixture will be quite thick.)
Press 2/3rds of the cake mixture into the bottom of the greased pan. Bake for 10 minutes.
While the crust bakes, mix caramels and evaporated milk in a microwave-safe bowl.
Microwave caramels in 30-45-second intervals (stirring in between) until caramel is fully melted.
Pour caramel mixture over baked "crust" and sprinkle with chocolate chips.
Use remaining cake mix to spread over caramel mixture (I make little patties and lay on top of caramel).
Bake an additional 15-20 minutes, or until done.
Let cool completely before cutting.
Are you drooling yet?
Like I said, they are very rich — so not necessarily something you'd want to eat every day of the year, but they sure are yummy for special occasions, to bring to an event (like an upcoming Super Bowl party), or just to pull a couple out of the freezer during nap time 🙂
If you like chocolate, caramel, and 'easy', you'll LOVE these brownies!
What are your favorite overly-rich desserts?
Visit my virtual recipe box for more simple, delicious, family friendly recipes!