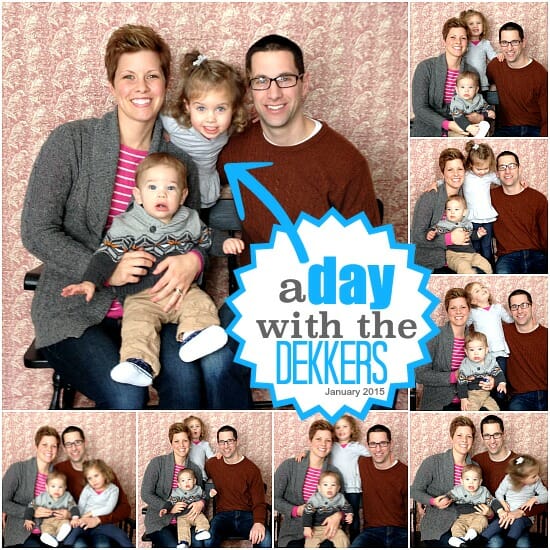 Last week, I shared an updated before/after tour of our office (it's already been finished for over 3 years, but we've made some changes).
After running that post, I received many emails asking for another "day in the life" post sharing how I manage working from home, house work, family, etc.
It has been quite a while since my last "day in the life" post (Nora was only 1 and Simon was not even a thought!) so I suppose it is time for another update. However, I often hesitate to share these types of posts because writing down our daily schedule feels sort of like "lying" since there is NEVER two days that go exactly the same or exactly as planned.
We definitely do have a general rhythm to our daily life (at least on the weekdays), but saying "this is what a day in my life looks like" is a pretty big stretch if you ask me. So please keep that in mind as you read this!
This is ROUGHLY how our weekdays are laid out — however, please don't come away from this post thinking I have everything scheduled down to the minute and am ultra productive every second of every day (only in my dreams!) We definitely have days when one or both kids are whiny and fussy ALL DAY LONG (usually on freezing cold or rainy days when we can't go outside) — in which case, you can just throw my nice little daily schedule right out the window and replace it with:
Nora watches a boatload of TV while mom holds and bounces Simon around most of the day… until dad gets home and gives her a break. They pick up a Little Ceasers $5 pizza for dinner, put the kids in bed as soon as possible, and mom crashes on the couch while (maybe) doing a small amount of work from her laptop.
No, that is not a fictitious bad-day scenario 🙂
Anyway… enough people have requested a day-in-the-life post, so without further adieu, here's what a relatively normalish weekday looks like in our house.
MORNINGS:
5:20am — Dave's alarm goes off and he's out of bed, getting ready for school. He leaves around 6:40.
6:30am — I'm usually up by this time, sometimes a little earlier depending on how Simon and Nora slept the night before. I race against the clock to get dressed and ready, eat breakfast, clean out the dishwasher, check and respond to emails, schedule Facebook posts, and get breakfast stuff started for the kids BEFORE they wake up (I have 45-60 minutes on a good day!)
7:15-7:45ish — Nora and Simon both wake up around this time. Nora is usually very hungry right away so I get her going with breakfast while I change Simon's diaper, get him dressed, and then feed him some baby food/oatmeal.
8:30am — I put breakfast food away but don't do much other cleanup. We all go upstairs to get Nora dressed and play for a while. (NOTE: If we need to run an errand or get groceries, this is usually when we do that.)
10:00ish — Simon will often go down for a morning nap around this time. I let Nora watch Curious George on Netflix, do craft projects, or play with her Gak while I clean up the kitchen from breakfast, prepare dinner stuff in advance, maybe start or fold a load of laundry, and catch up on a few work-related things like email, social media, etc.
11:30am — LUNCH! Sometimes, if Simon is REALLY tired, he'll sleep until noon. Other times, he's awake by 11:00 and then eats lunch with us. Lunch can be a very long process for us because Nora is a VERY slow eater.
AFTERNOON:
12:30pm — if it's nice out, we'll go for a walk and/or play outside after lunch. However, during the frigid winter months, we hang out inside. It's nice that we have our designated play area upstairs — but we also keep some toys in the living room — so we can play in either place.
I am starting to feel a little cooped-up since the last several weeks have been very cold and snowy around here (and Simon is still pretty young to be outside for too long in that kind of cold). I will most definitely be looking forward to spring when we can get outside again!
3:00pm — Simon will often go down for an afternoon nap around 2:30 or 3:00 (depending on when his morning nap was). Nora and I will usually read a few books and then "snuggle" on the couch for about 20 minutes. She has never been a napper, but that girl LOVES to snuggle 🙂 And since I've been extra tired lately (my main pregnancy side effect) I take every opportunity to rest my body and my eyes.
I'll usually turn on a show for Nora or we listen to music while we lay there… and yes, I usually fall asleep for about 15 minutes!
3:30pm — Dave is home! When we first got married, it wasn't abnormal for Dave to stay at school until 6:00pm, working on his lesson plans and grading. Then, after Nora was born, he started coming home around 5:00, then 4:30ish. After Simon was born, he bumped it up to 3:30 — and boy am I grateful!
Dave quickly puts his school stuff away, changes his clothes, and takes Nora upstairs (or outside) to play for a while. When Simon wakes up, I give him a little snack and then he goes upstairs with Dave and Nora.
This is my time to catch up on emails, get a little work done, and finish making dinner.
5:00pm — dinner time. We all seem to be hungry by 5:00, so yes, we eat very early! However, it also means that we get our kids to bed earlier — so 5:00 dinner it is! Dinner usually involves lots of crazy stories from Nora, lots of laughs from Dave and I, and lots of food on the floor courtesy of Simon.
After dinner, Dave plays with the kids for a bit longer while I clean up the kitchen.
EVENING:
6:30pm — we start the getting the kids ready for bed. We aren't doing baths/showers every night anymore — usually every 2 or 3 nights (or as needed). Once they are in their PJ's, Nora "helps" Dave clean up the toys and books while I feed Simon his bottle and put him to bed. He is almost always sound asleep by 7:00 or earlier.
7:00pm — Nora gets a snack and reads a book with Dave. Then she brushes her teeth, goes to the bathroom, and heads upstairs with me. We read one more book… and then SHE GOES TO BED!!!!!!
Yes friends, you read that correctly. Nora is now going to bed all on her own, without me sitting in the room for HOURS, without tears, without tantrums… and she's almost always sound asleep around 7:30pm! She is also sleeping through the night about 75% of the time — and other nights, only waking us up once and then going right back to bed (proof that miracles DO happen!)
7:30-10:30pm — These 3 hours are something I honestly didn't know when (if ever) I'd get back after having Nora. There were SO many nights when we were dealing with her crying until 11:30 or later — which meant Dave and I had absolutely no "free time" and I got absolutely no work done at night.
Now, we both have 3 glorious hours to work. Dave grades and does his lesson planning, I catch up on my Virtual Assistant work and write blog posts (I'm writing this post just after putting Nora to bed).
Sometimes we both work from our laptops while watching a movie or a favorite TV show. Other times, we work in the office and chit chat back and forth. IT IS GLORIOUS!!!!
10:30pm: We pack up our stuff and get ready for bed. I always shower at night — and I might also clean out the dishwasher (or get it ready to run) and clean up anything else that might be sitting out. I'll also make my to-do list for tomorrow.
We try to be in bed by 11:00 every night.
.
Like I said earlier, it's literally impossible to accurately portray what a real day is like in our house — there are days we are gone a lot or nights when Dave stays late at school or I have a meeting. And there are days when we aren't feeling well and just lounge around in our PJ's all day.
I realize some of you might think I'm a crazy work-a-holic while others are probably thinking we have the most boring life ever because we just sit at home all day. I'll be honest, both sides could potentially be true… depending on the day 🙂
But this is what seems to be working well for us right now, and I'm hoping it will continue to work well until baby #3 arrives this summer. Then we'll start all over with a new schedule!
Believe it or not, I'm getting better at adapting to change (out of sheer necessity for survival!) — although it still takes me longer than most to accept when one schedule or plan just isn't working anymore.
However, I don't think that's necessarily a bad thing… maybe!