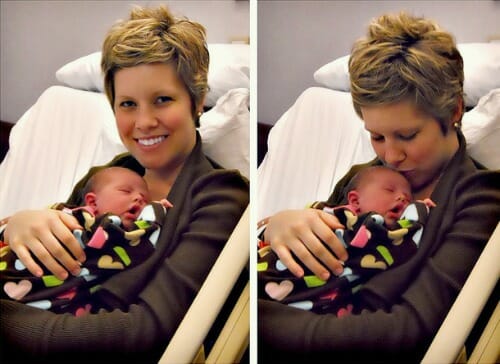 I was actually planning to do a post about canning today — because you know, it's THAT time of year already!
But over the past week since the big Royal Birth, I've seen and read so many snide remarks on Facebook, Twitter, and in the news (about how Kate didn't use any pain medication for her birth) and I felt like I just had to share some of my thoughts today.
I think it's great that Kate had a relatively "normal" and uneventful labor and delivery (and honestly, I'm a fan of the royals!) however, I DON'T like that so many people are making rude comments like:
"Even Kate had a natural delivery."

"If royalty can do it, anyone can."
These remarks (many of them from my own personal Facebook friends) seem to be implying that any woman who DOES use pain medication during childbirth is somehow less of a woman or not as good of a mom.
Obviously, that's pretty judgmental.
.
Now, before any of you start thinking that I'm simply venting about an issue that's hitting a little too close to home, let me be very clear…
I did NOT use any pain medication during Nora's birth.
However, I don't think women who do are bad, wrong, or wimpy.
My plan was actually to have an epidural, but since I was only in the hospital for a total of 4 hours before Nora was in my arms, since my pain was relatively manageable, and since the anesthesiologist wasn't available right away, it just never happened.
Looking back, it was nice to not be numb and to be able to get up and walk around right away, but I'm also quite confident that if my labor would have been much longer or more painful, I would have gotten an epidural ASAP.
You can read Nora's birth story here… and although there was definitely pain and discomfort, I had a really easy labor and delivery compared to so many people I know.
During the short time I was in the delivery room, the doctors and nurses kept saying, "This is a textbook delivery. Everything is going exactly as it should." They even brought in a few interns so they could watch my "textbook delivery".
Great, just what I wanted, more people staring at me while I'm pushing out my child!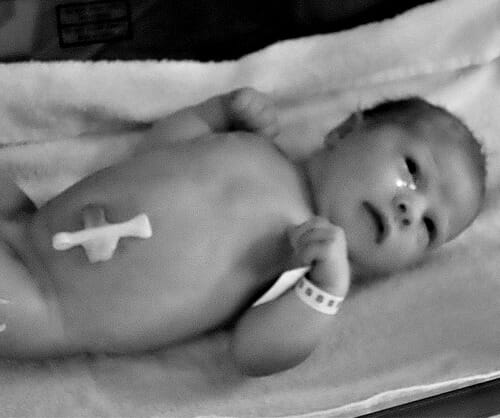 In the weeks and months after Nora was born, I found it very odd that I was CONSTANTLY asked if I had an epidural or not — sometimes people would ask me this question before anything else about her birth.
When I explained that I did not have an epidural, I got one of 2 reactions:
"way to go, real women can handle the pain"

"you're crazy, the epidural was the best decision I made"
Obviously, these responses were either from women who did not, or women who did, have an epidural (respectively) and felt they had to justify their choices to me — even though I honestly could have cared less.
.
While I feel blessed to have had a relatively "easy" labor, I've also heard enough crazy (and really scary) childbirth stories from other friends, family, and acquaintances, that I know it's not always so uneventful.
I know women who have labored for 38+ hours before having an emergency C-section. I know women who have been so adamant about having an all-natural childbirth that they inadvertently put themselves and their baby in extreme danger until the doctors finally talked some sense into them. I know women who have required numerous surgeries after childbirth and were then unable to have children "naturally" ever again.
None of these women elected to be part of such scary and painful childbirth experiences — and I certainly don't think they are weak or wrong for taking pain medication as a result.
Yes, I realize there are potential side effects of an epidural or other pain meds — but honestly, there are potential side effects of almost anything now days.
.
I'm NOT trying to lobby "for" or "against" using pain medication during childbirth, I just think we shouldn't judge the decisions of others or make snide comments when we most likely don't know the whole story.
For the record, I never thought I'd write anything about the royal family or about pain medication and childbirth on my blog — never say never I guess 🙂
Oh, and if you'd rather read about canning, head on over here!